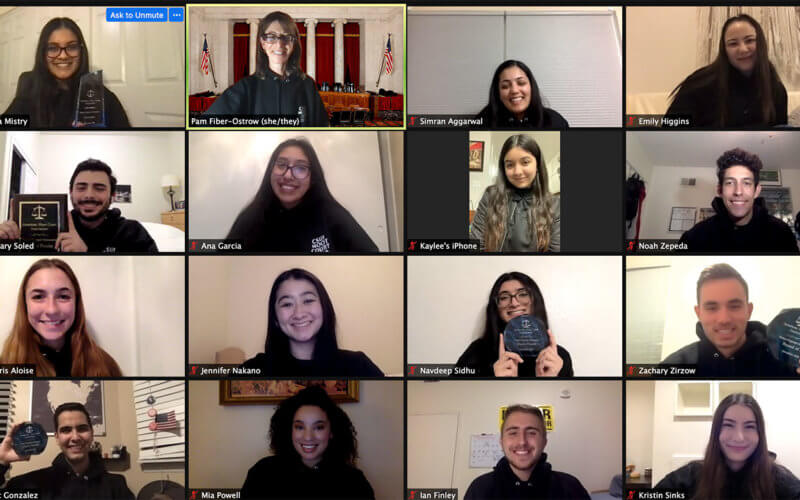 In a highly-competitive tournament where reading body language, perfecting persuasion techniques and surveying a crowd are required, Cal State Fullerton's Moot Court team earned top scores at the 2021 American Moot Court Association National Championship Tournament.
Twelve Cal State Fullerton students across six teams competed against the top 100 Moot Court teams in the country and brought home seven awards from the Jan. 22-24 tournament, which was held virtually this year.
Four students received National Oral Advocacy Championship awards: Jennifer Nakano and Zach Zirzow in seventh place and Khira Mistry and Ian Finley in 28th place.
Six students received National Brief Writing Championship awards: Isaac Gonzalez and Navdeep Sidhu came in second place as petitioner, Kristin Sinks and Amaris Aloise earned fourth place as petitioner and Noah Zepeda and Emily Higgins earned ninth place as respondent from over 350 briefs submitted.
Navdeep Sidhu also placed in 29th out of the 200 speakers ranked in the tournament's Individual Orator Rankings.
"We had tremendous success," said Pamela Fiber-Ostrow, professor of political science and coach of the Moot Court team at Cal State Fullerton. "Accomplishing this during a pandemic is just beyond extraordinary given the extra challenges our students faced. Our program is ranked third in the nation for our combined skills in oral advocacy and writing because of the talent and perseverance of our extraordinary Titans"
Moot Court team members said preparing for the virtual competition came with both expected and unexpected changes. Isaac Gonzalez, a junior majoring in business, created a mini studio in his bedroom for practice using books as his laptop stand and a bed sheet as his background.
"I like making eye contact and gauging the reactions of people whenever I speak," Gonzalez said. "However, on Zoom, I'd have to constantly stare at the green light next to my camera to present a strong virtual eye contact. Seeing the reactions of judges from the corner of my eyes made it slightly more difficult to measure how my presentations and answers to questions were received."
Gonzalez said one benefit from this past year was that the team was able to practice at nearly any time by dropping a Zoom link in their group chat for anyone who was available.
"Even though I spent little time in person with the team, I still grew close to them," Gonzalez said. "The virtual setting also didn't stop us from doing warm-up dances or team cheers before our tournaments."
Amaris Aloise, a junior majoring in public administration and anthropology, said she had to adjust how she used body language and eye contact in her argument. Looking directly at the camera on her computer limited her ability to see how judges reacted.
"Having discussions through Zoom can be very difficult — it's harder to get your message across and feel passionate when you're talking to a screen," Aloise said. "However, we worked together to figure out ways to feel comfortable in a virtual setting. Our coaches and mentors helped foster a sense of confidence in our abilities and our virtual courtroom demeanor."
Aloise said she looks forward to future competitions when she can safely travel around the country with her teammates and show support for them in person. Until that time comes, Aloise said she is still gaining valuable experience.
"As an aspiring attorney, I know my Moot Court experiences will stay with me for the rest of my life," Aloise said. "It has really helped me develop my sense of public speaking and presenting, as well as my skills in legal writing. Not to mention, I made great connections with alumni who are in the legal field themselves."
Ian Finley, a junior majoring in political science and Spanish, said his team's preparation approach hasn't changed too much aside from its virtual setting, since it still requires reading many cases and practicing speaking for long hours.
"It's one thing to get up early on the weekends to go see my friends at Moot Court practice, but it's a whole different thing to get up early on the weekends for hours-long Zoom calls after Zooming all week for classes," Finley said. "I genuinely loved Moot Court practice even in the virtual setting, but our team had to have a lot of endurance and fortitude this year."
He said it was also easier for former Moot Court competitors, lawyers, judges and alumni from across the country to help the team during practices in 2020.
"If you told me last year that I could make friends with people that I would meet on Zoom, I would have laughed," Finley said. "Now, I count these as some of my most valuable college friendships."
In 2020, Cal State Fullerton ranked sixth among the nation's top programs, placing third in Brief Writing and 19th in Oral Advocacy. The 2021-22 Moot Court season begins in early April.