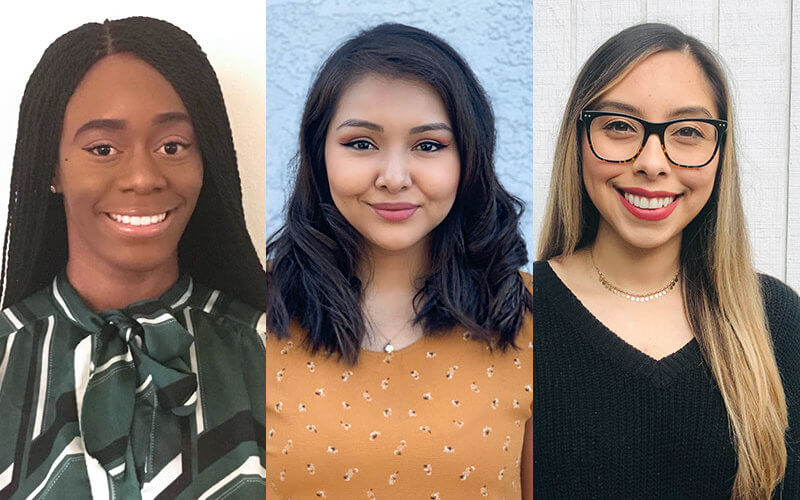 Rwanda Carter knows firsthand how social and economic inequalities disproportionately affect racial and ethnic minorities. She was raised in Watts, in South Central Los Angeles, where health, education and earnings levels are far below the national average.
Her parents immigrated from Belize to the U.S., where they worked diligently to obtain permanent residency and sustain their family.
"It was their resilience that molded me to pursue higher education and become an advocate for positive social change," said Carter.
"The dearth of resources in my home community prevents access to affordable housing, a quality education and health care. I believe social change starts with addressing the needs of vulnerable communities like mine, which motivated me to pursue a career in social work."
Carter is one of only 42 students nationwide, and one of three Cal State Fullerton graduate students, selected for the Council on Social Work Education's 2020-21 Minority Fellowship Program. The fellowship — which aims to reduce the effects of substance abuse and mental illness on America's communities by increasing the number of individuals trained to work with at-risk groups — grants each student a $10,000 stipend, training and mentorship.
"Through the fellowship, I hope to connect with other Master of Social Work students and social work professionals to facilitate a community focused on promoting mental health care equity," said Carter, adding that the fellowship is an extension of the education she is receiving in Cal State Fullerton's MSW program.
"The MSW program's emphasis on culturally competent social work practice aligns with my professional goals to serve diverse populations," she said. "The program also prioritizes the need for promoting social justice in vulnerable, marginalized and underrepresented populations."
Another fellow, Tania Carrillo, is a first-generation, Mexican American student who recalls how her family used social services during her childhood.
"Being able to be of assistance during a difficult time in someone's life is why I want to be a social worker," she shared. "I know it helped my family, and I want to be able to do the same for other families across my community."
Carrillo credits CSUF's MSW program for encouraging her to pursue the fellowship program and her career goal of working with at-risk youth.
"The faculty are truly invested in the students," she said. "Our courses focus on real-life situations, which help students easily apply clinical skills into field placement. Also, our field directors do an amazing job to facilitate a smooth placement process.
"The skills I am gaining from this program are the ones that allow me to stand out to future employers."
Jacqueline Pantoja, the third fellow, aims to become a licensed clinical social worker to provide culturally competent mental health services and psychoeducation in the Latinx community.
"I acknowledge how the barriers to mental health services (such as language barriers, stigma and lack of health insurance) affect the Latinx population living with mental illness," said Pantoja. "I have witnessed my family members diagnosed with mental illness (such as depression and bipolar disorder with psychotic features) thrive due to receiving continuous mental health services."
She hopes the fellowship will help her develop a long-lasting connection with her cohort and mentor, as well as become "a more competent and confident social worker."