My grandfather was born and raised in Georgia.
Papa was raised in the South in the '40s and '50s. When he moved West, he wanted to disassociate from the racism he grew up with, so we didn't have "The Talk" about racial injustices.
Basketball lifted him out of the South.
He played in the Navy and at Long Beach City College, where he met my grandma. He also played at UCLA for Coach John Wooden and in the Los Angeles Police Department basketball league. My family is filled with college and professional athletes and police officers, so we were, in the eyes of America, "exceptional Blacks."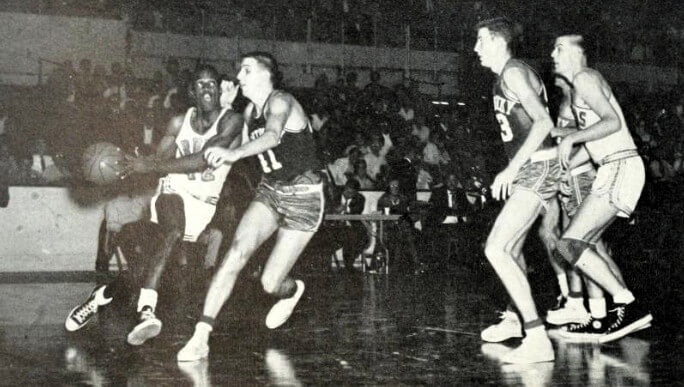 When Papa talked to me about how to act around the police, I brushed it off because I was "different."
I impressed the Nevada school system with how smart, articulate, and above all — athletic— I was; being a Black athlete is one of America's greatest commodities. I received a couple of offers from Division II schools and academic money from Division IIIs with my athleticism.
Since I was late in recruitment, I had my mind set on going to a Division I school in California as a walk-on volleyball player. Then Coach Ramona Riley-Bozier from Morgan State University, a historically Black university in Baltimore, Maryland, called, and I reluctantly went from the West to the East Coast.
That's where I learned so much about my culture, history and identity. I embraced my curves that I used to hide, and gained a sense of pride I never had before. After living and working in the two highly Black-populated cities of Baltimore and Atlanta, moving to Orange County is where I had a crash course of "The Talk" from mentors, colleagues and even my grandpa.
I thought moving back West would be the same experience I had in high school, but it was much different. It's different being the athlete praised for jumping high and hitting hard than being in a position of power as the first Black female head volleyball coach at a university.
My professional journey has had its ups and downs from becoming hardened by wearing the mask of assimilation. But once I stopped trying to be everything everyone else wanted me to be, and I did some soul searching, I confidently found myself and my vision and purpose.
I recruit players from various backgrounds and tell them to embrace who they are within our team culture. I help them see that if we remain relational, responsible, respectful and our sister's keeper, then we will be the heroes of our own stories because everyone wants to be seen, heard and understood for who she is.
The young women on my team are the ones who give me hope of an exceptional future where everyone has a seat at the table, and it's my job to help them be the change they and I want to see.
---
Ashley Preston is the Cal State Fullerton head women's volleyball coach. The 2019 Big West Co-Coach of the Year has been active in anti-racism discussions within the Titan Athletics community and the Big West conference. She encourages her players to engage in critical conversations that are relational, responsible, respectful.