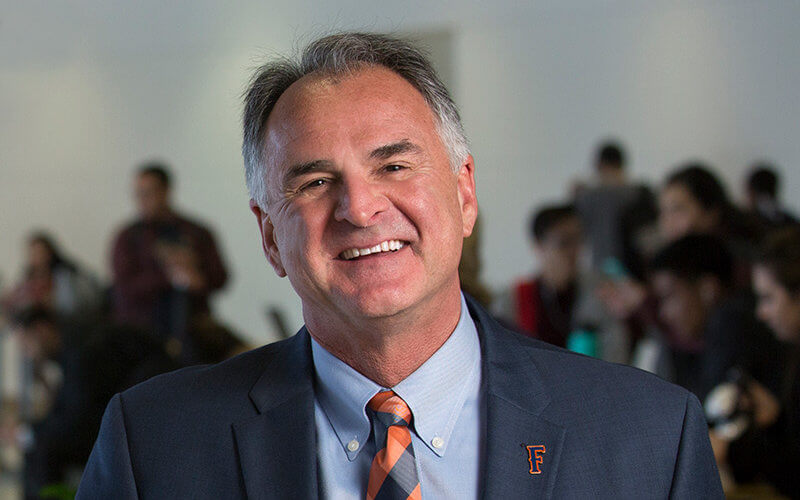 Who is struggling in Orange County? And what can we do to lift up these members of our community?
Cal State Fullerton President Fram Virjee recently participated in a virtual event, "Struggling to Stay Afloat: Over the Real Cost Measure," sponsored by the Orange County United Way. The goal of the program was to increase public awareness of the economic challenges many face in Orange County and how to make the community stronger following the pandemic.
How do you measure who is struggling in California?
One of the problems is how we determine what the poverty line is. This formula was created based on how much a family spent on food in the 1950s and '60s. Those below this "line," were considered to be struggling to meet their basic needs. This formula is still used today, decades later, and does not account for housing, child care, transportation, health care, utilities and other basic expenses.
The United Way gathered data to determine what the "real costs" of staying afloat were in California, broken down by counties.
Based on a family of four (two adults, a school-age child and a preschooler), a family in In Los Angeles County, would need to earn $91,560 to keep up with expenses. In Orange County, that same family would need $98,613.
More than one in three households in California (37%) struggle to meet basic needs. (This was before COVID-19, which means the current number is probably higher.) That means almost 3.9 million households are struggling.
In Orange County, 34% of households are struggling (or 300,000 households). The area most impacted by poverty is east Santa Ana (62%).
Real Costs Not New to Higher Education
"We are aware of these problems and have been working to help students for many years," said Virjee. "Six years ago, the California State University system looked at food insecurity among our students. We discovered that one in 10 students are housing insecure, meaning they don't have a place to stay so they sleep in their cars or couch-surf at a friend's home. One in three are food insecure — they don't know where their next meals are coming from. Our students usually have to pay tuition, buy books, pay rent and buy groceries. There is a quiet crisis going on. That's why we established a basic needs center, where we see 2,000 student visitors annually. We can help provide clothes, hygiene products, food and emergency assistance.
"To help with the total cost of attendance, we provide waivers, grants and scholarships. Because of this, about two-thirds of our students pay no tuition. Half graduate with no student debt. While financial aid covers tuition and books, it doesn't cover other expenses. About half of our students are Pell-eligible (meaning their average family income is below $50,000). Many are working and going to school. These financial burdens disproportionally affect students of color.
Education Is the Answer
Education levels play a significant role in helping families' financial success. Orange County statistics show those with higher levels of education are less likely to struggle:
72% (those without a high school diploma)
53% (those with a high school diploma)
37% (those with some college)
18% (those with at least a bachelor's degree)
"But we know higher education works," Virjee continued. "Going to college is the answer to some of these problems. We graduate about 12,000 students a year. We have 300,000 alumni. The average starting salary for our new graduates is more than $51,000 a year. That means from the moment our students graduate, they may be making more than their entire families make in a year. Education is the answer. Right now, we have about 41,500 students. We graduate the third largest population of students in California … and for undergraduates, we are the largest. That said, we need to expand access to students who are building our future."
What challenges hamper opportunities to provide a college degree?
"We need to take the long view," Virjee said. "Band-Aid solutions will not work. First, we need to look at funding. The CSU doesn't have an assured funding system. Each year, we have to go begging. Cal State Fullerton is the only CSU in Orange County. (For comparison, there are five CSU campuses in the Los Angeles area, five in the Bay Area, three in Central Valley.) We are the sixth most populous campus in the nation, and we are the lowest-funded campus in the CSU. We need to advocate to change that.
"We also need to change the view of the public as it relates to higher education. Funding higher education isn't a drain — it's an investment in the community where we all live. We are the future of social economic mobility. We are key to providing upward mobility. When students graduate, they lift their entire families."