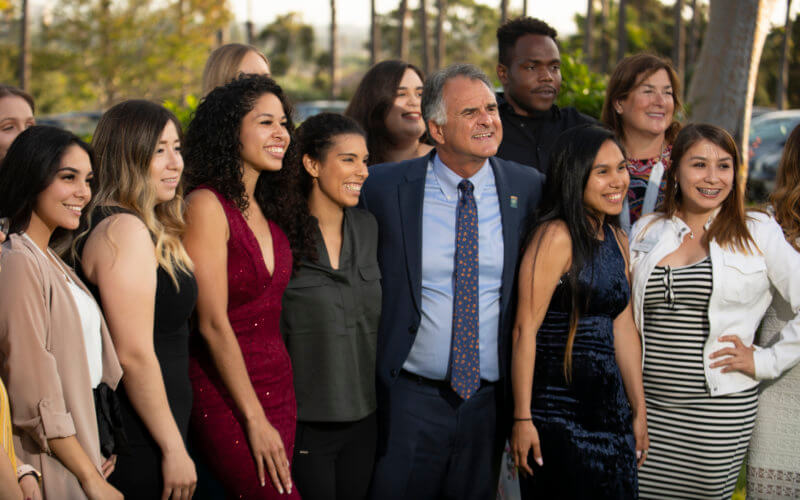 Student Anthony Munoz has faced challenges in his personal life and his academic endeavors. Despite some setbacks, the community college transfer student has remained determined in his educational pursuits.
Munoz became the first in his family to earn an associate degree from Chaffey College, transferred to Cal State Fullerton last fall and landed a scholarship from the Guardian Scholars Program to pay for college.
"There are a few educational achievements that I am proud of, and the first, is graduating from community college," said Munoz, who entered the foster care system at age 13 and later was adopted by his uncle.
At age 9, Maraya Bermudez became a foster youth after her father went to prison, and her mother, who used and sold drugs, was unable to care for her. She went to live with her godmother. At age 15, she returned to live with her mother, and has since reestablished relationships with both her parents who are now sober.
Bermudez and Munoz are among 30 former foster youth who joined the Guardian Scholars Program this academic year. Of this new class of students, 13 are receiving full scholarships.
"Being a Guardian Scholar is like finding a place of belonging," said Bermudez, who also is the first in her family to attend college and earned an associate degree from Fullerton College.
Of the 89 current Guardian Scholars, including the program's new class, 42 students are recipients of full scholarships and 14 students are on track to graduate this year.
"Whether students got a scholarship or not, it's a huge achievement that they got accepted to CSUF," said Yajayra Tovar, director of the Center for Scholars. "These students have overcome so many life challenges to be here, and they have demonstrated their commitment, strength, courage and resilience."
In addition to scholarships, students are offered a range of support services, including the educational and interpersonal skills necessary to become self-supporting community leaders, role models and competent professionals in their selected field. Due to the pandemic, services are offered virtually.
Students may also get other financial assistance, such as help to pay for books, supplies and basic needs — made possible through donor support. During the pandemic last year, from March through November, there were 177 emergency requests from Guardian Scholars, which included seeking help with food and housing costs, utility bills and mental health services.
Supporting Students to Succeed in College — and Beyond
Munoz, a human services major who is studying mental health, is working toward becoming a social worker, or high school or college counselor.
"My goal is to help as many students as possible," said Munoz, whose six siblings all entered the foster care system and were raised by their grandmother. "As a Guardian Scholar, I also look forward to becoming a peer mentor, joining clubs and becoming more involved on campus."
Munoz meets with a counselor regularly to stay on track to graduate next year. He also receives assistance through CSUF's Educational Opportunity Program, which provides admission, academic and financial support services to historically underserved students.
Bermudez, the mother of a 5-month-old daughter, is settling into college life as a student parent. A human services major focusing on addiction studies, she made the dean's list this semester.
"My experience at CSUF has been great. Going to school online has helped me be home with my daughter — and focus on my education," she said.
Bermudez is receiving a myriad of support services through Guardian Scholars, including academic counseling, a stipend for books, and even financial assistance with her daughter's medical bills.
The program is empowering her to reach her academic goals to graduate next year and become a substance abuse counselor for women. She eventually plans to earn a master's degree in social work.
For both Munoz and Bermudez, their next proudest moment in their lives will be being the first in their families to graduate with a bachelor's degree.
Visit the Guardian Scholars website for more information about the program.