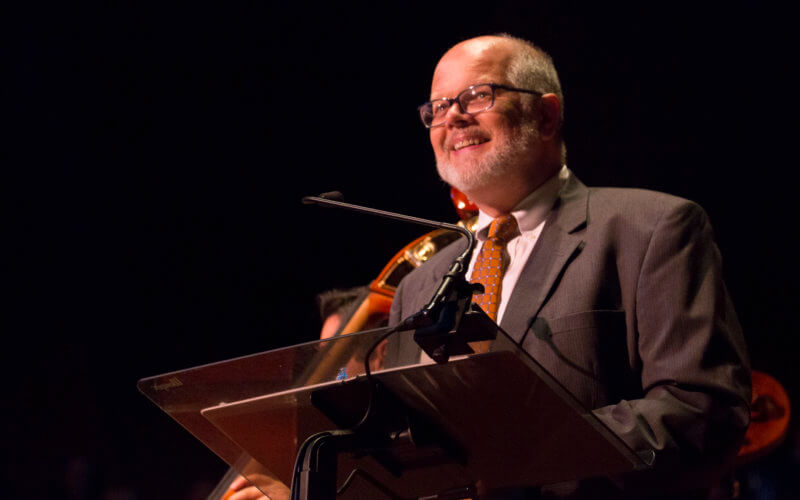 "Without Dr. Dickey, I would not be where I am today."
Erasmo Rodriguez, a Cal State Fullerton alumnus and Deferred Action for Childhood Arrivals program student, faced numerous obstacles in his pursuit of a bachelor's degree in music education and a teaching credential.
Not only did he work a graveyard shift while attending classes, concerts, meetings and student teaching, but at one point, Rodriguez lived in his car to make ends meet. He turned to Marc Dickey, professor of music.
"Dr. Dickey had such a rapport with his students, I was comfortable opening up to him and letting him know of my situation," shared Rodriguez. "When he learned about it, he was able to refer me to several student services at the university.
"You always hear of teachers and professors who go out of their way to help their students," he continued. "Dr. Dickey is one of them."
During his 31 years of service to the university, including more than a decade as director of the School of Music, Dickey has shepherded several generations of instrumental music teachers in California and beyond. An accomplished bassoonist, pianist, organist, conductor and author, his passion for training students to become public school teachers is seen in the School of Music's virtually 100% music education placement rate.
"His gentle and direct style of teaching has made a significant impact on my current teaching. I hope to make a difference in my students the same way he did with me," shared Rodriguez '18 (B.A. music-music education), who now serves as the director of instrumental music at Prospect High School in Saratoga, California.
Another student of Dickey's, Sera Wohldmann '19 (B.A. music-music education), shared how his grounded and approachable style of teaching is what "you always hope for in a professor."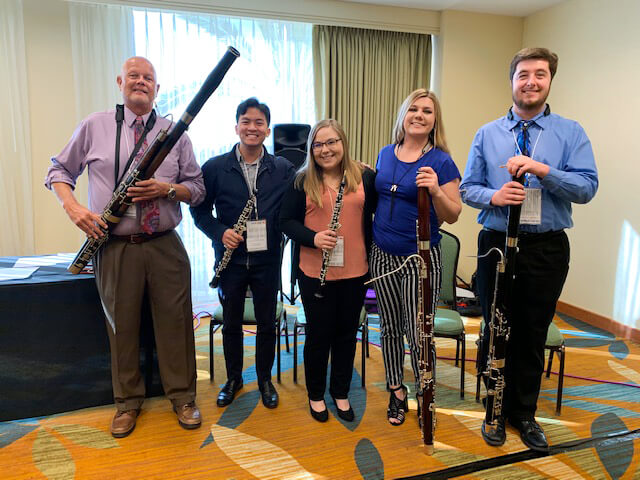 "He could cite exactly why and how he taught a specific way. That's pretty important when you're trying to teach someone how to teach," said Wohldmann, a substitute teacher and music tutor. "He brought up such topics as behavioral research and why kids really act out. I was able to apply these ideas in my next classroom."
The Gift of Music
Under Dickey's leadership of the School of Music from 2003-15, both enrollment of music majors and fundraising for music programs climbed. Construction was completed on the 800-seat Vaughncille Joseph Meng Concert Hall, in which a 1953 Schlicker touring pipe organ formerly owned by renowned musician E. Power Biggs — a gift to the university — was installed. In addition, the School of Music launched the annual Clayes Collage Concert and Titans of Music Award to honor distinguished alumni, faculty and community members.
Nearing retirement, in 2019 Dickey established the Willard and Virginia Dickey Instrumental Music Education Student Teacher Scholarship at Cal State Fullerton in honor of his parents.
"My parents always supported me in my musical endeavors, encouraging but not pushing," Dickey recalled. "They didn't make a lot of money, but at one point they were paying for my bassoon, piano and organ lessons each week."
One of Dickey's favorite childhood memories is playing musical trios with his parents — his mother playing flute, his father playing viola and him at the piano.
Dickey's planned gift includes $25,000 plus 40% of his estate to support future generations of music students.
"I've had a wonderful career as a faculty member at CSUF, and I wanted to pay it forward in a meaningful way," said Dickey. "This planned gift will provide scholarship money for students in that final student-teaching year, to take a bit of the financial pressure off and help them really focus on getting ready for their careers as school music teachers.
"Becoming a musician to one's highest potential is very hard work and extremely time consuming," he added. "Our music students and alumni go far beyond this when they share their skills and passions to enrich everyone's life experiences across campus, within our communities and throughout the world."