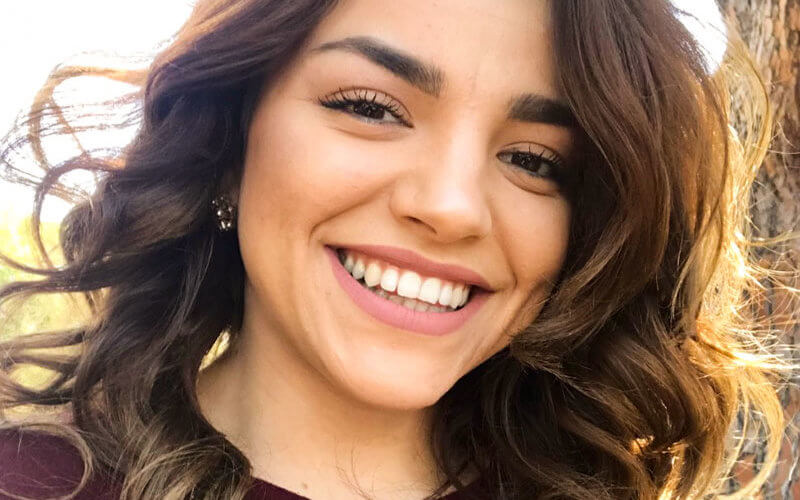 Growing up in foster homes, there were days when Genesis Osuna felt hopeless about the future. But today, the alumna is looking forward to a better future. She is the first in her family to earn a college degree.
"There were days that were dark, but I would take a deep breath, and remind myself that tomorrow is much brighter," Osuna said.
School was always a safe space for Osuna, where she could be a "normal kid." When she received a financial scholarship to attend Cal State Fullerton through the Guardian Scholars Program, which supports current and former foster youth, she finally felt at home.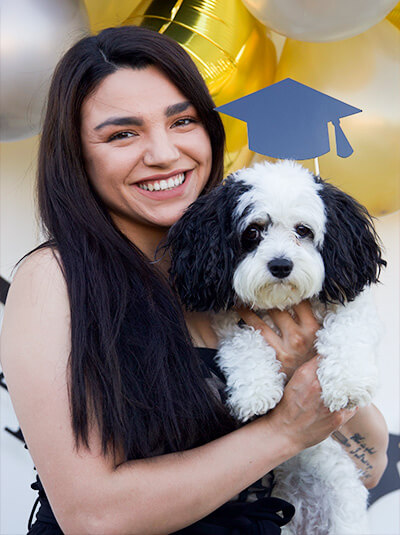 "Although college was hard in the beginning, I was welcomed. Guardian Scholars gave me a family I could relate to; I saw myself in a lot of my peers," said Osuna, who earned a bachelor's degree in communications-journalism in 2020. "The program was not just about getting a scholarship, there was history among my peers about the foster care system that no one else knew about."
Since 1998, the Guardian Scholars Program, part of the Center for Scholars, has provided financial, academic, social and personal support to current and former foster youth through donor, foundation and community support. Students receive the educational and interpersonal skills necessary to become self-supporting, community leaders, role models and competent professionals in their selected field.
Among the program's supporters are alumnus Patrick Donahue '78 (B.A. business administration-marketing) and his wife, Paula. For the Donahues, the most rewarding is seeing the scholars graduate.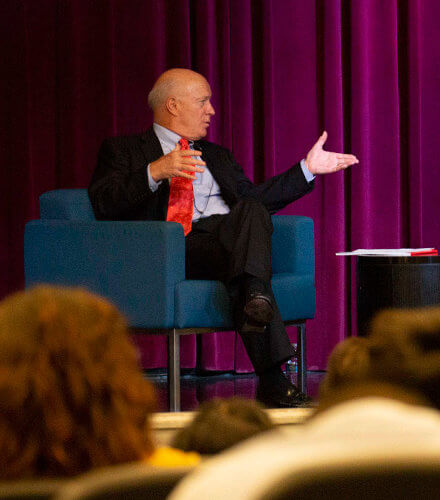 "These kids didn't bargain for a lot of what has happened to them so far. To see their persistence and drive is really inspiring," said Donahue, chairman and chief executive officer of Donahue Schriber Realty Group in Costa Mesa.
"If we can help normalize their experience just a bit, we believe we can improve their graduation rate. I'm so proud of all of these Guardian Scholars."
Following the outbreak of the coronavirus last year, the Donahues stepped up and donated $10,000 to support the emergency needs of the Guardian Scholars.
"Once COVID-19 hit, it became obvious there would be some glaring gaps financially," he said. "We wanted to provide discretionary funds for emergency purposes like food, transportation and shelter."
Donahue said it's important to them to give back to their community and his alma mater.
"I once heard that only successful companies can give back to their communities. I took that as a challenge and a responsibility, that if you have been fortunate in business, it was a duty to give back. I am very proud of our company's outreach to the communities where we live and work."
As an undergraduate, Osuna frequented the Center for Scholars — with her emotional support dog, Monito, in tow. She found the staff nurturing and made lasting friendships with fellow scholars.
"Every time my puppy and I walked in the office, the staff made me feel so loved and important," she said.
Osuna is grateful to the Guardian Scholars Program for giving her emotional and academic support to overcome her past and encouraging her to use her communication skills to advocate for change. With her college degree in hand, she is pursuing a career as a reporter of documentaries and films.
"I found my passion behind a camera, fighting against injustices and making sure minorities' voices get heard in their communities," Osuna said. "I want to educate my community through filming and reporting. My goal is to empower others to know that they can rise up too."