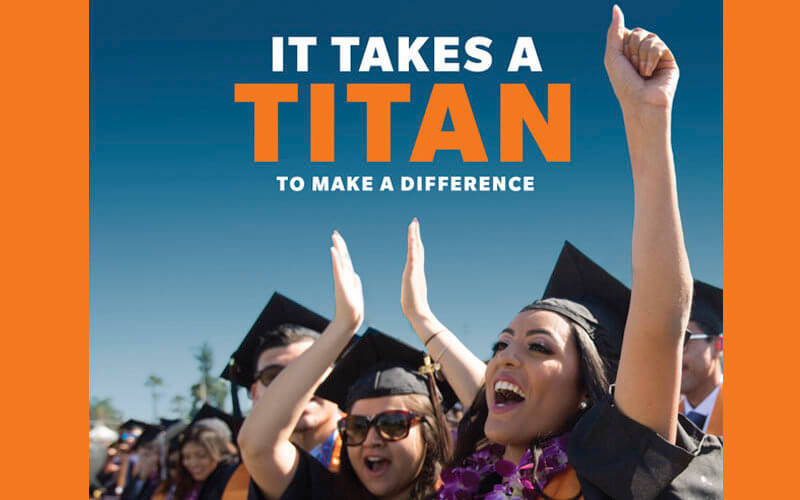 The Titan spirit of generosity reverberated across the globe March 9 as thousands joined together to support student success via #TitansGive, Cal State Fullerton's second annual day of giving.
The 24-hour online event raised $454,438 for the university's "It Takes a Titan" philanthropic campaign, nearly doubling the impact of the inaugural #TitansGive in 2020. A total of 1,405 donors from 40 states and four countries gave 1,621 gifts to support projects related to academic innovation, student empowerment, community engagement and campus transformation.
"We are awed by the outpouring of generosity on this day of giving," said Greg Saks, vice president for university advancement. "What a testament to the caring and commitment of the entire Titan family to helping our students and campus succeed."
#TitansGive included several giving challenges underwritten by PepsiCo, which produced the following winners:
Donor Challenge (area bringing in the most donors) – Counseling: Ánimo Latinx Emphasis
Dollar Challenge (area bringing in the most dollars) – Center for Leadership
Alumni Donor Challenge (area bringing in the most alumni donors) – Speech and Debate Scholarships
Faculty, Staff and Emeriti Donor Challenge (area bringing in the most faculty, staff or emeriti donors) – Center for Healthy Neighborhoods
Ambassador Donor Challenge (#TitansGive ambassador bringing in the most donors) – Brooke Fessler Owens, awarded $2,500 to Titan Fund
In the Social Media Challenge, Jeffrey Whitten '17 (M.S. environmental engineering) was randomly selected from all the donors who used the hashtag "#TitansGive" on social media. He won $100 that he could give to the campus program of his choice, and he picked Titan Communications (where he happens to work).
Sarab Singh, director of construction management, was randomly chosen for the Faculty, Staff and Emeriti Bonus, giving him the chance to have an additional $1,000 added to his donation.
When making their gifts, several donors shared how giving was a way for them to express their gratitude for the difference CSUF had made in their lives, and that they wanted to "pay it forward" to current students:
"Go Titans! Happy to support the next generation of young, talented Black journalists!" ~Tyrah Majors '18 (B.A. communications-journalism)
"CSUF has played a huge role in my success in entertainment. I am grateful that I am able to pass it forward to a new generation of Titans!" ~Kim Dwinell '93, '11 (B.F.A. art-illustration, M.F.A. art-design)
"I learned so much in the entrepreneurship program and had so much fun! 15 years later and still with an entrepreneurial spirit, I'm so happy and excited to know that I am helping students in the program that I was once in. Dreams really do come true!" ~Mouay Baoloy-Van Ligten '06 (B.A. business administration-entrepreneurship)
University Advancement holds #TitansGive each spring. Visit the campaign website to learn more about opportunities to make a difference in the lives of Titan students.