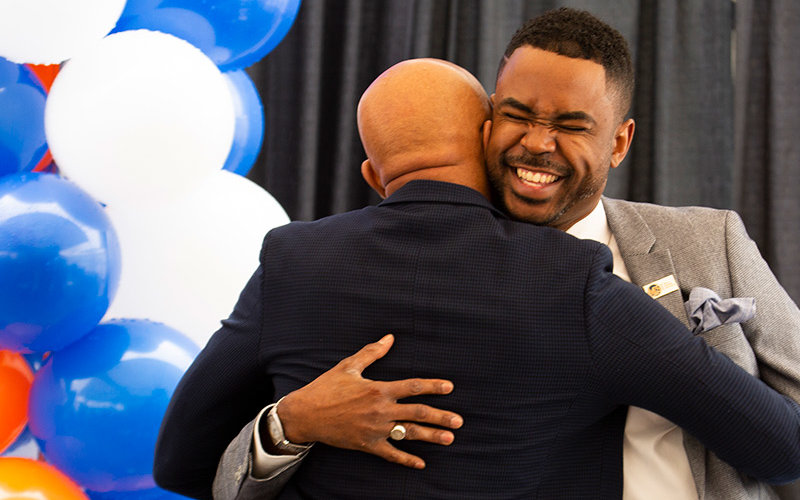 "Understanding and unpacking gender, identity, gender expression, gender roles and masculinities are critical and relevant to all the work we do … especially as educators," said Vincent Harris, director of Cal State Fullerton's Male Success Initiative program.
"Consider James Baldwin (a gay Black novelist, poet and activist), Tony McDade (a Black transgender man who was shot by police last summer), Ahmaud Arbery (a Black man shot in Georgia while he was out jogging). How are we seeing Black men? Some Black men such as Bayard Rustin (a leader in civil rights, nonviolence and gay rights) and Billy Strayhorn (Duke Ellington's composer) did identify as queer or gay. How did their voices give action to the movement?
"Look at your own narrative," Harris said. "If I look at myself, I am Vince Harris, director of MSI, from Alabama, where I grew up with two brothers. In our home, it was all boys and brotherhood. Brotherhood was super important."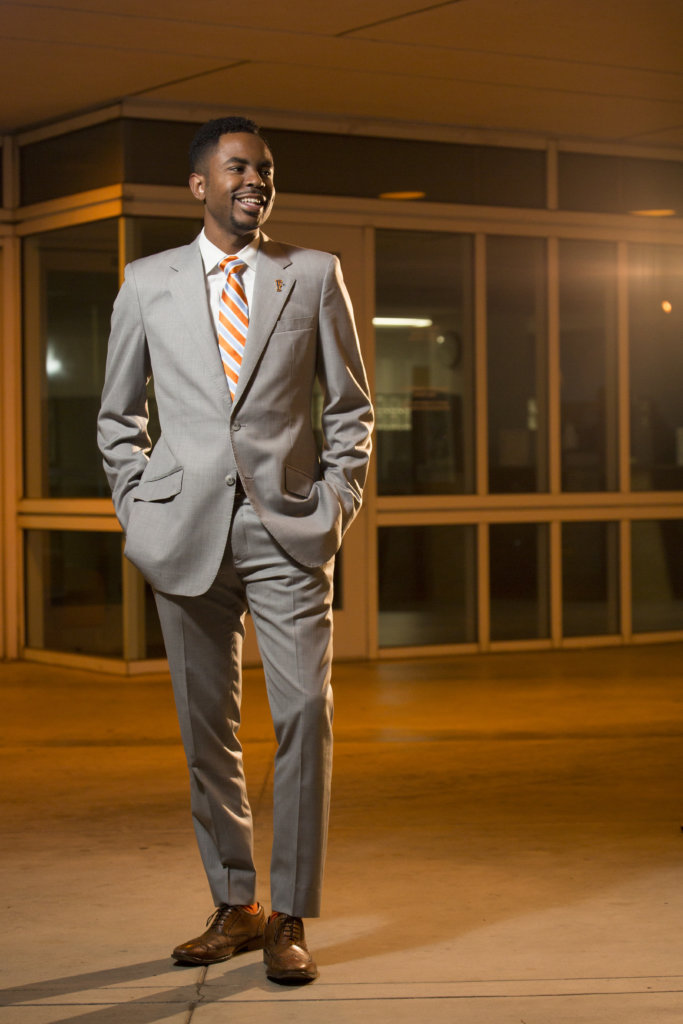 Harris earned a bachelor's degree at Auburn University, where he joined a fraternity; he worked in Houston through Teach for America, where he taught fifth and sixth grade and developed a step team to help young boys feel more connected to school; and then he went on to earn a master's degree at Ohio University where he advised the Student African American Brotherhood. Harris  earned his Ph.D. at Louisiana State University where he worked with 25 young Black men each year to help them create a path for themselves following graduation. He also conducted postdoctoral fellowship work at Harvard University, working with the Harvard College Women's Center. 
"It was after college when I moved to Houston and was away from the pressures to 'fit in,' when I was no longer 'Seduced by Acceptance' (Harris, 2015), that I was able to start to explore my questioning identity and understand what being gay meant as a Black man.
"When I work with young Black men in MSI, I often ask why they are here," he said. "We're just having a chat. I want them to connect with Cal State Fullerton, and we can do that by connecting all young men of color including Black men through the Black Male Leadership Initiative.
"So how do we raise conversational awareness? How do Black men measure manhood, masculinity?"
The narratives that young Black men use to describe themselves or behave makes a difference. This can be particularly difficult for young gay/trans Black men. Many people already judge Black men without even knowing them. And they judge GBTQQ (gay, bisexual, trans, queer and questioning) individuals, too.
"I use men versus male. For example, a student may be born a male … but you 'become' a man. Or a woman. There are social norms and many times, Black undergraduates don't know how to fit in. Are they the clean-cut type? Do they adopt a more fluid, androgynous look like Pharell Williams who demonstrates the fluidity of masculinity? Where are the access points you are allowed to enter?
"This matters in how we work with Black men. When you're a child, there is a curious intersection of ethnicity and masculinity — boys are expected to be rough and tumble. Then they enter the stage of 'guyhood' where they're trying to find their way and can be teased and rejected if they don't 'act like a man.' And then there's manhood, where this intersection is unavoidable. It seems like we're all in a race toward patriarchy, masculinity and approval."
That's why Harris believes it's important to address what it means to be a Black man: what values do Black men aspire to? Empathy and understanding? Respect, dignity and the way they treat others? Many students are still "unpacking" what it all means.
"Oftentimes, we're seduced by certain identities," Harris explained. "For instance, your family or friends or colleagues may not accept you if you're not straight. Often family members are the ones who accept you when the world doesn't seem to … and Black men don't want to lose that by admitting they are gay or trans or queer. So you internalize your feelings and become 'successful' in pretending — in performing to meet the ideals of what you think you should be.
"In our work with queer Black men, we ask, 'What are you doing that needs to be unlearned? How will you strive not to be seduced by 'acceptable' norms of what it is to be a Black man? We need more places for males to interact and ask the uncomfortable questions.
"Fear prevents us from moving forward," he said. "But when we know better, we do better."
Visit the Male Success Initiative website to learn more or support the program.