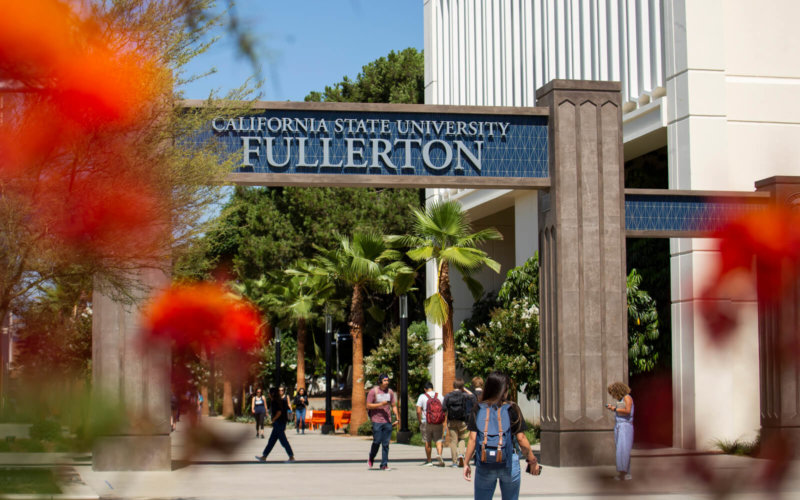 As the spring 2021 semester enters the last few weeks, plans are underway at Cal State Fullerton to offer 65% of classes in person, 25% virtually and 10% as hybrid courses. Student services and campus facilities will also transition back to campus and on-campus housing will be open to more students.
By May, it is estimated that all individuals ages 16 and older will have full access to vaccinations for COVID-19. Faculty, staff and students returning to any CSU or UC campus this fall, including Cal State Fullerton, will be required to have received a COVID-19 vaccination. This requirement will be conditioned upon full approval of one or more vaccines by the U.S. Food and Drug Administration, as well as adequate availability of the fully approved vaccines. The COVID-19 vaccination requirement would allow for students or employees to seek an exemption based on medical or religious grounds.
Masks and physical distancing will still be required in accordance with California Department of Public Health guidance. In addition, the campus has spent the past year modifying work and classroom areas to further enhance the health and safety of faculty, staff and students.
Beginning July 1, management and staff members will transition from working remotely and return to their respective campus offices and work areas. This will be followed in early August by the return of faculty members, most of whom will be teaching on campus during the fall semester. The majority of CSUF students will attend in-person classes starting Aug. 21.
"The Division of Student Affairs and the entire campus community are eagerly preparing for increased in-person operations in the fall semester," said Vincent Vigil, associate vice president for student affairs and dean of students. "We will continue to prioritize student success while providing a safe and healthy learning environment for all. We know this has been a challenging time for many, and we appreciate everyone's flexibility throughout the pandemic."
"Based on the assumptions of widespread vaccine availability and the reaching of 'herd immunity' and on input from the departments in each of the colleges, our faculty members have prepared for a predominantly in-person modality of instruction in our return to campus for the Fall 2021 semester," said Mark Filowitz, associate vice president for academic programs and enrollment. "The schedule of classes went live on March 22 and students began registration on April 9. We have spent the past 13 months planning and preparing for the safe return for all members of the Titan family in the midst of the rapidly changing landscape of the pandemic and I suspect that our faculty members are looking forward to once again meeting face-to-face with their students. We are just emerging from a historical time and we recognize there may be a period of adjustment but our faculty remains focused on ensuring that students continue to receive the highest levels of academic instruction. With widespread availability of the vaccines and continued use of masks, we are confident that conditions will continue to improve and we will come back to the full richness of campus life."