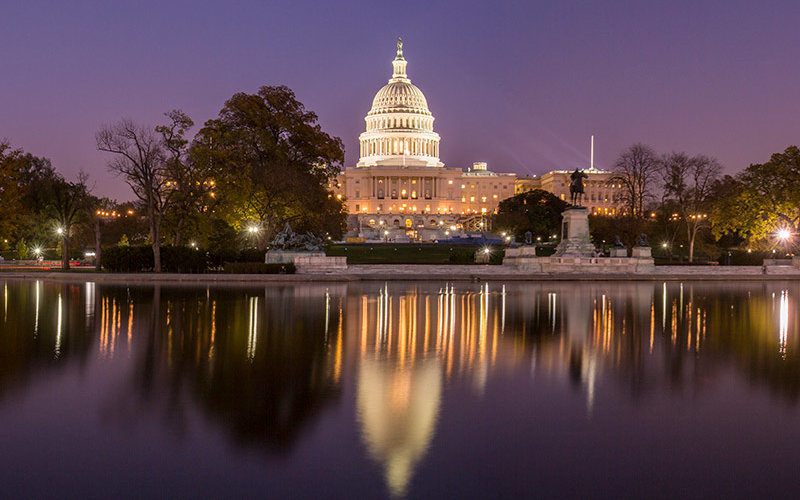 Each year, dozens of Cal State Fullerton students spend a summer or semester studying and interning in the nation's capital and experiencing what it's like to live near "the Hill." Since the program was founded in 2006, more than 500 students have taken advantage of the experience.
One topic scholars consistently bring up is leadership — how do leaders develop the skills they need? How can students become more effective leaders themselves?
"To answer those questions, we decided to form the Master Class Series: Leadership Challenges in a 21st Century America," said Eliza Ramirez '12 (B.A. political science, women's studies), deputy chief of staff/legislative director for U.S. Rep. Tom Malinowski (New Jersey, 7th District).
The first in the series will feature CSU Chancellor Joseph I. Castro, who leads the 23-campus California State University system. This will be followed by U.S. Rep. Young Kim (California, 39th District) in May.
"There are a lot of trailblazer events on the Hill," said Ramirez. "I have been attending meetings of congressional staff associations and others for years. They often feature very high-profile, successful individuals in politics and policy and are usually bipartisan.
"Many have a common theme — leadership," she continued. "We wanted to share this experience with current DC Scholars, alumni of the DC Scholars program, donors, friends and more."
So Ramirez set out to find high-profile speakers who are "California-centric" to discuss the challenges of leadership and how to become a more effective leader in the state.
The goal is to provide DC Scholars with insight into how leaders develop, adapt and serve in a leadership function. The plan is to present a bipartisan panel at least twice a year.
"We want to take the vision of leadership and apply it to the DC Scholars program," she said. "These skills are invaluable and you can hone them at every stage of your life. True leadership encompasses the larger picture — how do I contribute to my community? What kind of leader am I? It's our hope that our audience will gain valuable insight into what makes a good, strong leader."
Learn more about the DC Scholars Program on their website.
Ramirez served as a DC Scholar in the Office of Surface Mining, where she spent time writing policy memos and traveled to such places as West Virginia to see, firsthand, the sites of surface mining as well as coal mines.