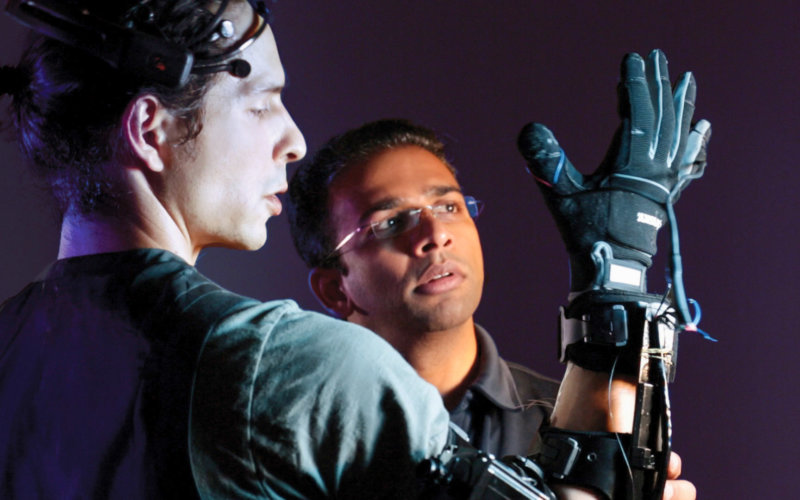 Cal State Fullerton's 2020 Outstanding Professor Kiran George's research in assistive technology knows no limits — from developing a mind-controlled wheelchair to a voice-controlled robotic arm to help veterans who are visually impaired perform simple tasks.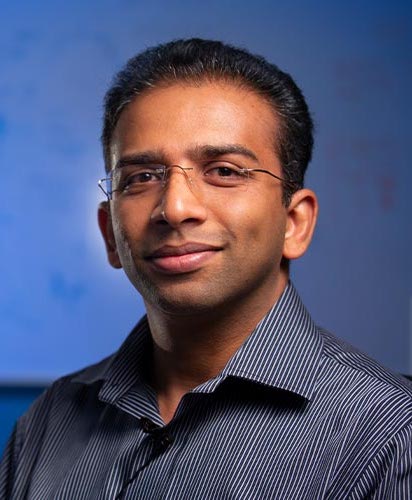 George, program coordinator and professor of computer engineering who specializes in the field of hardware design and software development, presented his Outstanding Professor Lecture April 14 on past, current and future biomedical assistive technology projects. CSUF President Fram Virjee and Provost and Vice President for Academic Affairs Carolyn Thomas gave welcome remarks.
Assistive technology is hardware or software that is used to increase, maintain or improve functional capabilities of individuals with disabilities or the elderly population to perform everyday activities, such as communicating and picking up items, George said.
George discussed his cutting-edge research, which utilizes low-frequency electrical signals generated by the user's bio-electrical signals, such as brain signals, and heart and muscle activity, to operate devices and systems. He develops projects with his students, where the "possibilities are endless."
"This technology can increase the capabilities of humans by utilizing real-time neurophysiological signals such as brain signals, heart rate variability and electrodermal activity to augment what we are currently capable of doing in the areas of cognitive performance, learning, visual performance and even athletic performance," George relayed.
George, who has done extensive research to develop memory aids for individuals with Alzheimer's disease and robotic arms for patients with ALS (amyotrophic lateral sclerosis), or Lou Gehrig's disease, focuses on developing low-cost, non-invasive devices that work from the surface of the skin — without the use of implants in the body.
"There's a huge need for assistive technology devices. One in 10 people have access to assistive technology due to the high cost," said George, the recipient of the National Science Foundation's Faculty Early Career Development (CAREER) Program award in 2012 and the university's 2017 L. Donald Shields Excellence in Scholarship and Creativity Award.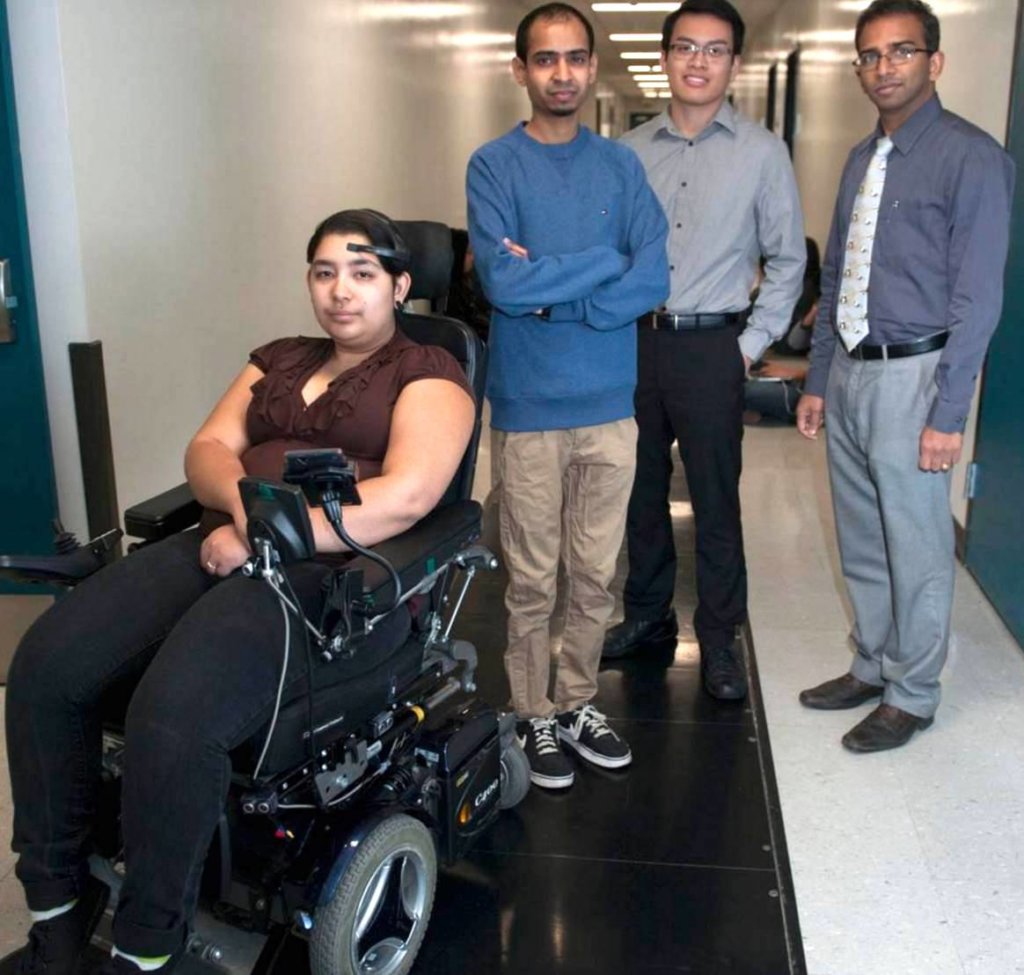 George, who has mentored scores of students since joining the university in 2007, currently has 15 undergraduates and graduate students working on design projects that focus on solving real-world problems and prepare them for their future careers. Over the last 14 years, he has published 93 technical articles, including 77 with students, on advancing assistive technology.
Some of the projects he discussed include a brain signal-controlled smart hearing aid that can selectively amplify the sound sources, such as conversations, based on the user's mental thought signals, known as electroencephalography (EEG).
"Brain signal-controlled adaptive devices can predict a user's intent and act upon it before the user acts upon it," George said, like technology used in the automatic braking of cars.
"When you blink your eye, there are signals from the brain going to the muscles in the eye, so there are changes in the brain activity and signals. When you pick up a bottle of water, your brain is sending signals to muscles in your hand so there are changes in signals because of the muscle activity in the hand and fingers."
George also presented his work on a voice-controlled robotic arm to aid veterans who are visually impaired do routine, daily activities, such as getting items from the refrigerator. "For example, users can give vocal instructions to ask the robotic arm to 'Open the fridge, pick up the water bottle and bring it to me.'"
Computer engineering offers career paths in both hardware engineering, such as integrated circuit design, and software, including databases, artificial intelligence and machine learning, in industries from aerospace, automotive to health care and telecommunications.