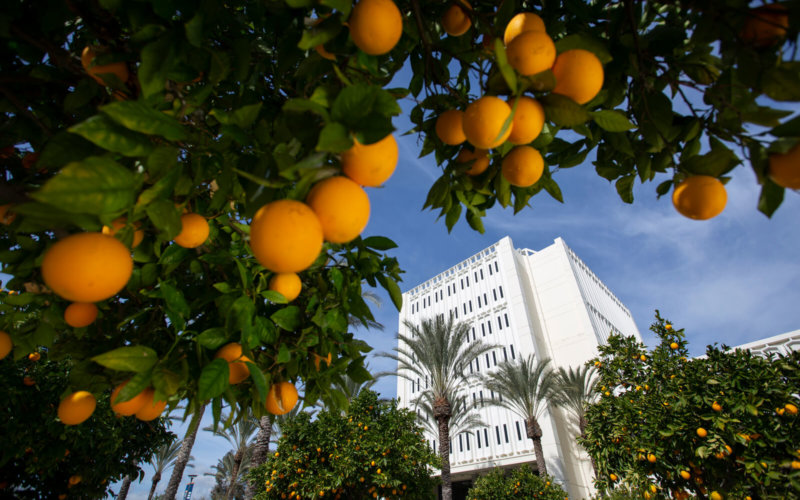 Cal State Fullerton faculty have been busy sharing expertise on a wide array of topics ranging from the challenges journalists face when covering protests to what it's like growing up as a parachute/satellite kid in Asian American transnational families. These are the publications, presentations and awards submitted during March 2021.
PUBLICATIONS
Jacqui Frost, professor of cinema and television arts, published a new book titled "Conversations with Contemporary Cinematographers: The Eye Behind the Lens."
Stevan Pecic, assistant professor of chemistry and biochemistry, co-authored "Structure-Switching Aptamer Sensors for the Specific Detection of Piperaquine and Mefloquine" in the journal Science Translational Medicine.
Tara Suwinyattichaiporn, assistant professor of human communication studies, published "Conceptualizing and Operationalizing Empathic Expressions: A Communication Perspective" in Communication Studies.
Diana Tisnado, professor of public health, co-authored "Deficits in Advance Care Planning for Patients With Decompensated Cirrhosis at Liver Transplant Centers" in JAMA Internal Medicine.
Yuying Tsong, professor of human services, and Sapna B. Chopra, assistant professor of human services, co-wrote "The Emotional, Cultural and Relational Impact of Growing Up as Parachute/Satellite Kids in Asian American Transnational Families" in the Asian American Journal of Psychology.
PRESENTATIONS
Adam Golub, professor of American studies, presented a paper titled "Creative Work as Equipment for Living" at the Northeast Modern Language Association conference.
Bruce Rubin, lecturer emeritus and English language specialist for the U.S. Department of State on behalf of the U.S. Embassies in Nepal, India and Pakistan, was the lead presenter and emcee at the South Asian Regional Online Conference. He spoke on critical thinking in English language teaching.
Jason Shepard, chair and professor of communications, moderated a virtual panel titled "Covering Protests: New Challenges for a New Era," sponsored by First Amendment Watch at New York University and the Center for Journalism Ethics at the University of Wisconsin-Madison.
Jess Vega-Centeno, assistant professor of communications, spoke on a panel titled "The Challenge of Privilege: Unpacking Advantage" at the 2021 Winter American Marketing Association conference.
Several communication sciences and disorders faculty presented at the California Speech Language Hearing Association virtual conference:
Lisa Erwin-Davidson and Russell Johnston, both assistant professors of communication sciences and disorders, presented "'Know Thyself': Identifying Instructional Beliefs and Practices in AAC Intervention." Erwin-Davidson also co-presented "Beyond the Classroom Doors: Linking Classroom to Community."
Terry Saenz, professor of communication sciences and disorders, co-presented "Through the Looking Glass: School-Based Speech-Language Pathologists Collaborating With Oral Interpreters."
Kenneth Tom, professor emeritus of human communication studies, spoke on "California State University, Fullerton Adapted Yoga Techniques for Voice Therapy and Singing Voice Rehabilitation."
Toya Wyatt, professor of communication sciences and disorders, presented "Standardized Testing With Black Students Who Are Non-Mainstream American English Speakers."
AWARDS/HONORS
Roselyn Du, associate professor of communications, was awarded the Senior Scholar Grant of $5,000 from the Association for Education in Journalism and Mass Communication for her research project titled "Algorithmic Audience in the Age of Artificial Intelligence: Tailored Communication, Information Cocoons and News Literacy."
Cylor Spaulding, assistant professor of communications, was named the guest editor of a special issue of the Journal of Public Relations Research. The issue examines the intersections of faith, spirituality and public relations.
Faculty and staff may submit publications, presentations and honors/awards for this monthly roundup at newssubmissions@fullerton.edu.