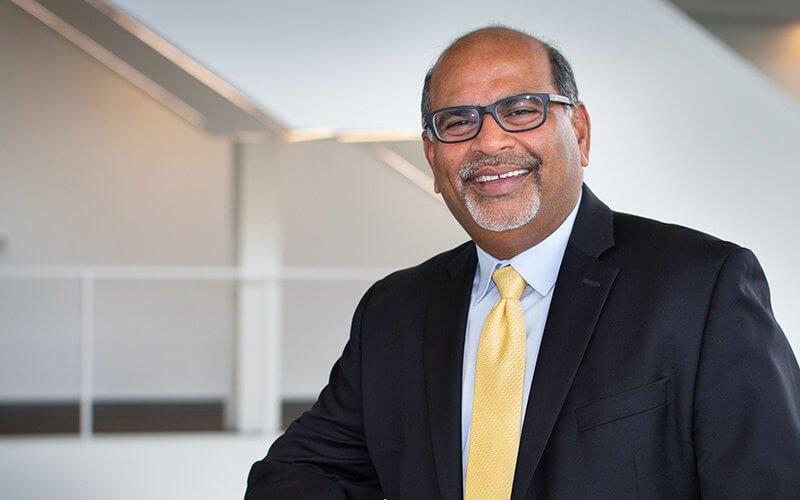 After a national search, Sridhar Sundaram will join Cal State Fullerton as the next dean of the College of Business and Economics, effective July 15.
Sundaram is currently the Tiedemann-Cotton dean of the Kate Tiedemann School of Business and Finance, and campus dean for the Muma College of Business, both at the University of South Florida.
He began his 31 years in higher education as a faculty member in finance, but quickly took on administrative roles, moving from department chair to academic director, associate dean and ultimately, dean. Along the way, Sundaram has been recognized for outstanding teaching, service and research.
While his early academic research focused on the management of banking institutions, corporate governance and asset pricing, Sundaram's current scholarly project looks at the impact of the pandemic on minority-owned microbusinesses. As part of this work, he and his team are assessing the effectiveness of proposed federal, state and local policies on these businesses — especially which of them can make the most meaningful contributions to their long-term economic health.
While ascending the academic ranks, Sundaram also gained business experience outside of the university. He has worked for many years with his family's retail business, while also consulting with regional businesses in his communities and serving on a number of boards. Currently, he is the chair of the board of governors for the St. Petersburg Chamber of Commerce and serves as a board member for Saint Anthony's Hospital in St. Petersburg, Florida.
Sundaram looks forward to emphasizing academic innovation, high-impact research and strong connections to the business community in his new role at CSUF.
"I am truly excited about the opportunity to lead the College of Business and Economics to its next level of development and excellence," he shared. "I am impressed by the college's commitment to the academic success of its students and to regional economic development through its centers of excellence."
"Sridhar is an experienced academic leader with a proven ability to facilitate student and faculty success," explained Carolyn Thomas, provost and vice president for academic affairs. "I'm particularly enthusiastic about the drive he has to engage with our regional community in ways that build on our current successes, while opening up new opportunities that are unique to our particular location. I can't wait to see him working with CBE's strong college leadership team to build the next stage of their legacy."
Sundaram holds a doctorate in finance and MBA from Southern Illinois University, Carbondale, and both a master's and bachelor's degree in accounting from PSG College of Arts & Science in India.