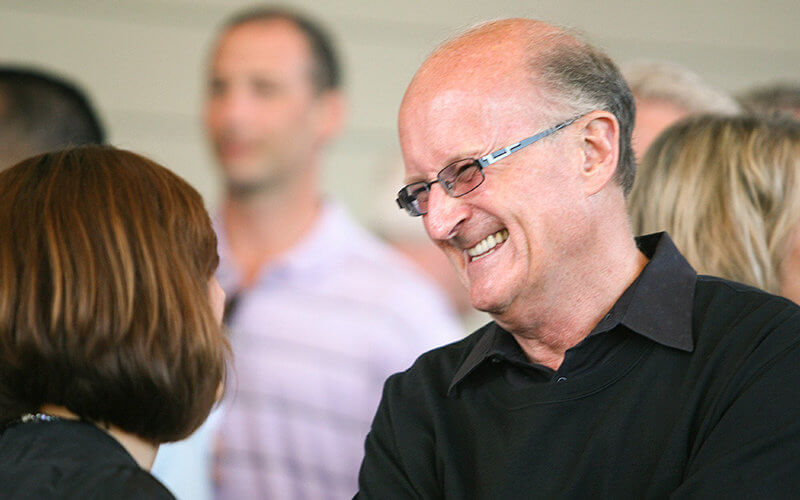 "We have a long history of valuing teachers and professors in the classroom and a growing tradition of emphasizing the relationship between teaching and research."

Jack Bedell
John (Jack) Bedell arrived in California in 1969 with his dissertation in hand, six Siamese cats, his wife and 5-week-old daughter after a cross-country ride from Cleveland, Ohio, in a '65 Mustang. He had recently accepted an offer at Cal State Fullerton as an assistant professor of sociology. On April 7, 2021, Bedell died, leaving behind thousands of grieving colleagues, former students, community associates and family members.
During his more than 40 years at the university, Bedell not only served as a professor of sociology but chaired the department for several years. He would go on to serve as chair of three other campus departments: child and adolescent development, electrical engineering and anthropology.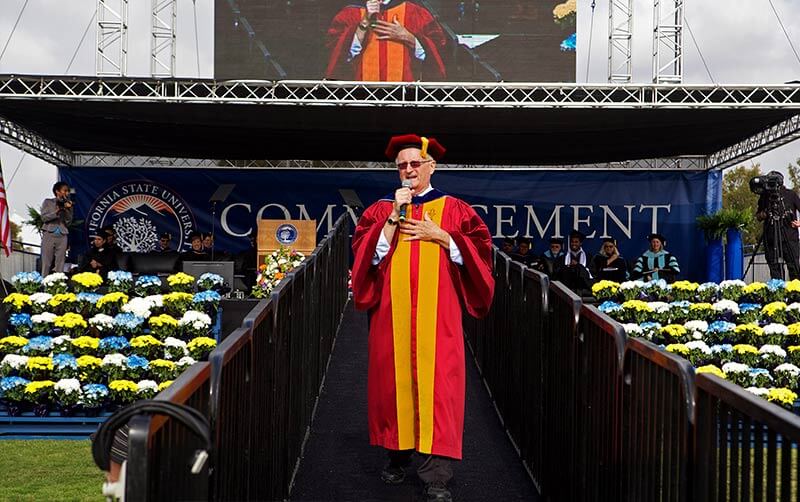 While serving as master of ceremonies during commencement activities, he was known for leaving the stage, carrying a microphone with him, and walking through the audience of thousands of students while delivering his commencement address. He did this, he said, because he felt "professors should be with their students."
"There is no finer personification of what we ask of all faculty, staff and students — to cast off their comfort zones and go all-in on the Titan experience — than Jack Bedell," said President Fram Virjee. "His 40 years of stellar service in countless academic and leadership roles aside, where else are you going to find a professor emeritus of sociology willing to forgo retirement to serve as the chair of electrical engineering? And just as he transformed that department these past few years, he also transformed the lives and family legacies of thousands of Titans these past four decades. But beyond that, and beyond his irascible and sometimes curmudgeonly exterior, Jack was one of the most wonderful and decent humans I have ever met. He will be dearly missed, but his legacy will shine eternally through the hearts and minds of generations of Titans."
In addition to teaching, Bedell served as director of the Faculty Resource Center and acting vice president for academic affairs. His service to the university in faculty governance is unparalleled. He served as a senator in both the campus Academic Senate (for more than 25 years) and in the CSU Academic Senate. He was elected chair of the Academic Senate seven times. He also played a key role in establishing a faculty position on the CSU board of trustees. In 2007 he was honored with the university's Faculty Leadership in Collegial Governance Award.
When asked once why he kept serving as chair, he responded, "I ask myself that same question! Actually, in my years of teaching, I've grown up with the concept of academic governance. I truly believe in the importance of this senate to the overall well-being of Cal State Fullerton."
Bedell served the CSU as acting associate vice chancellor of academic affairs from 1984-86 where he wrote the "A through E" admission standards for the CSU. This single accomplishment impacted hundreds of thousands of students by pressing high schools throughout the state to offer the full complement of sciences, social sciences, arts and humanities. As associate vice chancellor, he also worked to establish the Summer Bridge program that gives first-generation college students an academic boost in the summer prior to their first semester, while allowing them to make connections with other students and acclimate to the campus. 
In the community, he served on the Orange County Board of Education and was honored with the association's Marian Bergeson Award for more than seven years of service. In 2011, he was named vice president of the California County Board of Education, a statewide organization that advocates on behalf of county boards at the state and federal levels. He served as president of the association in 2007.
When he retired, true to form, Bedell was not only on CSUF's Emeriti Executive Committee, he was president. He was an active member of the Friends of the Fullerton Arboretum and loved coming to the arboretum's "Super Saturday" volunteer days to pull weeds with members of the community. 
He also served as an officer of the Fullerton Civic Light Opera board of directors, and was a member of the boards of the Orange County Area Agency on Aging and the Women's Transitional Living Center.
He received his doctorate degree in sociology in 1969 from Case Western University.
Bedell is survived by his wife Sue, daughter Robyn, son John and four grandchildren.