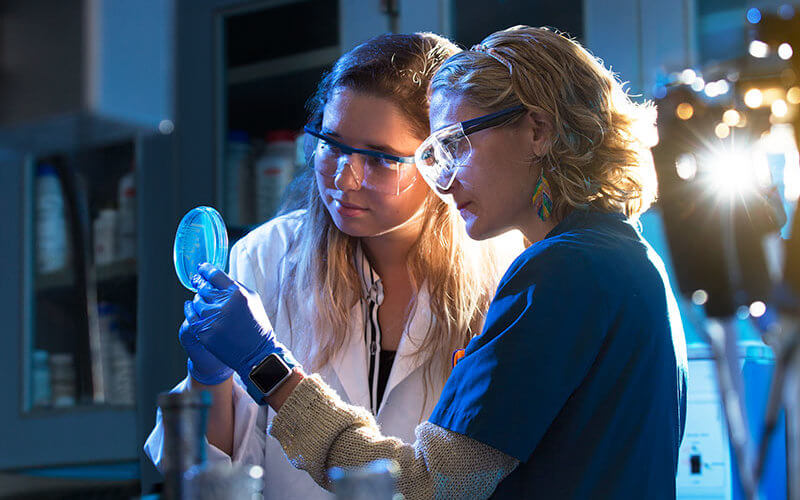 For infectious disease researcher María Soledad Ramírez, her ultimate goal is to contribute to the fight against drug resistance.
A native of Buenos Aires with experience in molecular microbiology and clinical research, Ramírez came to Cal State Fullerton in fall 2014. Since, she has established an active and groundbreaking antibiotic-resistance research program that involves undergraduate and graduate students at every step.
With antibiotic-resistant bacteria causing millions of infections and thousands of deaths each year, her work focuses on one bacterium of particular concern: Acinetobacter baumannii. It is one of the most powerful and deadly bacterial pathogens and hard to eradicate in people with weakened immune systems and in hospital settings.
"The discovery of new treatments is critical to combat infections caused by untreatable pathogens," said Ramírez, associate professor of biological science. "In addition, understanding how this pathogen behaves under different environments, such as hospital settings, will result in novel approaches to control the development of antibiotic resistance in A. baumannii."
To deal with the drug resistance crisis, Ramírez's lab focuses on the study of antibiotic resistance — the dissemination and evolution, and impact on the morbidity and mortality of bacterial infections.
Because her productivity and passion for science is unparalleled and her research notable among the international scientific community, Ramírez has been selected as this year's recipient of the L. Donald Shields Excellence in Scholarship and Creativity Award. CSUF President Fram Virjee announced her selection at today's (April 8) virtual Academic Senate meeting.
Virjee recounted how Ramírez is transforming the lives of her students, including Jennifer S. Fernandez '19 (M.S. biology), who wrote a letter in support of her faculty mentor.
"When I joined Dr. Ramírez's lab, I did not have research experience, but I quickly learned that it meant nothing to my new mentor. She knew that she was capable of molding me into the researcher that I never believed I could become," Fernandez relayed, adding that as a first-generation college student, she was able to excel in science because of her mentorship.
"Can you get a better testimony than that?" Virjee said, adding that Ramírez, through her work, is "quite literally saving lives with her scholarship, creativity and research."
The award is presented to a faculty member each year for his or her excellence in research and scholarly activities and commitment to the educational mission of the university. The award's namesake served as Cal State Fullerton's second president from 1970-80.
"Dr. Ramírez has been a very productive faculty member, but more importantly a role model for students and faculty alike on how to expand the horizons of one's laboratory while contributing strongly to the development of students, her field and the university," said Marcelo Tolmasky, professor of biological science and a recipient of CSUF's Outstanding Professor Award and L. Donald Shields Excellence in Scholarship and Creativity Award.
Tolmasky, who nominated her for the award, and Ramírez have been longtime collaborators. He first worked with her first when she was a visiting graduate student in his laboratory, then as a postdoctoral fellow mentor, and now as a colleague.
Current and former students, faculty and collaborators in the U.S. and from laboratories across the world — in Argentina and Germany — also lauded the internationally-recognized scientist and submitted letters of support.
"As a scientist, Dr. Ramírez has made significant contributions to our understanding of bacterial antibiotic resistance; a research field with direct implications for human health. As an educator, she has served as a role model for what excellence in scholarship looks like, and in doing so, has impacted and inspired hundreds of students at CSUF and beyond," wrote Merri Lynn Casem, chair and professor of biological science.
A Passion for Research and Teaching
In her teaching, Ramírez encourages critical thinking, discussion and reflection, noted Marie Johnson, dean of the College of Natural Sciences and Mathematics.
"Dr. Ramírez is an ideal mentor as she embodies what it means to be a teacher-scholar," Johnson added. "Her passion for research, ability to mentor and develop student researchers, success securing extramural funding, and contributions to original science are exemplary. She is to be commended for her many accomplishments."
Ramírez encourages her students to work together to make significant contributions to the field of infectious diseases. Her students present their work at regional, national and international conferences and have won awards in research competitions. Many students she has mentored have pursued graduate degrees or started careers at biotechnology companies.
To date, she has co-authored more than 100 primary literature articles, two book chapters, and has made over 120 presentations at scientific meetings. Her published work includes 62 peer-reviewed articles in high-impact journals, of which 46 have CSUF students as co-authors.
Her research program has been funded by diverse national and international granting agencies, such as the National Institutes of Health, the German Academic Exchange Service, the National Council of Research of Argentina and the Secretary of Science and Technology in Argentina. Ramírez is a member of the editorial board of the journals Frontiers in Microbiology, Scientific Reports and Antibiotics.
Ramírez has received accolades for her work, including a 2011 Fulbright CONICET Research Fellowship, the 2012 ICAAC Young Investigator Award from the American Society for Microbiology, the college's 2018 Outstanding Research Award, and the 2018 Titan on the Rise Research Award from CSUF's Office of Research and Sponsored Projects. She earned a doctorate in microbiology and a master's degree in biochemistry from the University of Buenos Aires.