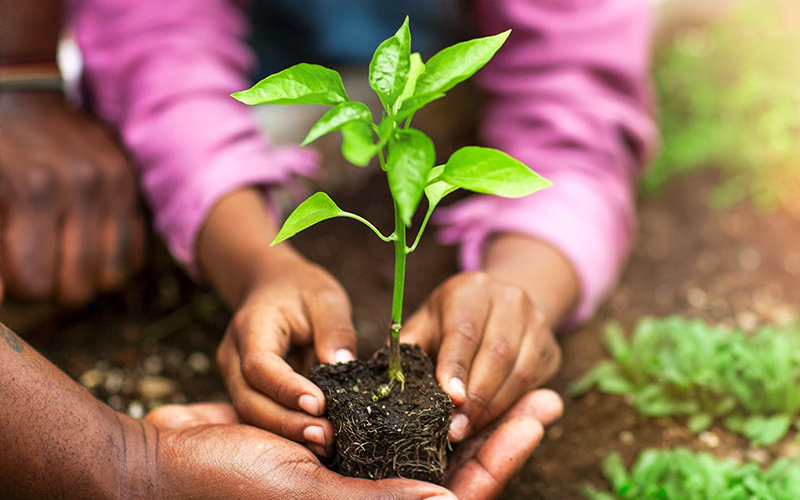 Gardening, cooking and tie-dying clothes are a few of the hobbies that gained resurgence during the COVID-19 pandemic.
Portia Jackson Preston, a Cal State Fullerton assistant professor of public health who specializes in self-care and teaches such courses as "Stress Management," never saw herself as the gardening type. But the pandemic, along with social and political upheavals in the world, challenged her to seek a new outlet for wellness.
What inspired you to start a garden during the pandemic?
In the fall of 2020, I wanted to disrupt a habit of digging further into my work to distract myself from all I couldn't control in the world in regards to racial injustice, politics and the pandemic. For weeks, I set an alarm at 4:30 p.m. every day to brainstorm hobbies that would be the opposite of the intellectual and emotional labor I do on a daily basis. After a few weeks, I identified that I really wanted to see something grow. I started to envision partnering with someone to help me start a garden.
Can you describe your garden?
I found a local Black-owned, urban mini-farm named Organic Harvest Gardens. They helped me select vegetables and build raised planter beds, and regularly met with me to help me maintain the garden and become a proficient gardener. I have grown lettuce, herbs, peas, beets, onions, collard greens, kale, broccolini and my favorite, chamomile. I actually named my raised beds Brandy and Monica (this was just after their Verzuz battle), and I named my in-ground bed Beulah, after my maternal grandmother.
How can gardening teach us about resilience and handling challenging situations?
Gardening is a great tool for resilience for several reasons. A garden helps you anchor in the present moment by mindfully engaging all of your senses. It teaches you patience and creativity as you nurture plants throughout the life cycle. I've worked through challenging emotions as I dutifully water and prune plants. It also gives you something simple to be invested in and proud of when the world's problems become overwhelmingly complex. I think watching something grow can be healing for many of us. This can be as simple as growing herbs on your windowsill. You don't have to be good at it or perfect — there are so many lessons you can learn from witnessing the life cycle of a plant.
What are some alternative activities, if people don't have access to a garden?
If you don't have access to space for a garden at your home, there are also community gardens where you can obtain a plot. I think it is also helpful to spend time in nature any way that you can. Spending 30 minutes outside each day is one of the best things I do for my mental health. I try to take a short walk or sit outside with a cup of tea. As we transition back to campus in the coming months, I'm excited to spend more time in the Fullerton Arboretum. I hope to return to holding a retreat there for students in my "Stress Management" class, something I typically do once per semester.
How do you teach your students about self-care?
I teach my students about self-care by helping them understand how their lived experiences and identity have shaped their approach to well-being, practice relaxation methods, and develop a sustainable self-care practice that is customized to their goals and values. This semester, 250 CSUF students in select public health, kinesiology, psychology and nursing courses are participating in Rising Above, a seven-week curriculum developed by my lab (ExHALE: Examining Holistic Approaches to Leadership and Education) to help students practice self-care as they navigate the challenges of the pandemic. We look forward to expanding this opportunity to more students in future semesters.