Joseph Cervantes is a self-described "softball dad" and a longtime fixture cheering in the stands during games at Cal State Fullerton's Anderson Family Field.
Cervantes became a fan of the game because of his wife, Paula, a former high school softball coach and collegiate player. She often attended clinics by Titans coaching legend Judi Garman, who led the softball team to a national championship in 1986.
Their two daughters grew up playing T-ball and club ball, and traveled the country for tournaments. Both played high school softball and landed coveted spots at NCAA Division I colleges, including at CSUF.
"I was enthralled by the competitiveness of girls softball," Cervantes said. "I was hooked. I became a softball dad."
The couple's oldest daughter, Arianna "Ari" (Cervantes) Amenta, was a standout Titans pitcher from 2008-11 and played under former head coach Michelle Gromacki. She graduated in 2011 with a bachelor's degree in communications and continued to play ball internationally in Italy. Son Nicholas Cervantes earned a bachelor's degree in communications in 2014 from CSUF, and another daughter, Karina, was an outfielder at Long Island University in New York.
While Cervantes and his family are ardent fans who are ever-present at the field — rooting for the team at home games, and even taking road trips to away games — they are just as supportive off the field.
The Cervantes family has pledged a $75,000 gift to the softball program, with an additional $50,000 match to name the renovated clubhouse patio deck "The Cervantes Family Terrace."
Construction is underway to modernize the softball clubhouse, which will feature new offices, an expanded patio deck, lounge and training room, with plans for completion by the 2022 season. This modernization project provides the opportunity for donor investment through naming opportunities.
"It is my hope that our gift will give the program a better opportunity to compete with other nationally recognized softball programs throughout the U.S.," said Cervantes, senior executive vice president of operations at R.D. Olson Construction in Irvine.
"The renovated clubhouse will help recruit players from our local talent pool, so their parents and friends can watch them play here in their own backyard — like I did."
The $15.1 million modernization project includes upgrading both the existing baseball and softball facilities to rival conference competitors and continue to recruit top athletes for the nationally competitive programs.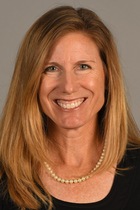 Softball head coach Kelly Ford called the Cervantes' support "monumental" to the program.
"The Cervantes family is so active in supporting Titans softball. I could go on and on about their involvement. This gift is just magical for us.
"I can picture Joe and his family up on our new patio enjoying the games and cheering us on. It will be the most impressive team facility in the state of California — if not nationally. It's an absolute game changer for us recruiting wise."
Cervantes was the first in his family to earn a college degree in criminal justice from Cal State Los Angeles, but considers himself part of the Titan family. After all, in 2014, he received a CSUF Vision & Visionaries award and became an honorary alumnus.
His generosity and volunteerism extends across the university. He is a member of the Cal State Fullerton Philanthropic Foundation Board of Governors and the Executive Council in the College of Business and Economics, where he served as president from 2013-15.
With the university's investment in the softball facility, Cervantes hopes it instills pride and camaraderie among team members to continue the Titan legacy for the next generation of young players.
"What I'm looking forward to, is through their hard work and contributions, the players will continue to make the program that much better so other young girls can emulate, build upon and bring home another national championship."