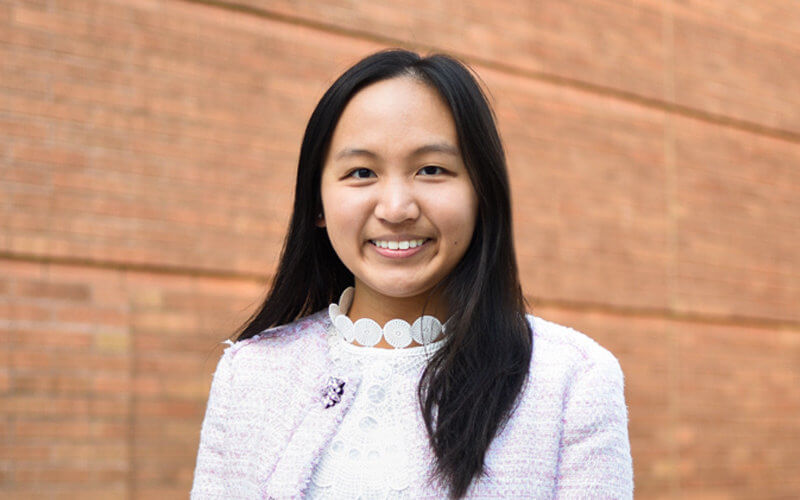 When Jocelyn Lee received her results from the final part of the Uniform Certified Public Accountant Examination, she breathed a sigh of relief, happy to be done with the grueling exam that has an average national pass rate of only 50%.
But the Cal State Fullerton alumna did more than pass the CPA exam — she aced it, achieving a cumulative average score above 95.50 across all four sections of the test on her first try. For this accomplishment, Lee has been recognized with the Elijah Watt Sells Award from the American Institute of CPAs — one of only 89 individuals among the 75,000 who sat for the exam in 2020, and the first candidate from CSUF to receive the award.

While the CPA exam, a 16-hour, four-part test that must be passed within an 18-month period, is recognized as one of the most difficult professional exams, Lee's accomplishment doesn't surprise Vivek Mande, chair and professor of accounting and director of the Center for Corporate Reporting and Governance.
"Jocelyn has been an outstanding student and talented accountant from the start. During her years at Cal State Fullerton, she was an active member of the accounting honor society, carried a GPA of 4.0 and was awarded a prestigious $10,000 scholarship from the Public Company Accounting Oversight Board. This is yet another feather in her cap."
Lee '19 (B.A. business administration-accounting) chose CSUF for its strong accounting program, and she enjoyed her first accounting class so much that she never looked back. She credits the university with helping her grow both personally and professionally.
"I'm so grateful for everyone I met and every opportunity I had at CSUF, especially the Accounting Society," she shared. "Glen Hatton (former lecturer in accounting) and Randy Hoffman, lecturer in accounting, know how much I appreciate their mentorship and support during my undergraduate experience, but also when I applied for graduate school."
Lee earned her master's of business taxation from the University of Southern California and is currently working as a tax consultant at Deloitte, a Big Four accounting firm.
Her advice to current CSUF students is to make the most of every experience.
"Get involved on campus. If you're curious about something, try it. Utilize the resources the school has to offer. It really makes a difference."
Learn more about accounting at CSUF on the department's website.