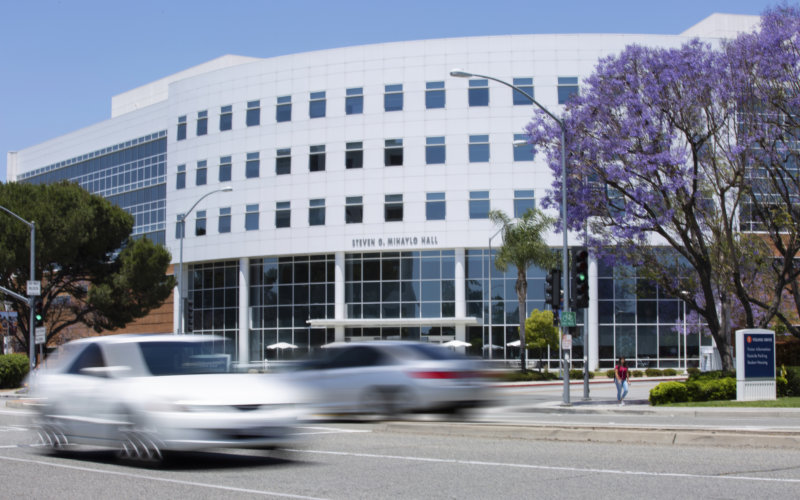 Cal State Fullerton's College of Business and Economics and Cypress College recently signed an agreement creating a program for students to earn a bachelor's degree in accounting in four years and continue to earn a master's degree in the fifth year.
Another benefit of the program, according to Vivek Mande, chair and professor of accounting at CSUF, is to ensure that transfer students are well-prepared for the rigors of the university's accounting program, the second largest in the nation.
"About 50% of our students are transfer students," he said. "We have seen many struggle when they arrive on a campus as large as Fullerton's. With this partnership, Cypress College students become familiar with our accounting program, participate in the university's accounting society, meet with CSUF students, and get acclimated to our accounting program and the university. We've discovered that when we get involved in the early stages of student education, we can better ensure they can handle the rigors of this program."
In fact, because accounting students often are being recruited by employers as freshmen and sophomores, Cypress College students will have increased opportunities to see the kinds of jobs available to them and learn more about potential employers.
"We are looking forward to our collaboration with CSUF because we believe our Cypress College Accounting Pathway program will provide opportunities that are vital for our accounting students to be successful in attaining their educational and professional goals in a timely manner, both at Cypress College and CSUF," said Cypress College's Ann Sheridan Solis, accounting department coordinator, and Samreen Manjra, accounting professor.
This is not the first time Cal State Fullerton has partnered with a community college. Several years ago, a similar program was developed with Irvine Valley College — and was a success. In fact, several other community colleges are hoping to enter into this kind of partnership with CSUF, according to Mande.
"As the demand for accountants continues to increase, it makes sense to start reaching out earlier," said Jenny Zhang, associate dean of the College of Business and Economics. "By partnering with community colleges, we can coordinate the curriculum between two institutions. We are working with faculty members at Cypress College to ensure that our teaching builds upon the foundation they have laid and they are aware of our expectations for transfer students. This more seamless transition helps ensure student success."
The partnership between Cal State Fullerton and Cypress College was developed over two years. Incoming Cypress College students can learn about the program this upcoming fall 2021, apply during the spring 2022 semester and be part of the first CCAP program cohort group in fall 2022.
"Although the relationship between Cypress College and Cal State Fullerton has always been strong, for the past two years, our respective accounting departments have been working on a partnership to ensure a seamless on-time transition into a four-year accounting baccalaureate degree," said JoAnna Schilling, president of Cypress College. "This partnership would not be possible without the unwavering dedication of our faculty and the administrators at Cypress College and Cal State Fullerton. We are so proud to offer this pathway in collaboration with Cal State Fullerton."
Students in the cohort who complete the undergraduate program can add one more year to their studies to earn a Master of Science in accountancy at CSUF — and meet the educational requirements to become a licensed certified public accountant.
"Our graduates are in high demand because of the rigors of our program," said Mande. "Preparing students at the earliest stages means there is a greater chance of them succeeding. That's something we all want."