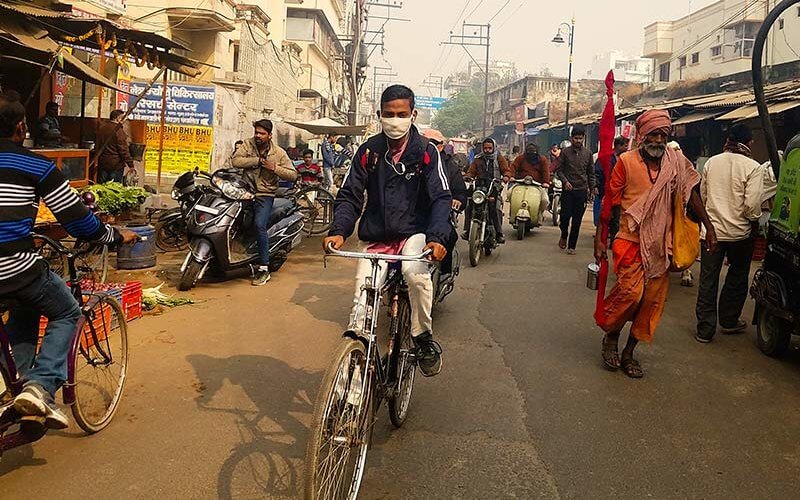 The COVID-19 pandemic lockdown in India has resulted in environmental benefits, including a significant reduction of air pollutants such as black carbon aerosols, which can pose an adverse risk to human health, according to a new Cal State Fullerton study.
Environmental engineer Sudarshan Kurwadkar is a co-author of the research, published May 10 in the journal Air Quality, Atmosphere, and Health. The study documents how the strict coronavirus pandemic lockdown resulted in a significant reduction of atmospheric concentrations of black carbon and other air pollutants in India's major urban cities.
This paper reported the overall decrease in black carbon and polycyclic aromatic hydrocarbons before and after the lockdown. These findings are critical to driving home the message that even short-term interventions can dramatically impact the environment and reduce inhalation of air pollutants, said Kurwadkar, professor of civil and environmental engineering.
"A brief lockdown allowed Mother Nature to breathe a sigh of relief. Not surprisingly, many urban areas worldwide reported a dramatic reduction in air pollutants and overall improvement in visibility and air quality index.
"The study demonstrated that every small change in our lifestyle affects the environment significantly. It is up to us to act together to preserve and protect our planet by being proactive and making changes to sustain and promote a healthy environment."
Studying Chromium Remediation, Focus of 'Erin Brockovich' Film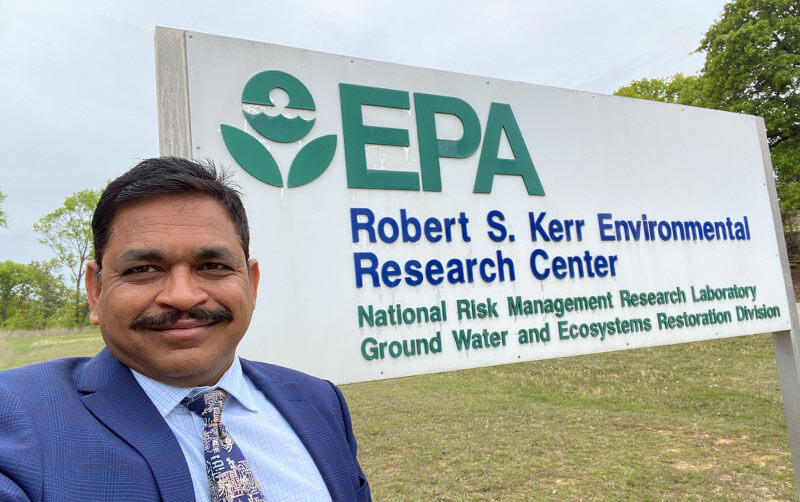 Kurwadkar received a National Academies of Sciences, Engineering, and Medicine fellowship through its National Research Council Research Associateship Programs. He is currently on sabbatical working at the U. S. Environmental Protection Agency in Oklahoma as a senior research associate. In this role, he is studying the remediation of chromium (VI) in groundwater, which was depicted in the movie "Erin Brockovich." The film documents the widespread pollution of chromium in Hinkley, a town in Southern California.
"We are focusing on using zero-valent iron as a potential amendment for the permeable reactive barrier to reduce chromium concentration in groundwater," said Kurwadkar, who began his yearlong fellowship this past January.
Kurwadkar recently delivered the inaugural L. Donald Shields Excellence in Scholarship and Creativity Award Lecture titled, "Environmental Occurrence of Contaminant of Emerging Concern — Human Health and Ecological Consequences." He is the university's 2020 recipient of the Shields award, given to a faculty member for outstanding scholarship and/or creative activity. To watch the lecture, visit here.
Kurwadkar also is directing a $1.5 million National Science Foundation grant project to increase the retention and graduation rates of primarily Hispanic and other underrepresented students majoring in engineering and computer science.
A native of India, Kurwadkar earned a doctorate from Missouri University of Science and Technology and holds master's degrees from Indian Institute of Technology, New Delhi, and Pune University; and a bachelor's degree from Amravati University, all in India.