What a difference a year makes! As Titans begin to return to campus this summer and fall, they may notice some changes. While most faculty, staff and students were working virtually, large construction projects were underway, many of them tied to the university's physical master plan.
One of the most visible changes is the construction of a new housing community in what was formerly Parking Lot E. Scheduled to open in fall 2022, the new building will house 600 students. The framing is up and the walls will be going up soon.
"It's pretty exciting to see the progress on this part of the physical campus master plan," said Larry Martin, executive director of Housing and Residential Engagement/Titan Experience. "Having well-designed student housing makes the campus more engaging to our students and helps us meet our university goals.
"The new housing will replace an original community that was built more than three decades ago," Martin continued. "We're actually providing about 200 new beds. We decided rather than renovate, it made more sense to close it and build a new facility."
The new development is the first "suite style" community — geared toward sophomores and juniors — and will complement the university's traditional residence halls.
"Students will live in a suite with eight other students," Martin explained. "There will be four double-occupancy rooms, two bathrooms and a small kitchenette. Each floor will have several suites with a common area for all to enjoy. The building will have three wings, and students will have access to the Gastronome and other services as well as residence hall parking."
The addition of this new facility will bring total on-campus housing capacity to 2,200 students.
The parking displaced by this project has been replaced within the Titan Hall parking lot.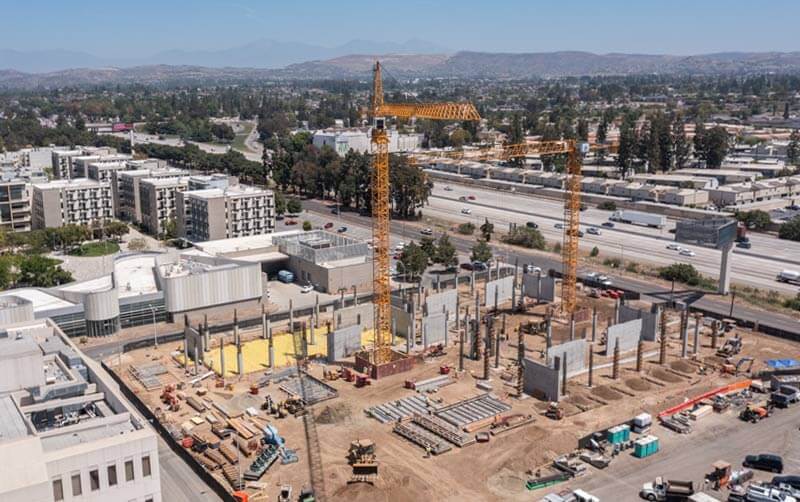 Currently, the university offers two different "styles" of housing. Shared residence hall rooms (primarily occupied by first-year students) and shared apartments (primarily occupied by new transfer, continuing and graduate students).
"We need to meet the demand for student housing as we encourage more students to live on campus," Martin said. "We've noticed a shift in students' attitudes about on-campus living. They recognize the convenience and the opportunities to connect with campus resources while really getting to know their peers."