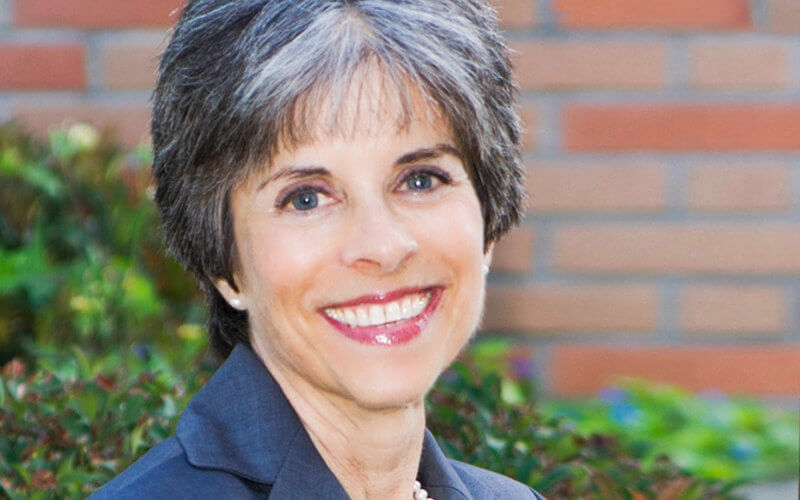 Cindy Greenberg has been appointed interim dean of the College of Health and Human Development, effective June 1. She succeeds Laurie Roades, professor of public health who will enter the Faculty Early Retirement Program in the upcoming academic year.
Greenberg joined Cal State Fullerton in 1999 as a tenure-track assistant professor in the nursing department. She was promoted to associate professor with tenure in 2005 and professor in 2010. Progressively advancing to leadership roles, Greenberg served as department chair and director of the School of Nursing prior to becoming associate dean in 2015.
Beyond the campus, Greenberg's leadership can be seen through a variety of professional activities and in service to the community. She serves on the editorial board of, and reviews for, several prestigious nursing journals, leads teams in accreditation visits to nursing programs, and remains professionally active writing articles on child and family health. She recently co-authored "When Pandemics Collide: The Impact of COVID-19 on Childhood Obesity" in the Journal of Pediatric Nursing.
In addition, Greenberg serves on a national committee for the Commission on Collegiate Nursing Education, chairs the governing board of Placentia-Linda Hospital, and volunteers at health clinics for underserved and homeless individuals.
"What I very much appreciate about Cindy is that she is a consultative person who uses that collaborative skill to ensure the success of HHD's students, staff and faculty," shared Carolyn Thomas, provost and vice president for academic affairs. "She brings a deep understanding of the college's processes, procedures and culture. She is committed to keeping the college strong during this period of transition. It will be wonderful to have her knowledge and experience guiding the college over this coming year as we launch and conduct a national search for our next permanent HHD dean."
Greenberg holds a bachelor's degree in nursing from Rush University, a master's degree in nursing from the University of Colorado, and a doctorate in nursing science from the University of San Diego.