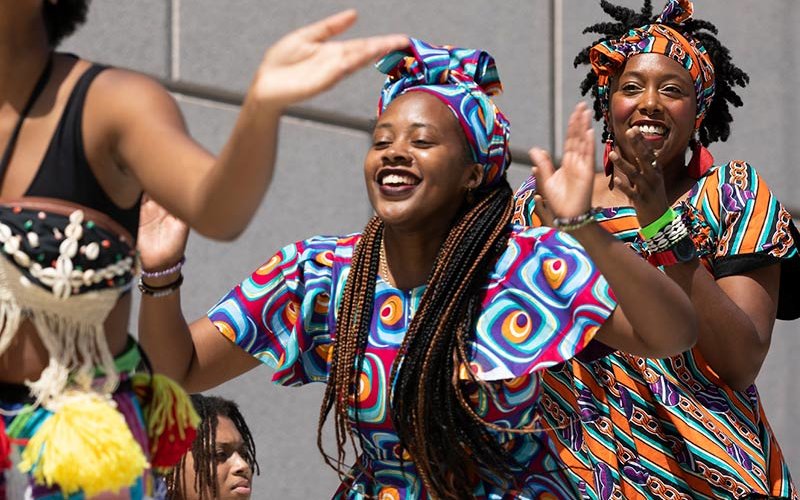 Interactive activities and artistic performances highlighting Black innovation and resilience were part of the inaugural Juneteenth celebration at Segerstrom Center for the Arts, which was curated by the Institute of Black Intellectual Innovation at Cal State Fullerton.
Natalie Graham, the institute's director and an African American studies faculty member at CSUF, said about 150 people attended the June 19 event in Costa Mesa titled, "Freedom in Full Bloom: A Juneteenth Celebration."
The event featured such activities as music, poetry, visual art and gardening. It also received recognition from lawmakers, including Orange County Board of Supervisors member Katrina Foley and California Assemblymember Cottie Petrie-Norris.
Graham previously said the event sold out in a week's time, which shows growing recognition of and support for Black people in Orange County.
"I want audiences to see this as one of many reminders to celebrate and grow together," Graham said.
Juneteenth, which takes place on June 19, is an annual holiday memorializing the liberation of enslaved people in the United States. It marks the day on June 19, 1865 when news eventually reached African Americans in Texas that President Abraham Lincoln issued the Emancipation Proclamation declaring all enslaved people free in Confederate territory.
African American communities have celebrated the holiday since the late 1800s. Last week, President Joe Biden signed legislation making Juneteenth a U.S. federal holiday. The holiday also has been called Juneteenth Independence Day or Freedom Day.
According to the Daily Pilot, Jamila Moore Pewu, assistant professor of history at Cal State Fullerton, said each activity was intended to create a point of reflection related to Juneteenth which serves as both a solemn nod to the past and a hopeful look ahead.
Read more about the event from the Daily Pilot.