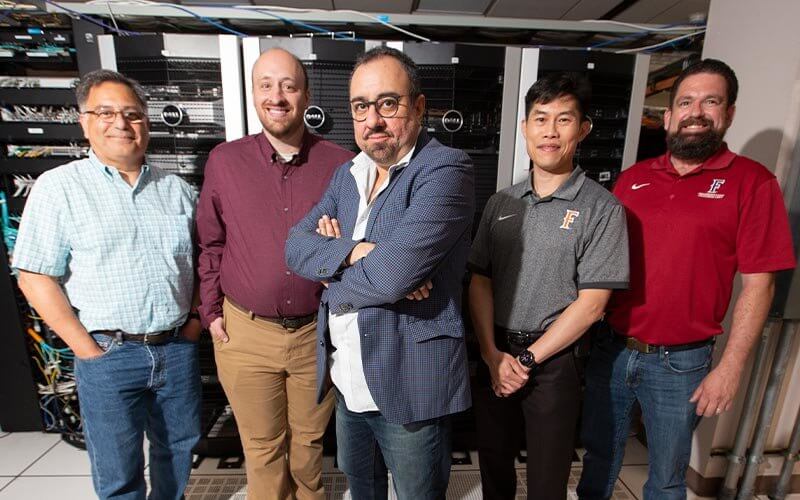 Cal State Fullerton researchers are getting a powerful computing tool to solve a wide range of large computational problems in science and mathematics — from understanding the spread of COVID-19 to prepare for future pandemics to developing advanced math models of crime and cybersecurity.
A $583,900 grant from the U.S. Army is funding the acquisition of a new high-performance computing (HPC) cluster to enable science and mathematics faculty and students to engage in leading-edge research activities.
The supercomputer, which will be part of the Center for Computational and Applied Mathematics in the College of Natural Sciences and Mathematics, gives researchers the ability to process a large amount of data in a fraction of the time.
"This is groundbreaking because of the advanced technology it brings to campus, which will allow for the continued growth of leading computational research and teaching," said Sam Behseta, professor of mathematics and director of the Center for Computational and Applied Mathematics (CCAM).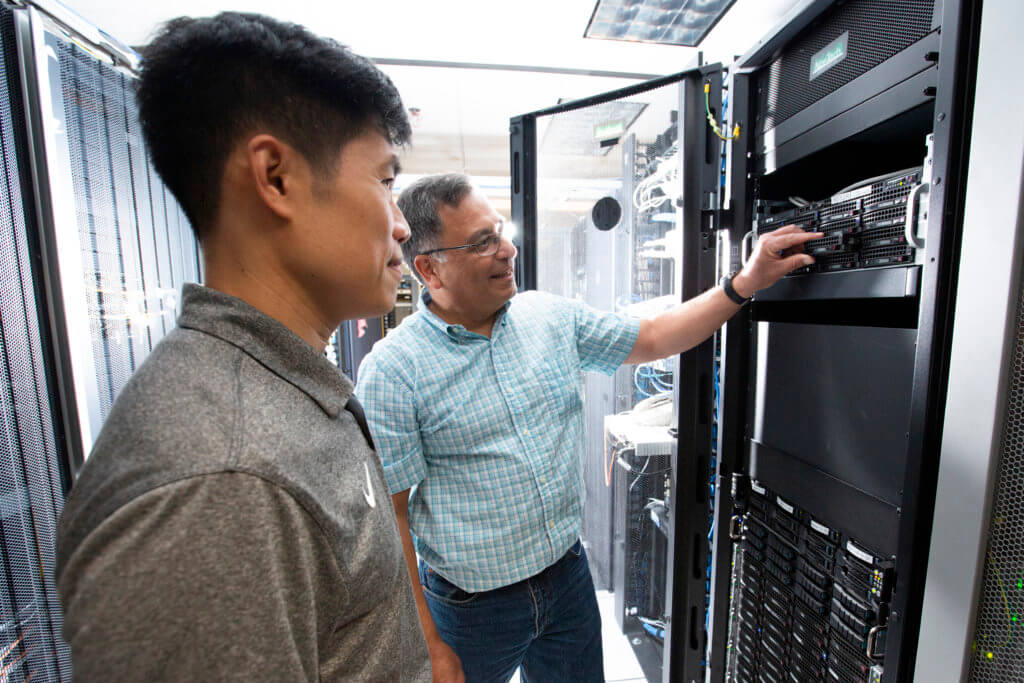 "We were able to demonstrate to the Army that as a Hispanic-Serving Institution, we will efficiently utilize the cluster for furthering interdisciplinary research across STEM areas and better equip our students with the essential skills to join the workforce."
The HPC cluster is essentially a machine with multiple units, called servers or nodes, which can process large and complex computing tasks in a parallel fashion, Behseta explained.
The new machine is not the university's first high-performance computing cluster. In 2015, CCAM acquired its first cluster, known as Kepler, and the college's gravitational-wave scientists also use a HPC cluster for their research.
"This new HPC cluster is unique and very powerful and will significantly expand our cluster resources at CCAM and in the college," Behseta said.
The new HPC cluster will be housed in the university's Data Center managed by the Division of Information Technology.
Solving Advanced Research Problems
The new supercomputer, named "Turing," after English mathematician Alan Turing for his contributions to computing and theoretical computer science, is expected to be operational by January 2022.
Behseta is directing the grant project in collaboration with Andrew Petit, assistant professor of chemistry and biochemistry; Emerio Martinez, information technology specialist and consultant for the College of Natural Sciences and Mathematics who contributed significantly to the design of the cluster; and Willie Peng, assistant vice president for information technology/infrastructure services in Information Technology. Peng, as director of the Data Center, provided the infrastructure needed for the operation of such a complex machine.
Petit noted that the new computer cluster will be a catalyst for faculty members to achieve their research agendas.
"My research group, for example, uses HPC to gain new insights into how the chemical properties of molecules are fundamentally transformed when they absorb light and become electronically excited," Petit said. "This informs the development of new catalysts and dyes. The necessary calculations require a large amount of computing power, and as such, my research program will greatly benefit from the new HPC cluster."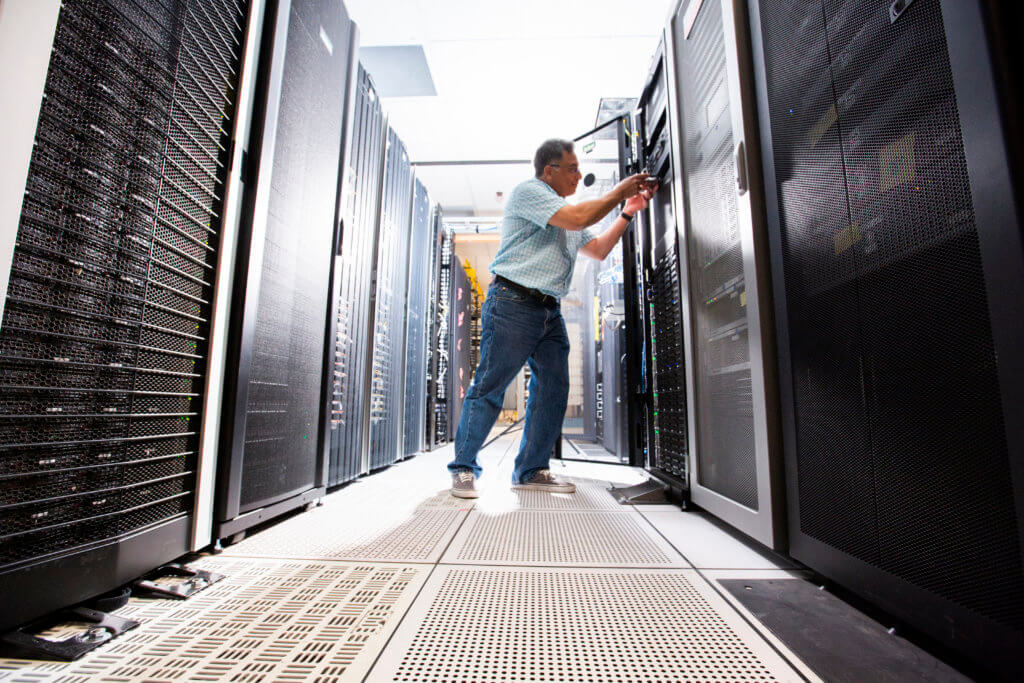 Workforce Ready in High-Performance Computing
Chemistry graduate student José Luis Guardado '16 (B.S. biochemistry), who works under the mentorship of Petit, is excited about using such a powerful computing tool to solve some of the missing gaps needed to better understand his research on photochemical pathways.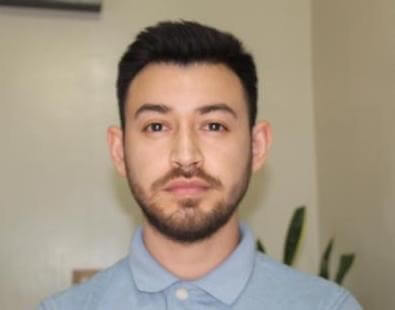 "With this new HPC cluster, I will continue progressing in my research projects and making reliable predictions. This cluster will allow us to efficiently run our calculations and obtain results in a timely manner," Guardado said. "This experience will also help students to compete for jobs in industries that innovate our society by tapping into the symbiotic human/computer relationship."
Computational modeling, data analysis and machine learning are increasingly important aspects of modern science, both in academia and in industry. To keep up with the pace of scientific inquiry, Behseta and Petit emphasized that it is imperative that faculty and students have access to such computational tools that can respond to the research and workforce demands.
"The new HPC cluster not only meets the current demands for computational resources in the college, but facilitates future expansion," Petit said.
The grant project also will provide students with hands-on training and prepare them for careers in STEM (science, technology, engineering and mathematics) — and the growing demand for high-performance computing and big data professionals.
"We need HPC clusters to advance research and to expose students to the benefits and challenges of modern computing," Behseta said.