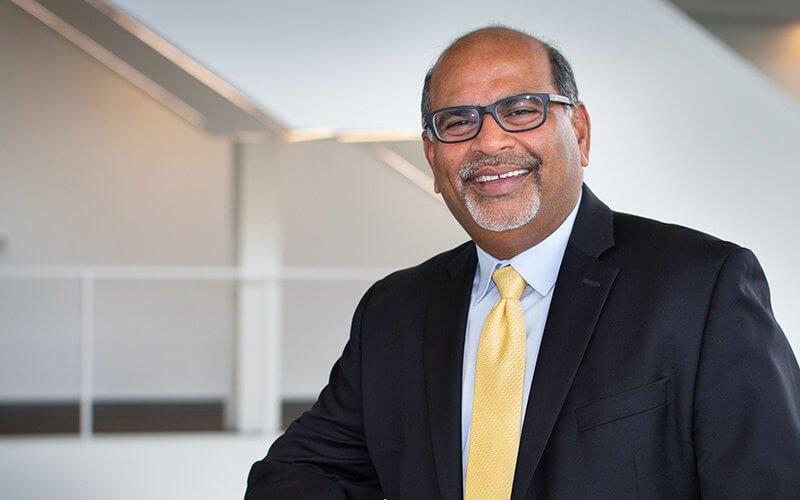 When Sridhar Sundaram was contacted regarding the opening for dean of the College of Business and Economics at Cal State Fullerton, he was intrigued.
Impressed with the college's strong academic programs, faculty and centers of excellence, Sundaram saw great opportunity for the largest accredited business school on the West Coast. It was CSUF's commitment to diversity, inclusion and equity, though, that ultimately compelled him to take on the role.
"That's a passion of mine — the opportunity to serve underserved populations," he explained. "Plus, I always enjoy taking on new challenges and experiences because I learn a lot from them."
Sundaram stepped into his new role July 15, but is no stranger to a dean's responsibilities. Before joining the Titan family, he served as Tiedemann-Cotton dean of the Kate Tiedemann School of Business and Finance, and campus dean for the Muma College of Business, both at the University of South Florida.
His higher education career began 31 years ago as a faculty member in finance. He then moved into administrative roles, serving as department chair, academic director, associate dean and ultimately, dean. Along the way, he has been recognized for outstanding teaching, service and research.
Even in a busy administrative position, Sundaram occasionally steps back into the classroom and continues to conduct research in order to keep his finger on the pulse of faculty and student perspectives and needs.
His current research looks at the impact of the pandemic on minority-owned microbusinesses. As part of this work, he and his team are assessing the effectiveness of proposed federal, state and local policies on these businesses — especially which of the policies can make the most meaningful contributions to the firms' long-term economic health.
While Sundaram is already looking ahead to such matters as the college's accreditation review in three years, his first order of business is simple: "really listening to our students, faculty, staff and community, because I think it really helps me understand how they perceive the challenges and opportunities for the college."
In the future, he hopes to tailor the college's offerings to meet the needs of the regional business community and develop innovative programs that prepare students for the 'careers of the future.' "We are in a very competitive marketplace, so it's about how we can differentiate ourselves and be impactful," he shared.
Beyond academia, Sundaram enjoys engaging with the local community and has served on several nonprofit boards. Despite his full plate, he carves out time to travel with his wife and stay active playing tennis.
"I'm an avid tennis player. I love tennis — that's my passion, along with traveling to new places outside of my work."