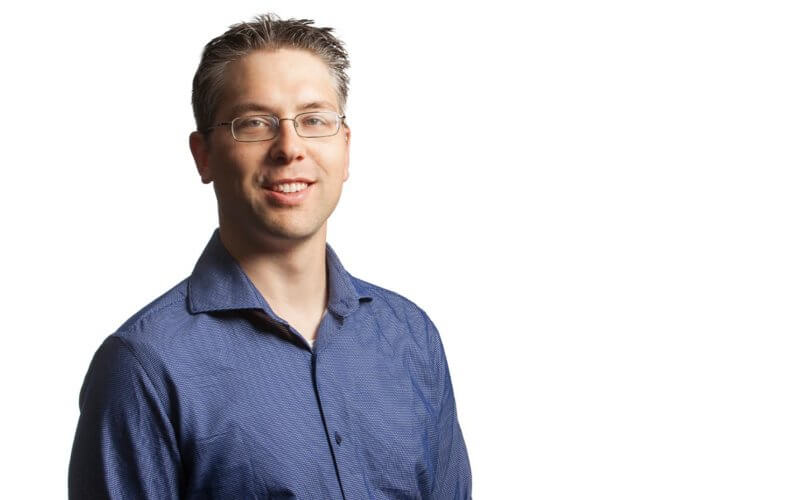 For his innovation and promising advances in the chemical sciences, Cal State Fullerton chemist Michael Groves has received the National Science Foundation's prestigious CAREER award.
The award, granted through NSF's Faculty Early Career Development (CAREER) Program, supports his research in using computational modeling to investigate alternative mechanisms for the synthesis of hydrogen peroxide.
Groves, assistant professor of chemistry and biochemistry, has received $185,149 in first-year funding for his research project, with the award expected to total $422,198 over five years.
He is the sixth CSUF faculty member to receive the award since 2002. Groves joined the university in 2016 after earning his doctorate in chemical and material engineering from the Royal Military College of Canada.
The award is given to faculty members early in their careers who have the potential to serve as academic role models in research and education and lead advances in the mission of their department or organization. His students also praise him for his positive attitude, patience and willingness to help by holding extra office hours.
"It's great to be validated by a federal funder that the direction of my research program is aligned with the goals of the CAREER program," Groves said. "I'll also be able to financially support students here at CSUF as they participate in cutting-edge research."
His research project, titled "Understanding the Electrochemical Properties of Physical Hole Defects on Functionalized B/C 2D Materials for the 2E- Reduction of O2 to H2O2," is funded by NSF's Chemical Catalysis Program of the Division of Chemistry.
Groves is studying hydrogen peroxide (H2O2), an environmentally friendly oxidant that is used in many applications, including water treatment, textile and wood-pulp bleaching, the electronics industry and personal protective equipment sterilization.
However, industrial production of hydrogen peroxide is dominated by an environmentally destructive anthraquinone process, which for example, is used in the manufacture of dyes, Groves explained. Under the funded project, Groves and his students will look for an alternative mechanism to synthesize hydrogen peroxide to be more environmentally friendly in industry uses.
"As a part of this project, we're going to use machine learning to predict the physical hole defect structures in the materials that will be used to make hydrogen peroxide. There's a significant computer science and coding part to this project," he noted.
His work could also affect a wide range of applications, including the electrochemical reduction of greenhouse gases to usable fuels for fuel cells.
Groves, who teaches physical and theoretical chemistry, will integrate the project into his senior chemistry laboratory course to train students to prepare for the chemistry and biochemistry workforce and to pursue advanced degrees. Over the course of the project, he plans to engage up to 10 undergraduates and three graduate students in hands-on research experiences.
Additionally, Groves and his students will participate in scientific outreach to the local community. This includes a chemistry show to local sixth-graders through Cal State Fullerton's Kids to College program, which will include demonstrations by his lab students, including work from the National Science Foundation-funded project.
"These high-impact teaching practices, as well as flipped classroom instruction, are being measured in this senior lab setting to determine if they lead to any improvements to college student success," Groves said.
CSUF CAREER Award Recipients
CSUF faculty members who have received the National Science Foundation CAREER award are: