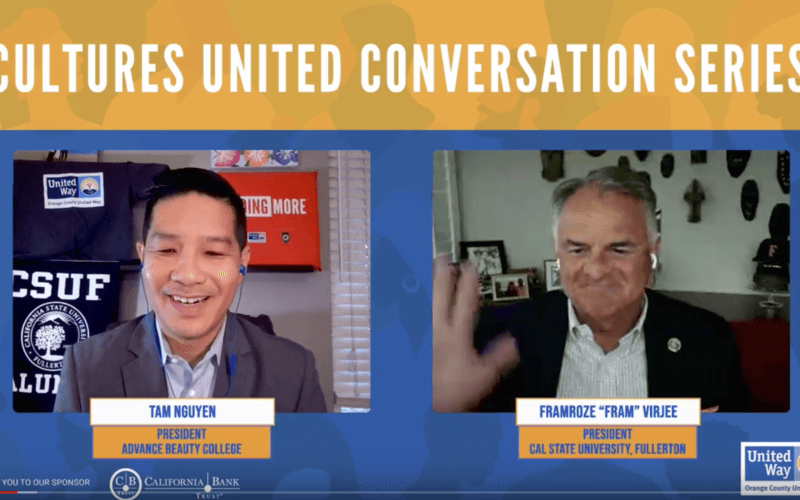 "At Cal State Fullerton, we view everything through a DEI (diversity, equity and inclusion) lens," said Fram Virjee, president of the university, during an interview with Titan alumnus Tam Nguyen '05 (MBA), president of Advance Beauty College. The Cultures United program was sponsored by United Way of Orange County.
Nguyen: Tell me about some of the DEI efforts at CSUF.
Virjee: We aren't interested in diversity for diversity's sake. Equity and inclusion are equally important. And DEI is not something we ever "set to the side." It's not something you bring in to talk about on occasion — it needs to always be at the forefront.
My focus is on engaging with the community, listening, asking questions and being willing to hear. We need to make sure we understand the problem and the perspective of those suffering under these problems. Then we figure out how we can help work to resolve those problems.
It was in the midst of a pandemic that many became aware of an underlying plague — discrimination, harassment, and the lack of equity and inclusion. This plague rears its head at different times and places.
Now, there is a rise in hatred expressed toward our Asian brothers and sisters. There has been clear pain, hurt and harm in our Asian Pacific Islander community over the past year. But we've also seen speakers and groups coming together. Members of our Titan family have reached out to the API community; taken a pledge against API hate; and have walked together, shouted when they needed to shout, and continue to do what they can to make sure our API friends and family know they are not alone. We are one standing up against hate.
Nguyen: I feel that many in my community feel that sense of belonging at Cal State Fullerton, but are there challenges with DEI? As someone who leans so hard and is so vocal, and so intentional, what has been the reaction?
Virjee: Orange Country, California, and our country have a history of discrimination. We have to acknowledge that in order to move past this history. We're not trying to make people feel bad. We're trying to solve the problems.
Of our 300,000 alumni, about 80% live in Orange County. I like to say, "We own Orange County!" So what happens at CSUF will happen in our county. Our Titan community can be the change that we seek. We have to move from words to action. We want to make sure we aren't just talking about inclusivity and equity and access but we're working to make a difference. We want to engage in activities to ensure that the gains we have made will be sustained. It will never be perfect. We are always moving toward the "beloved community" as Martin Luther King Jr. said. We want to support and be there for each other.
In order to do that, we have to find, acknowledge and root out systemic racism. Often people don't recognize it because it's built into our history.
The only way to do it is to raise the issue, see it, call it out and change it. We need a common language so we can talk about it. There needs to be open communication so we're not stigmatizing anyone. That's how you build a future together.
Nguyen: You interact with many young leaders and future leaders. Do you have any advice for them?
Virjee: View everything through a DEI lens rather than ignore differences. Believe in the vivid beauty of our community through that lens so you're always ready to celebrate.
Nguyen: What changes would you like to see in education?
Virjee: In higher education, we have amazing faculty but there is an assumption that when someone achieves their Ph.D., they've also learned to teach. We need to provide more tools and professional development to enable them to teach as effectively as possible. We need to make our classrooms accessible and welcoming to all students. We need to teach across cultures. We have our own perspectives and teaching tends to center around that. It's natural. But there are many different perspectives in a classroom. We need to make students feel included, invited. We are providing those tools to K-12 teachers to teach our kids.
We also need to provide greater access for all students. CSUF is one of the best deals in the country — nationally recognized. Yet students still have expenses (room, board, books). We need to find ways to supplement that to make college accessible.
To those in Orange County, I'd encourage you to invest in the future, not just your treasure, although we always like that, but your time and talents. Students need mentors, internships, and advisers. Invest in them now and that dividend will pay forward.
Nguyen: How can Orange County do better when it concerns universities, nonprofits, corporations? How do we impact change?
Virjee: The beautiful thing about a university is that it is a crucible for ideas where we should actively and freely debate the future of our nation. What is morally/legally correct? We need to learn from the past and lean into the future. I'd encourage people to join with universities to make sure we have robust discussions/debates about Orange County.
Nguyen: How do we collaborate?
Virjee: We know our university doesn't end at the borders of our property. We are stewards of place. Our faculty and administrators have roles as citizens. We encourage our students to give back and to serve. Orange County has been transformed and will continue to transform.
Look at our history: During the 1920s, the Ku Klux Klan was very active in Orange County. We've moved beyond that. We are a change agent in the state and nation but we have to face the past so we can learn from it, acknowledge it and make those needed changes.
After the murder of George Floyd, we reached out to the Black community, through their churches, chamber and empowerment groups such as "100 Black Men." We needed to stand with and demonstrate our support.
It's the same thing with the rise of Asian hate. We need to reach out to the Asian communities and let them know they are supported.
If we come to the aid of each other, stand with each other as fellow citizens, we will be in good shape.