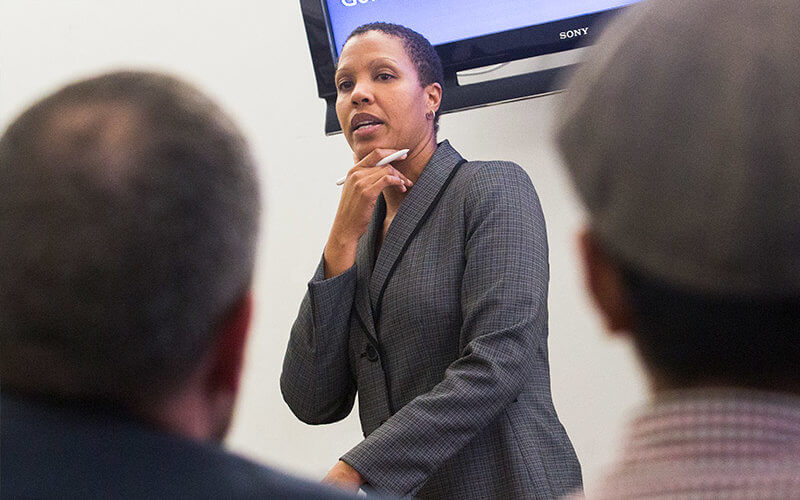 Cal State Fullerton scholars submitted the following research publications, presentations and honors in June 2021:
PUBLICATIONS & CREATIVE PROJECTS
Siobhan Brooks, associate professor of African American studies, interviewed Dwight A. McBride, president of the New School in New York City, about his journey to his current role; his scholarship on race theory, Black studies and identity politics; and the importance of his leadership at this time in history.
Miya Williams Fayne, assistant professor of communications, published "Advocacy Journalism in the 21st Century: Rethinking Entertainment in Digital Black Press Outlets" in Journalism. Separately, her article, "The Great Digital Migration: Exploring What Constitutes the Black Press Online," is a Top Five Finalist for the 2020 Outstanding Research Article Award of the Journalism and Mass Communication Quarterly, the flagship journal of the Association for Education in Journalism and Mass Communication.
María Soledad Ramírez and Marcelo E. Tolmasky, associate professor and professor of biological science, respectively, were among the co-authors of "A New Twist: The Combination of Sulbactam/Avibactam Enhances Sulbactam Activity Against Carbapenem-Resistant Acinetobacter Baumannii (CRAB) Isolates" published in the scientific journal Antibiotics.
Related: Researchers Discover Potential New Treatment for Antibiotic Resistance
Terry Saenz, professor of communication sciences and disorders, co-authored "The Effects of Dialogic Reading on the Expressive Vocabulary of Preschool-Aged Children With Moderate to Severely Impaired Expressive Language Skills" in Child Language Teaching and Therapy.
Ben Sztajnkrycer, lecturer in cinema and television arts, wrote the supernatural thriller, "Refuge." The project, directed by Renny Harlin, has wrapped production and is being shopped at the Cannes Film Festival marketplace.
PRESENTATIONS
Tenzin Dorjee, associate professor of human communication studies, spoke on an invited panel of experts about freedom of religious belief in China. The webinar was hosted by the Global Alliance for Tibet and Persecuted Minorities.
Hunter Hargraves, associate professor of cinema and television arts, presented an invited talk "Talking About 'Talking Television'" at Northwestern University.
Portia Jackson Preston, assistant professor of public health, presented "Black Thumbs Welcome: Gardening and Lessons on Resilience" at TEDxUCIrvine.
Bey-Ling Sha, dean of the College of Communications, delivered an invited presentation to the Korean Academic Society for Public Relations on "How to Get Published in the Journal of Public Relations Research: Advice from the Editor-in-Chief."
Several faculty members from the College of Communications presented at this year's virtual International Communication Association conference:
Gayle Brisbane, assistant professor of communications, spoke on "'They (Media) Are Being Led by the Enemy': White Evangelical Christian Women's Perception of News Outlets"
Roselyn Du, associate professor of communications, shared "Algorithmic Audience in the Age of Artificial Intelligence: Tailored Communication, Information Cocoons and News Literacy"
Miya Williams Fayne, professor of communications, talked on "An Examination of Entertainment as Self-Care in the Digital Black Press"
Jiwoo Park, assistant professor of communications, spoke on "Twitter as a Platform Between BTS and Its Global Fans During the Social Movement"
Cylor Spaulding, assistant professor of communications co-presented "The Historical Development of Corporate Social Responsibility and Legitimization of Corporate Social Advocacy: A Multinational Approach"
Tara Suwinyattichaiporn, assistant professor of human communication studies, co-presented, "Enhancing Relational Connectedness: An Investigation of the Connection Between Sexual Mindfulness, Communication and Satisfaction"
Stella Ting-Toomey, professor of human communication studies, co-presented "From Online to Offline Intercultural Encounters: Interpretive Turning Point Events in Developing Romantic Relationships"
AWARDS
Project Rebound, directed by Brady Heiner, associate professor of philosophy, has been selected as one of the 2021 California Nonprofits of the Year by California Assemblymember Sharon Quirk-Silva.
Faculty and staff may submit publications, presentations and honors/awards for this monthly roundup at newssubmissions@fullerton.edu.