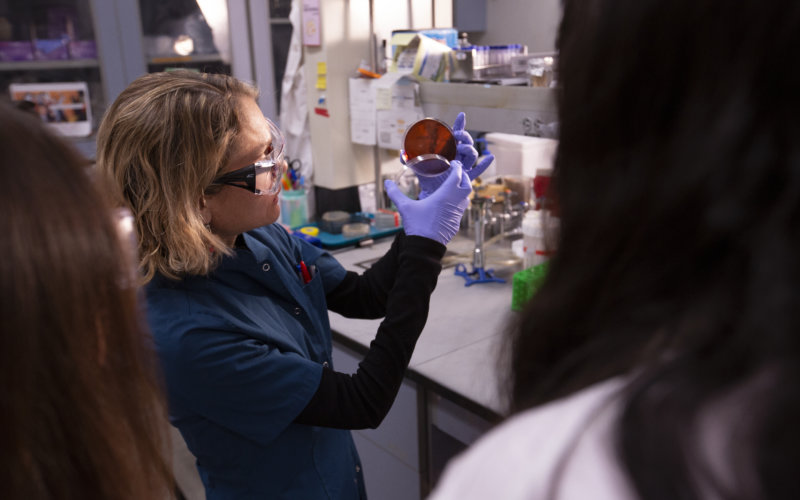 Cal State Fullerton antibiotic-resistance researcher María Soledad Ramírez and her students have discovered a potential new alternative treatment for one of the most powerful and deadly bacterial pathogens.
Their study focuses on Acinetobacter baumannii, which affects people with weakened immune systems and those in hospital settings.
In this latest work, the researchers identified an effective alternative antimicrobial treatment consisting of combining two compounds called sulbactam and avibactam that can be effective against highly-resistant pathogens, Ramírez said.
"One of these two compounds has antibiotic activity towards Acinetobacter baumannii, making the mix a powerful antibiotic/inhibitor-of-resistance formulation to treat otherwise resistant infections," said Ramírez, associate professor of biological science. "This approach not only can be useful to treat life-threatening Acinetobacter infections, but it can also serve as a paradigm to design treatments against other resistant pathogens."
The researchers' discovery, "A New Twist: The Combination of Sulbactam/Avibactam Enhances Sulbactam Activity Against Carbapenem-Resistant Acinetobacter Baumannii (CRAB) Isolates" was published in the scientific journal Antibiotics. The peer-reviewed, open access journal on all aspects of antibiotics is published monthly online by MDPI.
Co-authors of the new publication are Ramírez, Marcelo E. Tolmasky, professor of biological science, along with their students Jose Cedano, Michelle Baez (a McNair Scholar), Class of 2021 graduates Casin Le and Jose Osteria — all biological science undergraduates — and postbaccalaureate student Grace Ra.
The CSUF team collaborated with scientists from such institutions as the ANLIS-Malbrán Institute (a public health institute) in Argentina, Case Western Reserve University School of Medicine and Louis Stokes Cleveland Department of Veterans Affairs Medical Center.
According to the Centers for Disease Control's 2019 Antibiotic Resistance Threats Report, antibiotic-resistant bacteria and fungi cause more than 2.8 million infections and 35,000 deaths, resulting in health care costs exceeding $281 million in the United States each year, Ramírez noted.
"Acinetobacter baumannii is a pathogen classified as an urgent threat in this report and it is characterized by its ability to resist the therapeutic action of most antibiotics currently in use," said Ramírez, the university's 2021 recipient of the L. Donald Shields Excellence in Scholarship and Creativity Award.
"This new finding may point us on the right path to design a solution to severe Acinetobacter infections, but it can also be a trailblazer in the quest to deal with multidrug-resistant infections in general," Ramírez noted. "Further studies have to be performed to confirm the potential use of these compounds as therapeutic alternatives."
Over the last year during the pandemic, the researchers, adhering to strict university protocols in labs, continued their investigations to seek treatments for antibiotic resistance.
Faculty and students wrote, submitted and published numerous publications during the pandemic that focused on the study of multidrug-resistant infections. They described different aspects of their research, which focuses on discovering natural resistance mechanisms and creating ways to deal with the resistance problem. This year's publications include: