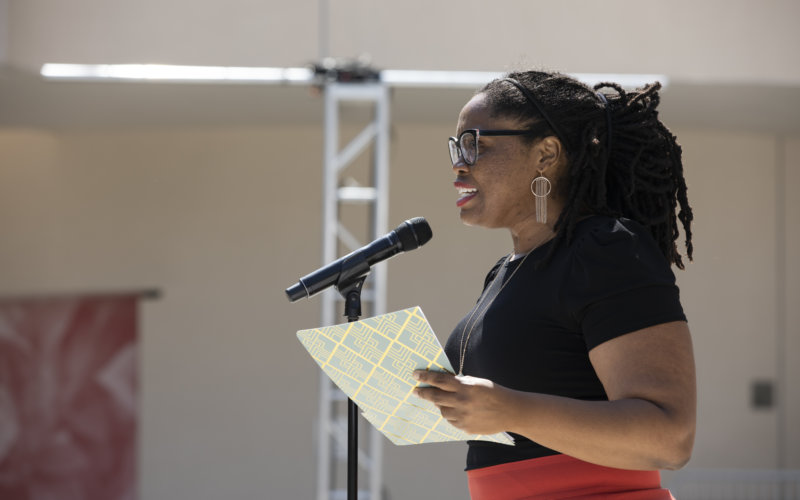 Poetry is central to justice and transformation, says Natalie J. Graham, chair and associate professor of African American studies at Cal State Fullerton. It can be a vehicle for connecting and reimagining "who we are and what we consider to be fixed," she says.
"Words are intensely relational," Graham said. "In Orange County, as in many places in the country, we have seen how rhetoric can injure and isolate us. Poets remind us that words also mend and revive. It's incredibly important for me that figurative and literal spaces for art, joy and conversation are created and sustained in Orange County."
Graham has championed justice and connection in her writing and in her community, both through her work as an award-winning author and performer and in her role as director of The Institute of Black Intellectual Innovation at CSUF.
Her commitment to the arts, community engagement and social justice recently earned her the title of Orange County's inaugural poet laureate.
The Orange County Poet Laureate program launched this year to honor local poets who use their empowering words to impact social change and to celebrate diverse voices and experiences in the county.
Run by the LibroMobile Arts Cooperative in Santa Ana and the Orange County Public Libraries, the program aims to provide more opportunities for Orange County residents to write, perform and engage with poetry throughout the county. They also run an Orange County Youth Poet Laureate program that partners with the National Youth Poet Laureate program organized by the nonprofit Urban Word NYC.
Graham will participate in community events in her one-year term as poet laureate. Graham said she would also like to support more events that feature poetry and other art forms, such as culinary arts and photography.
She said it is important that poets and scholars build and nurture spaces for dynamic, creative communication in local communities.
"Poetry makes our shared humanity more visible," Graham said. "Its metaphors allow us to practice empathetic communication. They ask us to consider similarities and possibilities first. They ask us to encourage fluidity and understanding."
Graham won the Cave Canem Poetry Prize in 2016 for her collection of poems, "Begin with a Failed Body." Her poems have been published in such literary magazines and journals as Callaloo, New England Review, Southern Humanities Review and Obsidian. Her work has also appeared in such newspapers as the San Francisco Chronicle.
The resident of Buena Park joined the CSUF faculty in 2013 after completing her doctorate in American studies at Michigan State University and earning an MFA in creative writing from the University of Florida.
Graham's appointment takes place 3 p.m., Saturday, Aug. 28, at the LibroMobile bookstore in downtown Santa Ana and will include a live inaugural reading. The event is free and open to the public.