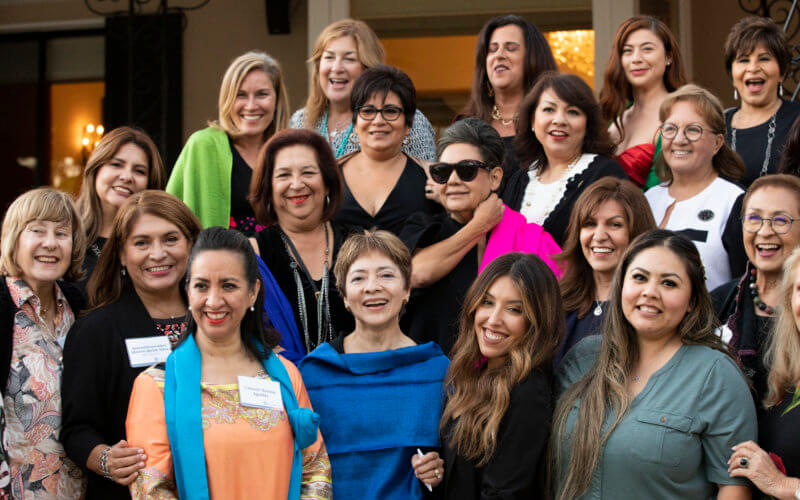 Against a backdrop of Latin jazz music (performed by Cal State Fullerton students under the direction of Francisco Torres, lecturer in music), President Fram Virjee and his wife, Julie, welcomed elected officials and Latinx business leaders to a Latinx Heritage Month reception introducing the new consulate from Mexico, Audrey Rivera, and recognizing longtime university supporter Gaddi Vasquez with the promise of an honorary doctorate to be awarded at Cal State Fullerton's 2022 commencement.
"If you believe, as I do, in the old expression, 'Home is where the heart is,' then all of you, our Latinx leaders, friends and family are the heart that makes Cal State Fullerton home for so many," Virjee said in welcoming the crowd. He noted that 19,000 Latinx students are part of the more than 40,000 students who attend CSUF.
In introducing Rivera, Virjee noted the university's ongoing partnership with the Mexican Consulate. Rivera, a career diplomat with a doctorate in social sciences and international relations, has a broad range of experience in protecting and safeguarding the rights of Latinx communities and workers at home and abroad.
"It is truly an honor to be part of an event honoring Hispanic Heritage Month and the contributions of Mexican and Hispanic people," she said. "The dream of thousands of Hispanics is to advance and move up the social ladder to improve society. We have such a rich culture and heritage, and I appreciate your support in helping Hispanic people achieve their dreams."
Several distinguished guests attended the reception, including California Sen. Josh Newman, Assembly Member Sharon Quirk Silva, OC Board of Supervisors Vice Chairman Doug Chaffee, Fullerton City Councilmember Jesus Silva and the campus' beloved alumnus and U.S. Rep. Lou Correa. Others who were recognized included Giselle Vasquez (representing U.S. Rep. Katie Porter) and Anaheim City Councilmember Avelino Valencia.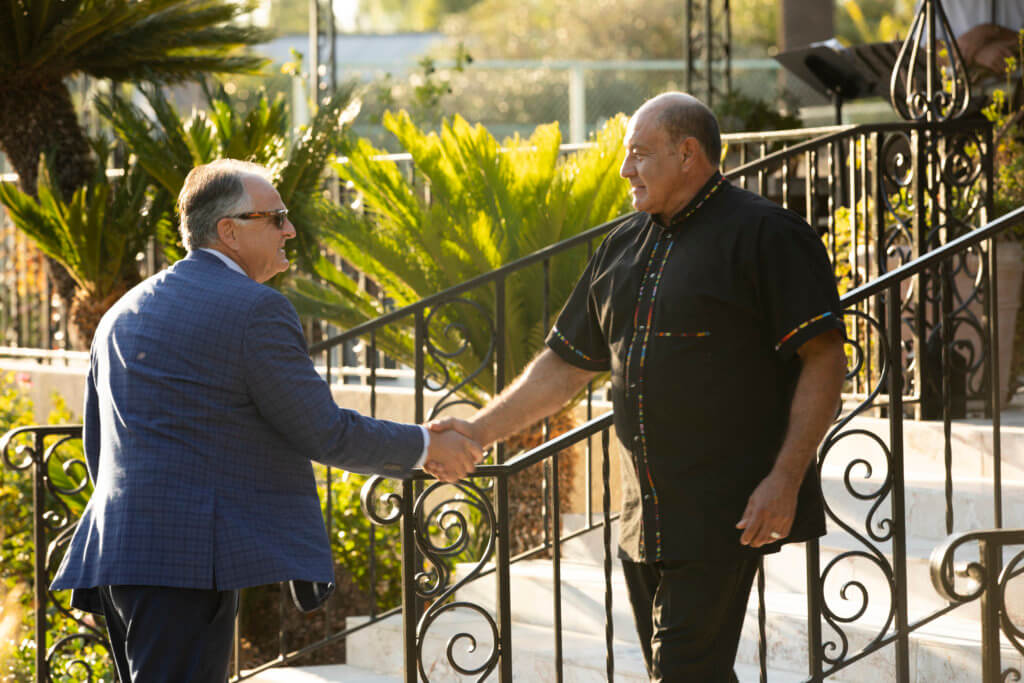 Affirming the university's commitment to being the preeminent Hispanic-Serving Institution in the nation, Virjee shared several programs that serve Latinx students, including Abrego Future Scholars (almost all are Latinx), Nicholas Academic Scholars (89% Latinx), Sun Scholars (71% Latinx) and Guardian Scholars (57% Latinx).
He noted that more Latinx Titans earned their bachelor's degrees in 2021 than in any other year in the university's history. That makes Cal State Fullerton No. 2 in the state and No. 4 in the nation for conferring baccalaureate degrees to Latinx students.
Virjee also shared the university's efforts to increase diversity in its faculty and staff, highlighting an increase in Latinx faculty representation by 22% over the past four years.
He then introduced the evening's second special guest: Ambassador Gaddi Vasquez. The eighth U.S. representative to the U.N. Food and Agricultural Organization, Vasquez was nominated by President George W. Bush and sworn into office in 2006. Prior to that, he was the third longest-serving director of the Peace Corps. Through his years of public service, Vasquez has found time to serve on CSUF's President's Roundtable as well as emcee of the public phase of the university's first-ever comprehensive philanthropic campaign.
"The honor I am about to announce is the highest honor that we, as a university, can bestow," Virjee said. "It is only the 19th time in the university's 64-year-history that we have done so. I am happy to announce that during our 2022 commencement ceremonies, we will award Ambassador Gaddi Vasquez with an honorary doctorate from Cal State Fullerton."
"It is a rare moment when I am speechless, but this is a great honor," Vasquez told the crowd. "Thank you, thank you, thank you.
"I want to talk about the wonderful developments and support from Cal State Fullerton," he continued. "Fram Virjee is a leader who possesses determination, urgency and a deep sense of purpose in transforming the university. The university is creating opportunities and a pathway of possibilities for Latinx students. I encourage all of you to find a place where you might become a Titan — find a role where you can support Cal State Fullerton."