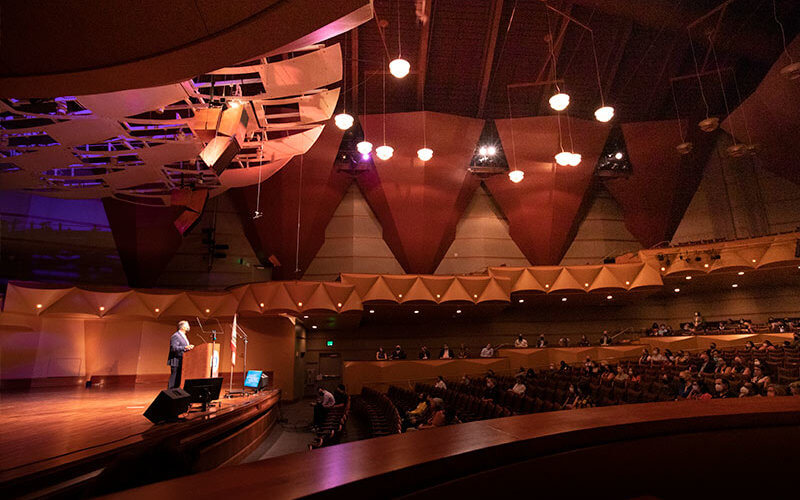 For the first time in 18 months, a group of Cal State Fullerton faculty and staff gathered for the university's in-person convocation (the event was also live streamed for those who preferred to participate virtually).
"I have to tell you, it's a bit strange to start a meeting without 30 people yelling that I'm on mute," President Fram Virjee joked before praising those in attendance for their hard work and dedication during a time when our country witnessed violence against Black and Brown and Asian communities, saw others deprived of voting rights, and families were battered by losses as COVID-19 swept through the world.
"As Ernest Hemingway noted, 'The world breaks everyone, and afterward, many are strong at the broken places,'" he said. "There is no doubt that the world has broken all of us, in different ways and different places, but I do see many members of the Titan family becoming strong at the broken places."
Some of the 'broken pieces' that Cal State Fullerton is focusing on is an acknowledgement of inherited systems of racism and a renewed commitment to eradicate them, hiring the most diverse new cohort of tenure-track faculty and the largest group of incoming ethnic studies faculty. And finally, there is the return to campus.
"You should know that we are the gold standard of the CSU," Virjee said. "We were one of the first campuses to pivot to distance learning, our testing and masking policy was shared as a best practice with other CSUs, and our vaccination records policy was held up as a system-wide model.
"Our CSUF Re-Entry Leadership Team, or RLT, has not only transformed lives but saved them. They have provided support, feedback and encouragement as we navigated this return together.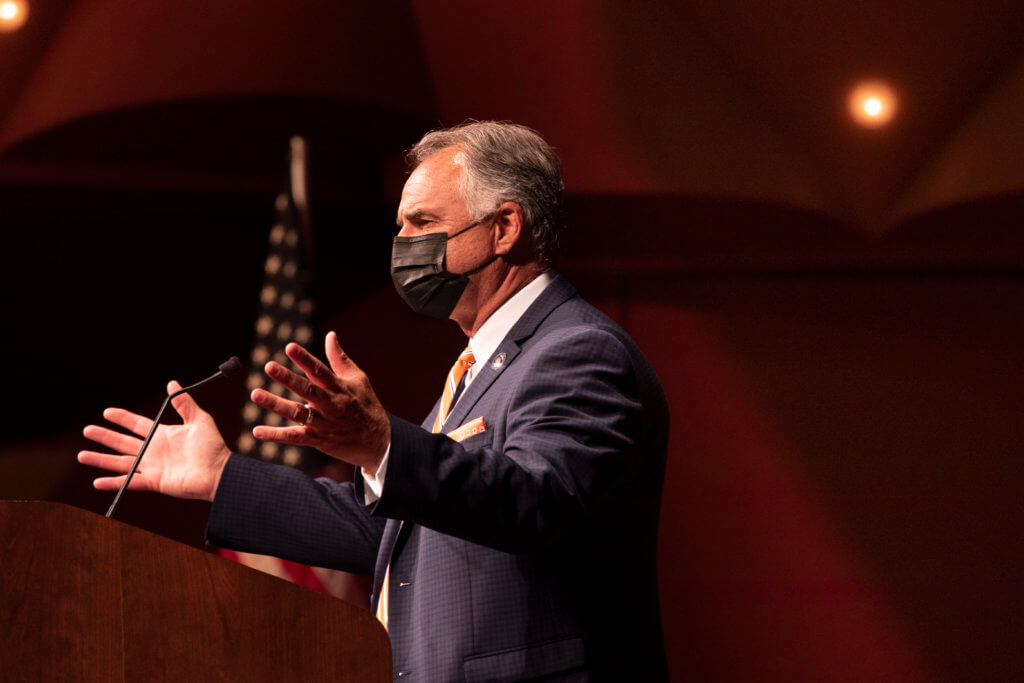 "Special thanks to our groundskeepers, landscapers, tradespersons and the whole crew," he continued. "The campus looks amazing! I also want to thank the cleaning crews—especially those who come in at 3 a.m. to clean our classrooms each night to ensure our health and safety. And thank you to the university police department and all essential workers who never left our campus."
Virjee also thanked members of Academic Affairs, registration and records staff, library staff, deans, associate deans, staff managers and chairs, and members of the faculty for "bringing our in-person semester to life."
He also welcomed all the new faculty and staff who have been hired over the past 18 months.
Others who were praised included the staff of the student health canter and CAPS, IT, Student Affairs, University Advancement, Administration and Finance, HRDI, and many others.
He also acknowledged the university's recent $40 million unrestricted gift from MacKenzie Scott and Dan Jewett and discussed how this gift would be used.
The president also announced that the campaign's goal will now be $250 million for our first comprehensive campaign. (Currently, the university has raised 89% toward this goal.)
Virjee praised the university's focus on diversity, inclusion and equity and encouraged Titans to participate in the One Book, One CSUF program by reading this year's selection, "They Called Us Enemy" by George Takei.
He acknowledged the hard work of Titans who organized and volunteered at this year's commencement events, and the university's accomplishments on GI 2025, including increases in four-year graduation rates for first-time freshmen, as well as six-year graduation for this group. While Virjee did note that some equity gaps narrowed, he emphasized the need to focus on specific areas such as underrepresented and Pell-eligible first-time freshmen.
The campus also continued with infrastructure projects including multiple building renovations, baseball and softball facilities additions, a new aquatic center, and more.
And while the university experienced its share of budget cuts, including a $24 million baseline cut, this year the campus will receive a $27 million increase. As the campus reopens, many of the self-supporting entities are up and running again.
Shout-outs also went to the eight colleges, library, athletics and other areas of campus. Indeed, all divisions went the extra mile to reach out to students, faculty, staff and the community to help ensure that campus programs remained available and the university could provide the high quality education that is CSUF's hallmark.
"Our three pandemic touchstones are the health and safety of all Titans and their families, unimpeded paths to degrees, and the redoubling of our commitment to diversity, equity, inclusion and social justice," Virjee said.
"No matter how this year unfolds or what kind of adjustments we might need to make, the foundations are in place, our goals are set and the standards are clear," he continued. "While our foundational work remains the same, our desired destination is now wildly different because we do not aspire to return to where we were in February 2020. We have outgrown that version of ourselves and we have moved the goalposts so many times, we have created a new playing field.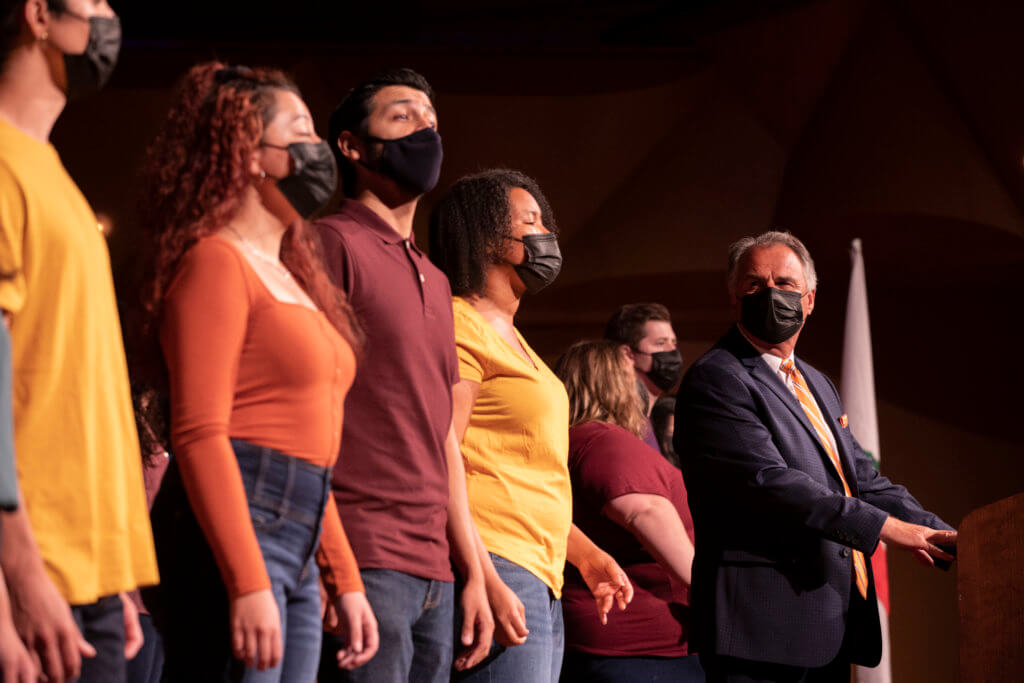 "We now understand that higher education is the one proven path to upward mobility, the one authentic antidote to racism, and the one clear-cut catalyst for the change we seek."
View the entire 2021 Convocation and State of the University presentation on YouTube.