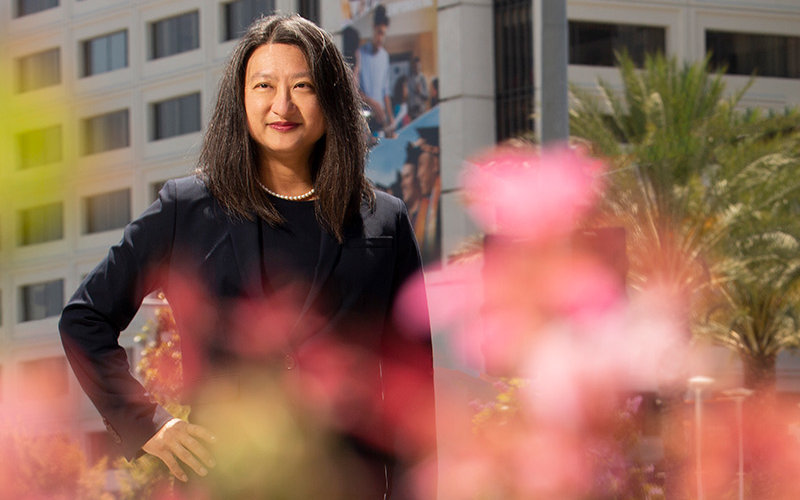 Cal State Fullerton faculty recently received awards, published research on a variety of topics and presented, including sitting on a virtual panel for Netflix's "The Chair." These are the publications, presentations and awards submitted during August 2021:
PUBLICATIONS
Lucia Alcalá, associate professor of psychology, published "How Yucatec Maya Children Learn to Help at Home" in the journal Human Development. Alcalá also published "A Cultural Lens on Yucatec Maya Families' COVID-19 Experiences" in the journal Child Development.
Jesse Battan, professor of American studies, authored the chapter "'What Is the Correct Revolutionary Proletarian Attitude Toward Sex?': Red Love and the Americanization of Marx in the Interwar Years" in the book "Marxism in America: New Appraisals."
Gordon Capp, assistant professor of social work, co-authored a book chapter "Preventing Bullying and School Violence" in "School Social Work."
Tala Khanmalek, assistant professor of women and gender studies, authored "Wild Tongues Can't be Tamed: Rumor, Racialized Sexuality and the 1917 Bath Riots in the U.S.-Mexico Borderlands" in Latino Studies.
Yuko Okado, assistant professor of psychology, co-authored "Psychosocial Adjustment of U.S. College Students in the Early Months of the COVID-19 Pandemic" in the Journal of American College Health.
Jessie Peissig, professor of psychology, co-published "Who's Behind the Makeup? The Effects of Varying Levels of Cosmetics Application on Perceptions of Facial Attractiveness, Competence and Sociosexuality" in Frontiers in Psychology.
Daniela Rubin, Kathleen Wilson and Debra Rose, professors of kinesiology, co-authored "Improved Motor Proficiency and Quality of Life in Youth With Prader-Willi Syndrome and Obesity Six Months After Completing a Parent-Led, Game-Based Intervention" in Pediatric Exercise Science.
Jule Selbo, professor emeritus of cinema and television arts, published the novel "10 Days, A Dee Rommel Mystery" and received a starred review on Kirkus Reviews.
Yuying Tsong, professor of human services, co-authored "COVID-19 Anti-Asian Racism: A Tripartite Model of Collective Psychosocial Resilience" in American Psychologist.
Penny Weismuller, director of the School of Nursing, co-authored "Building Coalitions: A Statewide Nursing Organization's Role in Changing Nursing Education Regulation During the COVID-19 Pandemic" in the Journal of Professional Nursing.
Joshua Yang, professor of public health, co-authored "A Geospatial Analysis of Age Disparities in Resolute Localities of Tobacco and Vaping-Specific Storefronts in California" in Tobacco Prevention & Cessation.
PRESENTATIONS
Bey-Ling Sha, dean of the College of Communications, sat on a virtual panel with actor Sandra Oh and other Asian American Pacific Islander women leaders to promote Netflix's "The Chair." Sha also presented a keynote to the Americas Conference of the Public Relations and Communications Association.
AWARDS/HONORS
Tim Green, professor of elementary and bilingual education, was awarded the 2021 Association for Educational Communications and Technology Design and Development Outstanding Book Award for his co-authored text "The Essentials of Instructional Design, 4th Edition."
Warren Lewis, lecturer in cinema and television arts, had his screenplay "The Dybbuk" picked as an official selection at the American Screenwriters Conference and at the Sacramento International Film Festival.
Jule Selbo, professor emeritus of cinema and television arts, received the first place Goethe Book Award in the 2020 Chanticleer International Book Awards for "Breaking Barriers: A Novel Based on the Life of Laura Bassi."
Faculty and staff may submit publications, presentations and honors/awards for this monthly roundup at newssubmissions@fullerton.edu.