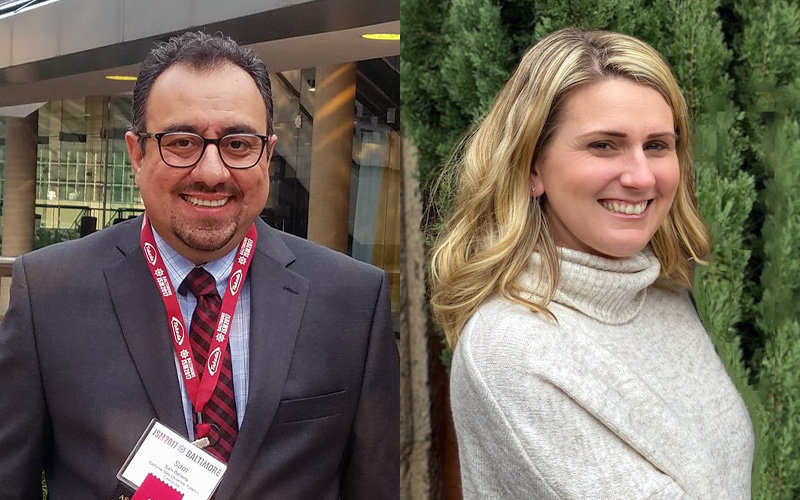 Don't be afraid of data science.
That's the message that Sam Behseta, professor of mathematics, and his colleague Jessica Jaynes, associate professor of mathematics, hope will resonate with Cal State Fullerton students who want to learn more about this growing field.
Recently, CSUF, in partnership with University of California, Irvine and Cypress Community College, received a grant of $1.5 million from the National Science Foundation to reach out to underrepresented students, encouraging them to consider careers in data science.
"We want to stress that we don't expect students to be math or computer science experts … it's our job to teach them the skills they will need," said Behseta. "Essentially, data science consists of three elements — math, computer programming and statistics. Our goal is to recruit students majoring in STEM to join in the California Data Science Experience Transformation Program."
"This is open to all STEM students," said Jaynes. "If you're majoring in biology or chemistry, this applies to you, too.
"This is an incredible opportunity for students to be at the forefront of a rapidly growing field of acquiring data and analyzing what it means," said Jaynes. "Data science is at the heart of most complex scientific endeavors from understanding molecules and tiny particles to modern astronomy. These include decision-making processes resulting in the kinds of goods that are manufactured, environmental policies, social media and how we communicate with the world around us. There are a growing number of jobs related to data science and it is our hope that our students become some of the leaders in this field."
Through the medium of algorithms and mathematic formulations, along with coding skills and statistics to efficiently extract information, data science provides insight into how things work … and how well. Problem-solving is the name of the game.
"This grant and our partnerships with local universities, government agencies and businesses will allow us to teach these concepts and provide the necessary knowledge to deserving students," Behseta said. "Our goal is to provide our students with the skills to go on to jobs at elite institutions that need people who understand how to conduct data science.
"This is cutting edge knowledge," he continued. "I think our students are among the best. With coaching and teaching, I know they can succeed."
"Our hope is that this program sets the foundation for a dynamic community of data science learners at CSUF and opens the doors for many opportunities for our students," Jaynes said.
Students are invited to apply (by Oct. 15) for the program that consists of a spring class and a summer "boot camp" at UCI. There, they will collaborate with their peers on real-life analytics and modeling projects. In addition, there will be hands-on projects with data scientists from industry and government agencies.
For more information, contact Behseta at sbehseta@fullerton.edu or Jaynes at jjaynes@fullerton.edu. Those students selected may also be eligible for a $5,000 stipend.