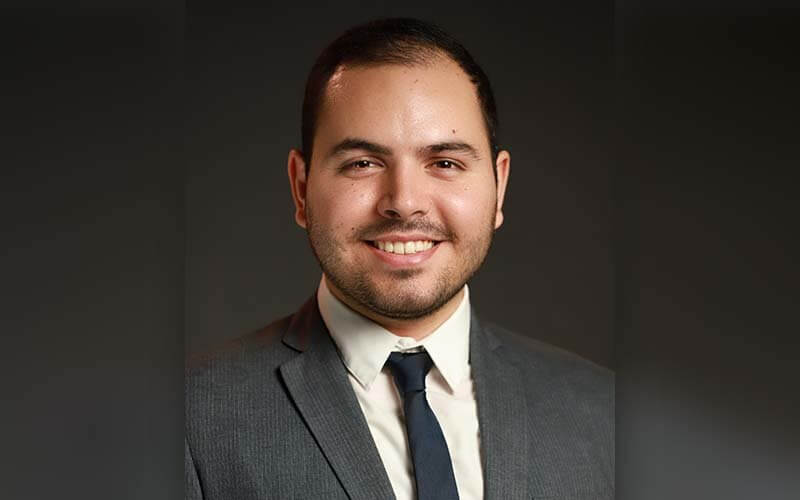 Marco Mendoza, assistant director of client services in the Office of Financial Aid and Cal State Fullerton's 2021 Titan of the Year, wants students to recognize their potential … and make sure that a lack of funds doesn't prevent them from achieving their dreams.
"My colleagues and I want to maximize student financial aid opportunities, access, awareness and equity," he said. "One way we do this is through student-centered programs such as our California Dream Act (CDA) and FAFSA (Free Application for Federal Student Aid) workshops."
As a first-generation immigrant and college graduate, Mendoza knows firsthand the obstacles that come from a lack of knowledge and awareness of what financial resources are available.
"One of the biggest challenges Latinx students face is that they don't understand the financial aid application process," he said. "Many of them are first-generation college students. By offering financial outreach campaigns to Latinx students and their families, we help break down financial barriers by informing them of the resources that are available so they can pursue a college degree. This creates transformative change for both the students and the generations that follow them.
"Outreach is crucial to Latinx communities because we have the potential to make lasting change for generations to come," he continued. "I genuinely believe that when Latinx students obtain a college degree, they become agents of change in their various communities. This is what drives me to serve and be a part of what we do at Cal State Fullerton. Being a part of a Hispanic-Serving Institution, like CSUF, provides us with an opportunity to serve students who have traditionally been underserved and underrepresented in higher education. On a personal level, working here is special to me because it allows me to assist those who, at times, may need someone who believes in them and let them know that they belong here and that they too can graduate."