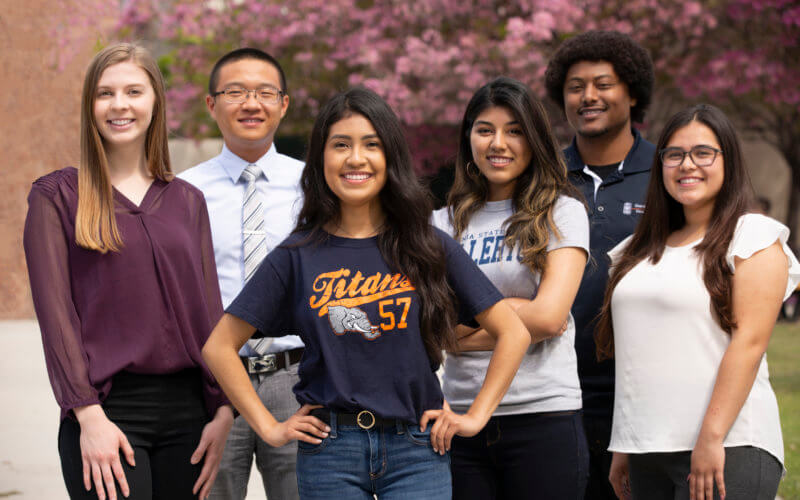 For the fourth year in a row, Cal State Fullerton has received the Insight Into Diversity's Higher Education Excellence in Diversity Award. Recipients will be featured in the magazine's November issue.
The HEED Award measures an institution's level of achievement and commitment to broadening diversity and inclusion through campus initiatives and programs, student recruitment and retention, and hiring practices for faculty and staff.
While CSUF has long been committed to diversity, equity and inclusion, amid the growing national unrest in 2020, President Fram Virjee called for the university to redouble its efforts in this area and work to eliminate systemic racism.
Bobbie Porter, assistant vice president for diversity, equity and inclusion, heads such efforts for the campus, but notes that "it is our collective goal to weave inclusivity and equity into every resource, activity and classroom on our campus."
Porter joined CSUF in 2018 as the university's first diversity officer. Under her direction, the university has achieved such successes as releasing social justice guiding principles; holding its first cross-campus, collaborative Social Justice Week program; initiating the campuswide common read program, One Book, One CSUF; engaging hundreds of Titans in DEI training; and expanding existing employee affinity groups and launching new ones.
"We are proud of our collective work toward fostering a campus community where everyone feels like they belong," said Porter. "And we have been able to close equity gaps and increase the graduation rate for all students, demonstrating that CSUF is a leader in DEI.
"While such work is never finished, the HEED Award is a testament to CSUF's ongoing efforts of upholding its mission-critical values of social justice, equity, diversity and inclusion," she added. "We plan to keep making strides in these key areas."
To see the latest universitywide DEI efforts or find resources to connect within the campus community, visit Titans Together and the Diversity, Inclusion and Equity Programs website.