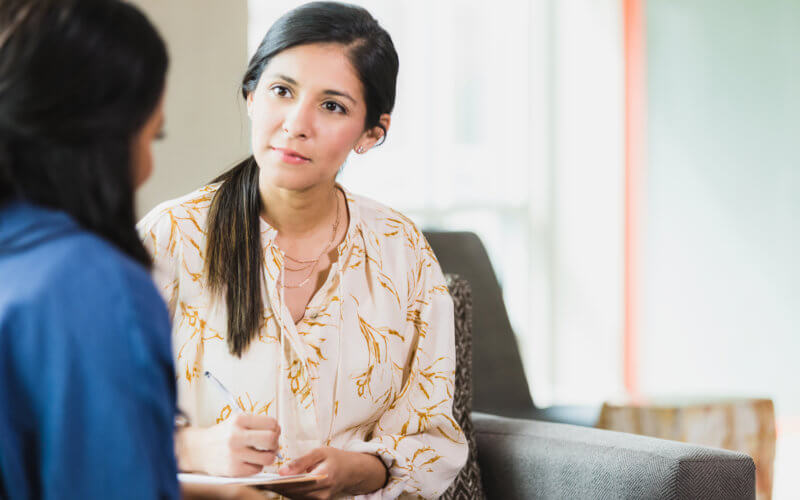 When Jennifer Coronado discovered a graduate program at Cal State Fullerton that offered a Latinx counseling emphasis, she immediately knew she wanted to be part of it.
"When I was looking for a master's program, I quickly realized that many programs did not offer very much diversity," said Coronado '21 (M.S. counseling-Ánimo: Latinx counseling emphasis), who identifies as both Mexican and American.
Latinx are the largest ethnic group in California: Data from the U.S. Census Bureau released in August shows California's Hispanic population grew by 11% between 2010 and 2020, making up approximately 40% of the state's 40 million residents.
But the state has one of the largest gaps in Spanish-speaking mental health providers. According to the American Psychological Association, only 5.5% of psychologists can provide services in Spanish.
A Need for Culturally Sensitive, Bilingual Counselors
Launched in 2018, the Ánimo: Latinx Counseling Emphasis is one of two public master's programs in the U.S. accredited by the Council for the Accreditation of Counseling and Related Educational Programs. Additionally, fewer than 10 master's, doctoral, public and private programs in the country provide bilingual or bicultural counselor training. ("Ánimo" comes from the Spanish verb "animar," meaning to encourage, give spirit, to motivate.)
Led by Olga Mejía, associate professor of counseling, the program consists of five master's-level counseling courses that prepare graduates to provide bilingual and bicultural counseling for Latinx clients and families. Courses in Ánimo are offered in both English and Spanish to meet students' needs.
"The Ánimo program trains and empowers culturally sensitive and bilingual counselors to break down barriers in the mental health field to ensure quality counseling care for the Latinx community," said Mejía. "The program addresses the critical shortage of culturally sensitive and bilingual professional counselors who can provide therapeutic care to Latinx and Spanish-speaking adults and children.
"There are not enough bilingual and bicultural mental health clinicians to meet Latinx community needs."
Addressing Health Care Disparities
"I felt seen when I discovered this emphasis. It gave a voice to my Latina side as I entered into the counseling realm," said Coronado. "It gave me a sense of belonging in the education system, which has historically been geared toward nonminorities."
Since graduating, Coronado has secured a job as a clinical therapist with The Guidance Center in Long Beach and Long Beach Unified School District.
"My training has helped me gain a better understanding of the different struggles minorities might face, whether that's related to culture, identities, social economic status or migration status," she shared. "No one person is the same, and when developing treatment plans or assigning a diagnosis, a person should be considered as a whole."
The Ánimo program addresses such relevant issues as immigration and cultural change, dismantling anti-Black racism within the Latinx community, therapeutic Spanish and cultural value systems, heterogeneity within Latinx groups, intergenerational family conflict, ethnic identity models, and the intersectionality of various other identities (e.g., race, gender, religion, sexual orientation, disability, social class).
Long-term, Mejía envisions increasing enrollment from 18 to 36 students per year, developing a clinic where students provide counseling services under faculty supervision, offering scholarships and research assistantships, and developing a doctoral program in counselor education.
"This type of training is needed in the mental health field because it's been without it for so long. Mental health is taboo in so many cultures, and it needs to be talked about," said Coronado. "That starts by helping others gain a better understanding of why these stereotypes exist and how culture has played into it for centuries. Training mental health clinicians in cultural competency is important in the fight toward equity and social justice."