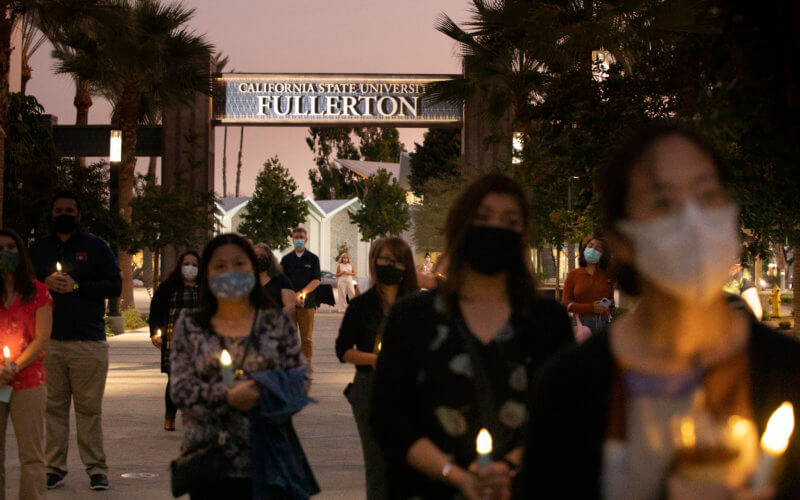 As the sun set over the Titan Promenade on a balmy, autumn evening, Cal State Fullerton students, faculty, staff and alumni gathered for Titans Remember.
The Sept. 30 event, hosted by University Advancement, was a time for Titans to reflect on the challenges and losses of the COVID-19 pandemic and feel the support of the Titan family.
In his opening remarks, President Fram Virjee explained, "As bright and beaming as we've been in our return, beneath the surface, there's still sadness, fear, heartache, exhaustion.
"You see it in the eyes of our students, many of whom faced untold adversity and social injustice long before the pandemic even hit. You see it in the eyes of our faculty and staff who have continually adapted and been asked over and over again to do more with less. And you see it in the eyes of our greater community that's been battered by loss, attacked with anti-Asian hate, hit with health care inequities, devastated by digital divides, besieged with systemic anti-Black and brownness, deprived of voting rights and denied immigration equality."
Standing six feet apart as a reminder of what was endured during COVID-19, four Titans lit candles and shared thoughts on the personal impact of the pandemic.
Dixie Samaniego, political science student and chief governmental officer for Associated Students Inc., admitted that the last 18 months has been filled with loss, loneliness and exhaustion, but is hopeful that "as a community, we are able to give each other grace and the space we need to grieve and continue reaching higher together."
Anh Nelson '01 (B.A. liberal studies), administrative analyst in Student Wellness, shared how the pandemic brought her greater appreciation for both her biological and chosen family — those she has intentionally selected to embrace, nurture, love and support.
Alexandro Gradilla, associate professor of Chicana and Chicano studies, reflected that the pandemic helped him find new meaning in his work:
"Within the last 18 months, history gained dimension. We read about the Holocaust; we read about genocides. And we forget when we read, that those are real people. For the first time, I felt a connection, in a deep, profound way, in terms of meaning. And it's that meaning that I want my students, colleagues, administrators, friends, alumni and community members to see — that this matters. Higher education matters."
Kathleen Hodge '71, '75 (B.A. speech communication, M.S. counseling), president of the CSUF Alumni Association, urged attendees as they move forward to "model compassion, be forgiving to oneself and others, be kind to one another and be a part of developing an inclusive world community."
She then introduced Leeza Yorke, master's candidate in music in vocal performance, to sing, "There's a Man Going Around Taking Names."
Afterward, Virjee called for a moment of silence.
"We've been through a lot together. But together we will continue to do a lot more to build the future and community that we dream of," he concluded.
Titans Remember was the first of many events being planned on campus to remember the pandemic. Virjee invited attendees to Titan Community Together, which will be held Nov. 16, 11 a.m.-2 p.m. in the Quad.
Watch the event on YouTube.