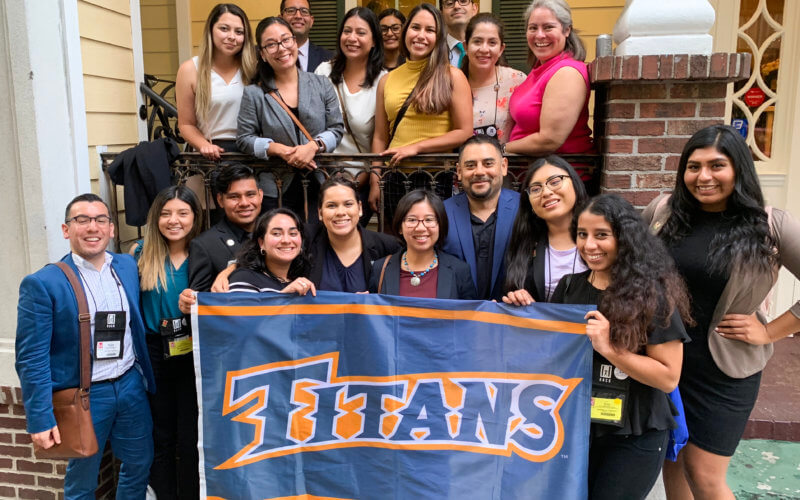 When Briana Cacho stepped into the annual Hispanic Association of Colleges and Universities conference, she had no idea that she would leave with the opportunity to work with the likes of cereal mascot Tony the Tiger.
Cacho, a first-generation student at Cal State Fullerton, applied to the CSUF-HACU Ambassador Program to learn about the experiences of Latinx professionals in the workplace and expand her network. The program was created to help her do just that — strengthening student leadership, advocacy and networking skills and offering the opportunity to attend the HACU conference.
At the event, the business administration major met numerous Latinx businesspeople and landed an internship with Kellogg's.
"HACU opened doors for me. I'm extremely grateful to have been a part of something designed for me as a first-generation Latina student," said Cacho, who will become a full-time sales representative for Kellogg's when she graduates.
The HACU organization supports Hispanic-Serving Institutions, higher education entities where 25% or more of the undergraduate student body identifies as Latinx. CSUF has been an HSI for more than 20 years, and today the university's student population stands at 46.2% Latinx.
While many universities engage with HACU and the conference, CSUF maximized its efforts to develop Latinx leadership by creating the CSUF-HACU Ambassador Program. All students are welcome to apply, and most program applicants identify as first-generation students and/or Latinx. To prepare for the conference, ambassadors learn about identity development, post-graduate opportunities, and about Latinx experiences in professional and academic fields.
"Part of the identity development training is helping students understand how their cultures have a huge role in their success. Students come with skill sets for things like networking, and it may look different, but they have the tools for it," explained Yessica De La Torre Roman, associate director of assessment and former HACU Ambassador Program coordinator.
Frida Mendez-Arce '21 (B.A. sociology) considers serving as a CSUF-HACU ambassador to be a "pivotal moment for her personal and professional career."
The confidence she gained as an ambassador empowered her to help people with disabilities. Mendez-Arce became a vocal ally for the community, volunteering with Tuffy's Friends and interning at Hispanas Organized for Political Equity. The program also enhanced Mendez-Arce's relationship with the university, solidifying her desire to pursue alumni engagement opportunities.
Lila Rodriguez, a history and psychology major, also caught the confidence bug after participating in the ambassador program. Hearing success stories of Latinx leaders in higher education inspired her to pursue such opportunities as research assistant for the Center for Research on Educational Access and Leadership and vice chair and secretary of the History Student Association.
"I gained a more profound connection with my Latinx culture, learned to become a better leader, had a chance to network with other student leaders across the nation and formed some friendships along the way," said Rodriguez.
The CSUF-HACU Ambassador Program plans to expand from a semester-long program to a yearlong one this academic year.
For more information about the ambassador program, contact Marivel Ortiz-Sanchez or Chalea Forgues.