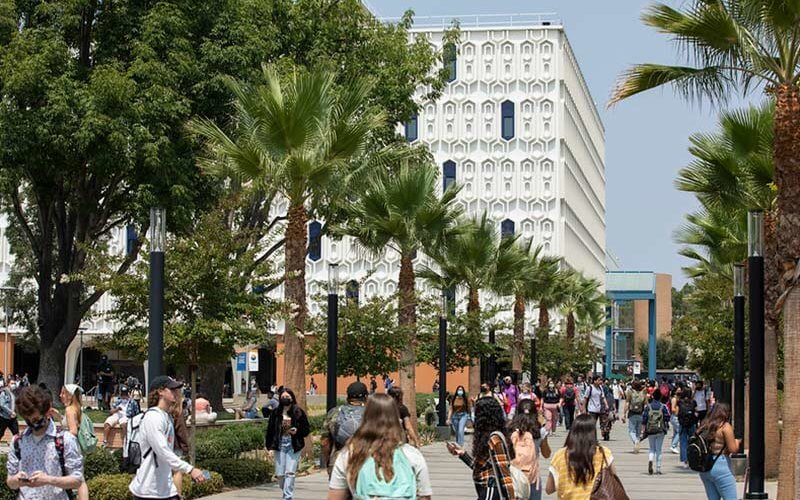 Thanks to reenrollment specialists at CSUF, more than 1,500 students, many who were on the brink of dropping out or skipping a semester, were encouraged to reenroll at Cal State Fullerton for the fall semester.
"We conducted waves of outreach," said Elizabeth Boretz, assistant vice president for student success and director of the Academic Advising Center. "We received reports of students who hadn't reenrolled for the next semester and our job is to find out why and offer solutions."
While numerous stories in the media focused on the plight of K-12 students who found virtual learning exhausting and difficult, not as much attention was paid to university students who not only faced many of the same challenges … but often were helping their families deal with the consequences of the pandemic. This included taking on extra jobs (or hours at existing jobs), caring for children who would otherwise be in school while parents worked, grappling with technology issues or financial problems, or dealing with sick or dying friends and/or family members.
Tracking statistics from the start of the pandemic, in July 2020, 1,697 students hadn't reenrolled — but outreach efforts resulted in 906 reenrolling. As the pandemic became more concerning, 3,051 students declined to reenroll in January 2021. Outreach efforts convinced 1,549 to come back. This past July, 3,243 students hadn't reenrolled and retention specialists were able to assist 1,545 in returning to campus.
Members of the retention specialist team at Cal State Fullerton were especially attentive to these potential complications. There are multilingual team members as well.
Some issues were easier to fix than others. For instance, Elaina Sidney, a retention specialist who focuses on freshmen and sophomores in the College of Engineering and Computer Science, spoke with one student who thought he couldn't enroll for fall semester because he hadn't decided on a specialty in his engineering major. (He eventually decided on electrical engineering.) He was also having difficulty getting a copy of his transcripts from a community college.
"He was a student in good standing, but he presumed that his situation would prevent him from getting into the classes he needed," Sidney said. "We were able to help him enroll by walking him through the process, helping him secure the transcripts, and sign up for classes. Now he's making progress toward his goal of an engineering degree."
"We go to great lengths to reach out to students," said Boretz. "We send mass emails, individual emails, texts and phone calls. Each college has a retention specialist who focuses on students' particular challenges.
"Our students face a wide range of problems — financial issues, academic probation, problems at home or work, physical and mental health situations. For us, every issue is a student success issue."
Boretz noted that students with academic problems are often ashamed and may feel that their personal obstacles to success will not be understood. Many are concerned about losing financial assistance because they have to maintain a certain grade-point average.
"We tell them that yes, you can do this and we can help," she said. "Some may need tutoring, technology assistance or financial assistance; others might need us to role play with them on how to discuss their goals with family members who don't realize how important earning a college degree is to them. If there are mental health issues, we have counselors who can help.
"Once we know what the problem is, the retention specialists can start breaking down obstacles," continued Boretz. "We want students to know that they shouldn't keep their reasons for discontinuing their enrollment private. Whatever they're dealing with, there's a good chance we've heard it before. And we can help. We want to help. We see them as a whole person — not just their grades or economic circumstances. We aren't going to give up on our students."