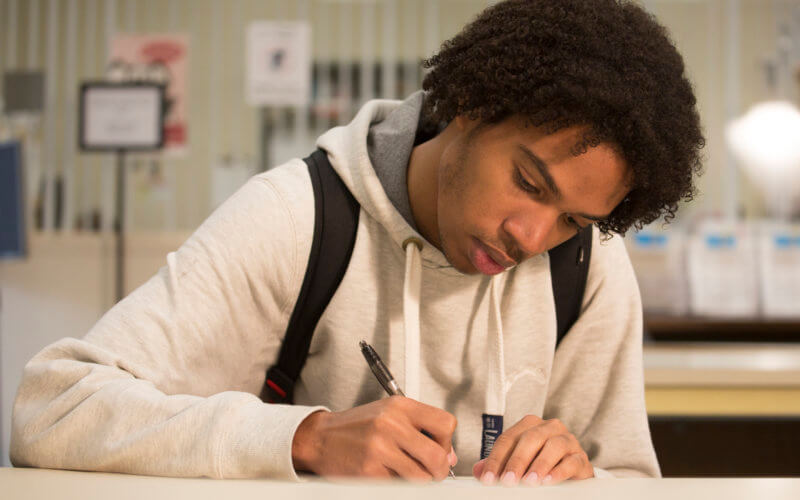 In 2017, Leslie Bruce, a Cal State Fullerton lecturer in English and faculty fellow for Writing Across the Curriculum, noticed that there were programs to assist students in writing for general education and undergraduate classes. But what about programs for graduate students?
"I saw a gap in the support so we collaborated with librarian Jie Tian, to host faculty focus groups and to survey graduate students," Bruce said. "We discovered that graduate students needed support in managing their time for long-term projects, overcoming writer's block and working with sources. Faculty indicated similar student needs."
So Bruce and Tian launched the Writing Across the Curriculum's "Thesis Writing Retreats at Pollak Library."
When the pandemic hit, in-person retreats turned into 30-minute Zoom consultations and workshops, led by experts in their fields. Eventually students from seven of eight colleges started attending the retreats.
"I think our virtual retreats drew more students than in-person ones for two reasons," Bruce said. "The first is accessibility: students could join us for an hour or two from home between their other obligations. The second was because students missed being in a community with faculty, librarians, and most importantly, other students working on these long-term projects. They could get a taste of academic community at the virtual retreats."
All students writing long-term projects (theses, dissertations, capstone projects) are invited to join the free retreats for as long as they like. They can hop in for half an hour or three hours.
Once students register for the retreat, they may also reserve 30-minute appointments with a librarian or writing consultant from the Department of English, Comparative Literature and Linguistics. There are also "writing cafés" where they can learn from and talk to other students.
"Our librarians frequently help students find more robust resources for their research, and our writing consultants often help students talk through their ideas so they can narrow their focus, beat writer's block or find an organizing pattern," said Bruce.
Last year, 64 students participated in the retreats with almost half returning for multiple retreats. In surveys, 88% rated the retreats as "valuable" or "very valuable" and 94% indicated that they had made progress.
"Oftentimes, when students work with a librarian, the librarian helps them focus their subject topics, asks what they want to find and what direction they hope to follow," Bruce said. "They talk about their interests and motivations, and librarians point them to resources that can help. We often hear from students about how helpful those sessions are … and the librarians like them, too, because they want to help students succeed."
Writing consultants help participants break down the objectives of students' projects and teach them to focus on key elements.
Among the student comments were:
"Great idea! I wish I could have attended more."
"The professors were very helpful."
"I enjoyed being able to talk to real people about how to do research. Librarian (Adolfo Prieto) was extremely helpful, and I was amazed that right after our session, I was able to find the archived materials I'd been searching for."
The next retreats will be held from 10 a.m. to 3 p.m. Oct. 15 and Nov. 12. Students can register for the free retreats on the Writing Across the Curriculum website.