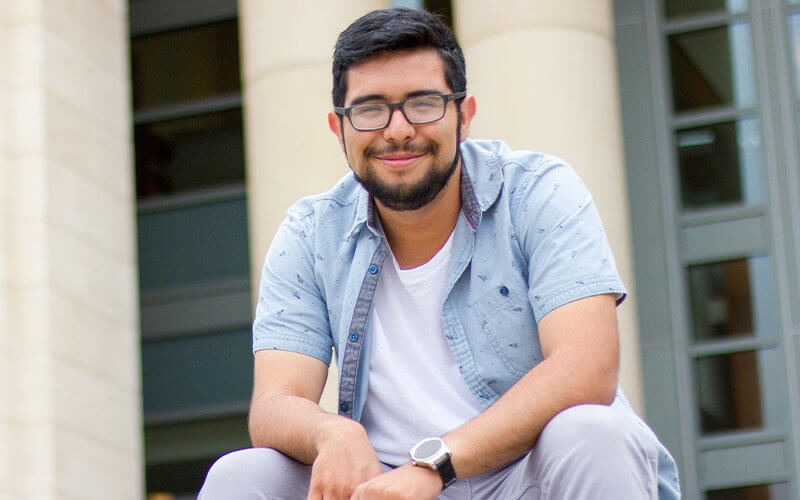 When Mauricio Gomez Lopez found out he was Cal State Fullerton's recipient of the 2021 CSU Trustees' Award for Outstanding Achievement, it felt bittersweet. Honored to win, he wished he could have shared the moment with his grandfather.
"In my sophomore year at CSUF, I lost my grandpa to cancer," he said. "It hit me hard because he was always supportive of me going to college. I know that me receiving this award would mean a lot to him."
The annual CSU Trustees' Award is the highest student recognition bestowed by the California State University, honoring those who exemplify the ideals of the system.
Gomez Lopez, a graduating senior double majoring in physics and math, is one of 23 students in the CSU to receive the award, which includes a $6,000 scholarship from TELACU.   
A native of Mexico, Gomez Lopez immigrated to the United States with his family at a young age. He identifies as a "Dreamer," a member of the roughly 800,000 young immigrants who were brought into the U.S. as children and protected from deportation under the Deferred Action for Childhood Arrivals program.
Although he has lived most of his life in the U.S., Gomez Lopez recalls that he often felt out of place in school growing up due to his identity. "It was difficult for me to feel like I fit in with my peers because of the lack of diversity there," he shared.
At CSUF, he felt an instant connection. "I saw Latinx representation on campus and that uneasy feeling I had went away," he said.
Originally planning to major in music, Gomez Lopez switched to physics after being persuaded by a friend in the program. "My physics courses really taught me to appreciate math, so I figured why not double major," he added.
Intrigued by his coursework, Gomez Lopez began conducting research with Wylie Ahmed, associate professor of physics, on energy systems known as active matter.
"Some of our research involves looking at how much energy a bacterium needs to swim," explained Gomez Lopez. "Our work can be applied to other areas of research, such as investigating ways to improve targeted drug delivery or even determining an optimal way to evacuate a crowded building."
Their work has resulted in several publications: "Quantifying the Non-Equilibrium Activity of an Active Colloid" and "Stochastic Force Dynamics of the Model Microswimmer Chlamydomonas Reinhardtii: Active Forces and Energetics."
In addition to his studies, Gomez Lopez is involved in the CSUF Physics Club, the Society for the Advancement of Chicanos/Hispanics and Native Americans in Science and works as an instructional aide at his former high school.
After completing his bachelor's degree, he plans to pursue a master's degree at CSUF, followed by a doctorate. He knows his grandpa will be there, in spirit, to support him every step of the way.