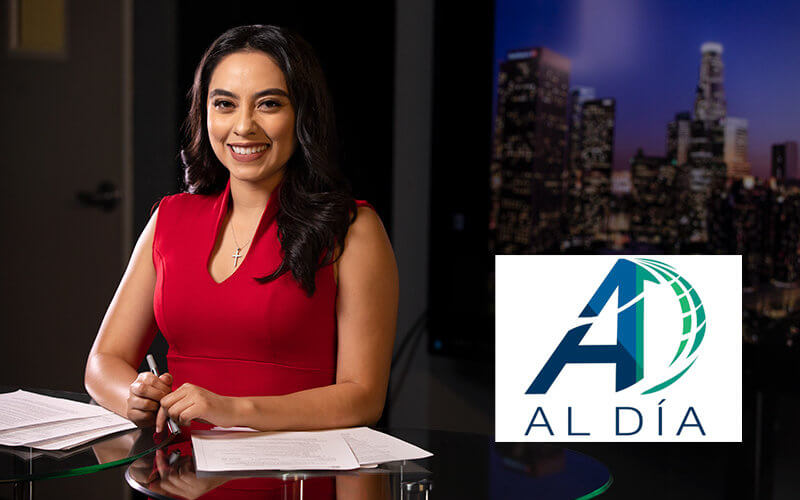 Out of trying times over the past year, a handful of Cal State Fullerton communications students found inspiration to create award-winning media projects.
The team behind "Al Día," CSUF's student-produced, Spanish-language newscast, took first place in the television news category for "Lo Que Está Trending." Two other Titan teams were named finalists at the 31st annual California State University Media Arts Festival.
The festival, which draws hundreds of entries each year from students studying film, broadcasting, video, screenwriting and news media across the 23-campus system, is where the finalist selections are screened and winners are announced.
"We are beyond thrilled for all our finalists," said Jesús Ayala, lecturer in communications and faculty adviser for "Al Día." "In the past few years, we've worked hard to elevate the rigor of our broadcast journalism program. I am confident our graduates are fully prepared to be leaders in the broadcast industry."
"Lo Que Está Trending" (What's Trending)
First place: television news category
"This is a fast-paced, Spanglish entertainment segment covering the week's biggest and trendiest stories," said Edwin Flores '21 (B.A. communications-journalism), executive producer of "Lo Que Está Trending."
Produced by undergraduate broadcast journalism students and distributed in a vertical format for Instagram TV, the short snippet covers a range of topics from COVID-19-related issues and immigration reform, to the reopening of Disney's California Adventure Park.
"We were just coming out of the COVID-19 winter surge and saw a lot of restrictions being lifted and people being duped by vaccine scams," said Flores. "We also wanted to cover issues along the United States-Mexican border since we are primarily a Spanish TV newscast."
Because of COVID-19 restrictions, Flores and the team had to modify the filming process, opting for a camera setup that required minimal assistance.
"One of the greatest lessons I learned is to be flexible," he shared. "There were many unforeseeable circumstances we encountered, but I was surrounded by a passionate team. Leading them was a joy and further reinforced my interest in digital journalism.
"It's always an honor to have your work recognized," Flores continued. "I think our project won because it is an upbeat, bilingual, Generation Z take on news that reaches younger audiences through social media."
"Coronavirus: Pandemia Mundial" (Coronavirus: Global Pandemic)
Finalist
"We chose the COVID-19 pandemic as our topic because it was the only thing people could focus on at the time," said Giselle Martinez '21 (B.A. communications-journalism), executive producer of "Coronavirus: Pandemia Mundial." "It's an important piece of history that we knew should be documented."
Filmed during the early months of the pandemic, the piece details what was known about the COVID-19 virus and how it impacted various aspects of everyday life.
Reflecting on her experience, Martinez noted that "participating in this project helped me learn how to find many stories and angles out of one topic, which is something I frequently do now in my role as a news producer at KRDO-TV in Colorado."
"George Floyd & Black Lives Matter: A Conversation"
Finalist
"We filmed this in May 2020 following the horrific murder of George Floyd and the beginning of the racial protests sparked by the Black Lives Matter movement," said Kelly Hoffman '21 (B.A. cinema and television arts), executive producer of "George Floyd & Black Lives Matter: A Conversation."
The piece traces the evolution of racism, discrimination and police brutality in the U.S. and how these issues play into the current climate of the country. Hoffman noted that discussing such topics has helped her "see the value of facilitating and partaking in civil dialogue and how important it is for our society.
"I am so honored to have been selected as a finalist and thankful for everyone at Titan TV," she shared. "My heart goes out to the family of George Floyd and to all who stand with him — you are the future of making our world one of justice, equality and unity."
Learn more about CSUF's communications offerings on the College of Communications website.