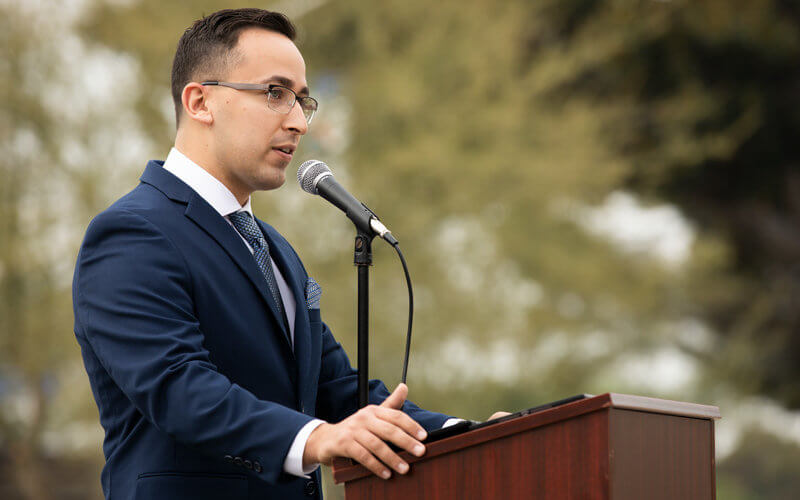 At a recent flag raising ceremony to honor veterans at Cal State Fullerton, James-Anthony Burandt, president of the university's Student Veterans Association (SVA), described his military experience and how the Veterans Resource Center (VRC) has helped him and numerous other student veterans feel supported.
Burandt said there were many factors that played into his decision to enlist in the Marine Corps at the age of 17.
One of the main reasons is that he needed to eat.
"I asked the recruiter if the Marine Corps would feed me. 'Three times a day,' he said. I was at a point in my life where food didn't come as often as it should, so I took the opportunity to be fed."
As President of SVA, Burandt wants military-connected students to have someone and somewhere to go when they feel like they have nobody else to turn to about their experiences. 
"I want the reservist who had to drop out of classes mid-semester to deploy to the Middle East, come back here in seven months and feel like he or she has a community where they can share their experiences.
"I want the military dependents to ask us why their parents don't speak about their time in Iraq and why they haven't been the same since they got home.
"I want the people who are considering joining the military, and those who support the military, to have the opportunity to join our efforts in supporting the military community.
"I want the active-duty member who just got out of the service to feel comfortable complaining about the things other veterans complain about … because yes, my knees hurt too.
"SVA is a sense of belonging, no matter where you are. It is filled with people who want to support one another, fostering success in higher education and beyond."
The Veterans Resource Center and Student Veterans Association do everything they can to support SVA and Titans across the campus, Burandt said.
"Because of the nature of military service, we are often uprooted from what we know best and placed somewhere else to do it all over again … leaving behind friends, family, and loved ones."
"Sometimes, we are placed around the world in situations that are not meant to be seen. Then we are expected to come back to our normal lives when we return home.
"I admit I had a hard time transitioning out of the military, as I'm sure many veterans do," Burandt said. "But I want to share how I am able to succeed in my own way.
"It's the camaraderie that is here within the VRC and SVA, and even though we're not wearing our uniforms … it sure feels like it sometimes, and that is a nice feeling."
"It's that sense of what I used to feel that keeps me going. And my goal is to pass that feeling on to other veterans who are searching for that feeling but have no idea how to feel it again."
Visit the Veterans Resource Center website for more information.