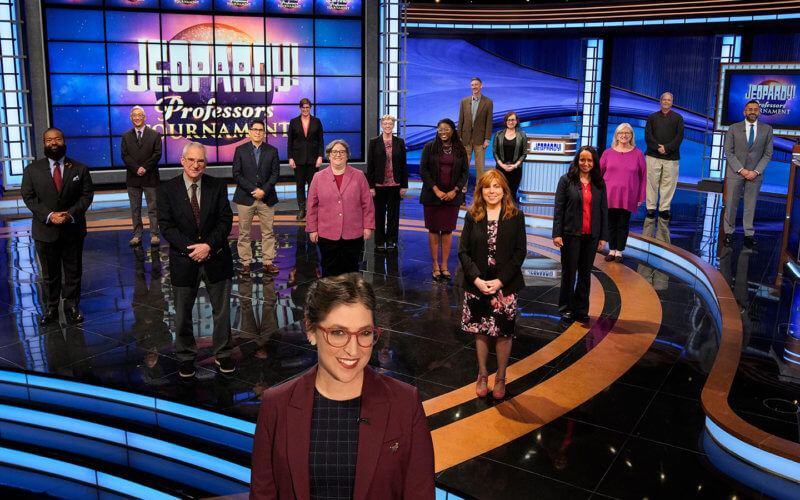 A familiar face will compete on "Jeopardy!" next month.
Katie Reed, associate professor of music at Cal State Fullerton, will be one of 15 professors across the nation to compete on the "Jeopardy!" stage in its 2021 Professors Tournament beginning Monday, Dec. 6.
Reed will compete for a $100,000 grand prize and a spot in the next "Jeopardy!" Tournament of Champions reserved for its top competitors.
She shared some details about the tournament and her experience being part of the show.
Although Reed cannot comment on how she fared in the tournament, she did answer a few questions below:
What is the Professors Tournament? Is this something new?
Yes, "Jeopardy!" has held tournaments for teachers, but has never had a dedicated tournament for professors.
Does Jeopardy film multiple episodes at a time?
Yes, "Jeopardy!" tapes multiple episodes in a day.
Do you know who the other professors are?
Yes – meeting the other professors was a big part of the fun of the tournament. We all study vastly different topics, so we each brought something unique to the show. The schools represented in the tournament are a wide range, from state schools to historically Black colleges and universities to small liberal arts colleges to military schools. It was such an honor to be included in this group of diverse thinkers and very cool people.
What was the audition process like?
I took the online "Jeopardy!" test in 2020. I had two follow-ups of the audition process via Zoom, after which I found out I was in the pool of potential players. This was followed by an audition with group gameplay and interviews. When "Jeopardy!" started airing calls for professors to audition, I hoped I might get the call to play – and I did!
Why did you decide to audition for "Jeopardy!"? Are you a fan?
I've always loved "Jeopardy!" When I was younger, I would watch with my family. My father was a history buff and playing along with him was a real challenge. "Jeopardy!" really represented the curiosity and love of learning that my parents instilled in me from a young age. This love of learning is an important part of why I wanted to be a professor. Getting to share the joy of learning in the classroom is one of my greatest honors, and getting to do so with other professors on "Jeopardy!" was a dream come true.