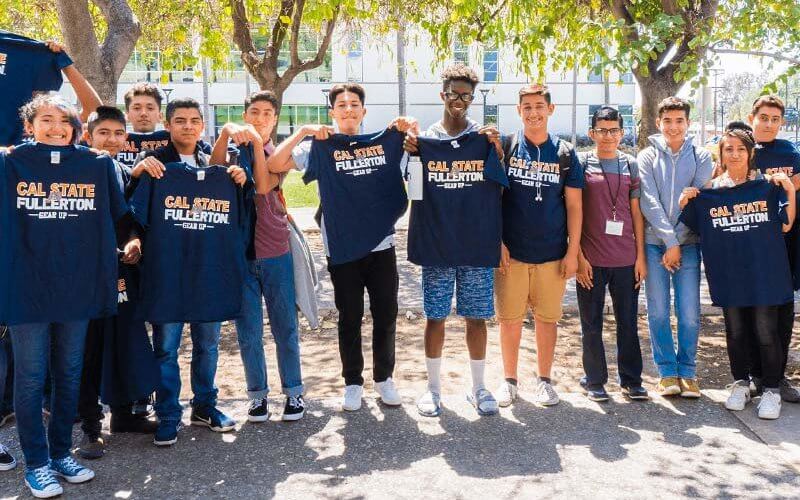 The U.S Department of Education awarded a seven-year $8.9 million grant to Cal State Fullerton's GEAR UP program to support three classes of 2027 graduates from the Anaheim Union High School District (AUHSD). This is the largest grant that GEAR UP has received, and it will allow the program to expand its partnership with AUHSD to help students and families from low-income backgrounds prepare for success post-graduation.
GEAR UP (Gaining Early Awareness and Readiness for Undergraduate Programs), through an intensive and comprehensive approach, cultivates partnerships with local school districts to advance and improve students' readiness and success in postsecondary education.
"We are thrilled to have this new opportunity to share our legacy with another generation of GEAR UP graduates," said Adriana Badillo, director of CSUF's Center for Educational Partnerships. "So much of our work is about changing lives. After more than 20 years of partnership, the Anaheim Union High School District holds a very special place in our hearts and many of our alumni and supporters have returned to be part of the amazing team we have today."
This latest grant will focus on 1,672 students starting this year at Sycamore, South and Ball junior high schools. It will follow the seventh grade cohort of students through their expected graduation in 2027 from Loara, Anaheim and Katella high schools and into their first year of college.
Along with GEAR UP's two current grants that serve the classes of 2021 and 2024, this newest grant will enable GEAR UP to widen its scope and reach a larger number of students, ensuring their future success in school and beyond. GEAR UP will begin in-person services at Sycamore, South and Ball junior high schools in January 2022.
Learn more on the GEAR UP program website.