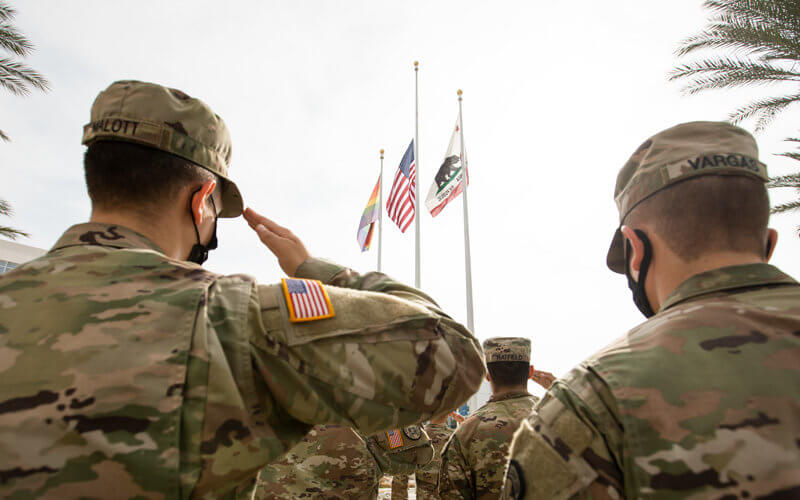 Scores of Army ROTC cadets, student veterans, faculty and staff gathered to honor the service and sacrifice of Cal State Fullerton's military veterans.
"This flag raising and this year's Veteran & Military Appreciation Month are the next steps in a process toward the post-pandemic future," said Cameron Cook, director of Cal State Fullerton's Veterans Resource Center. "Flag raisings can be solemn occasions, to recognize and pay respects to those who have been lost. This year's ceremony is still that, not only for those we lost in uniform and service, but also those taken over the last two years by the pandemic. But flag raisings can also be a celebration, a sign of victory, the final step of a long war, hard-fought, but ultimately won. Although this conflict is far from over, we can say that we have overcome many battles over the past two years and this day is a testament to that.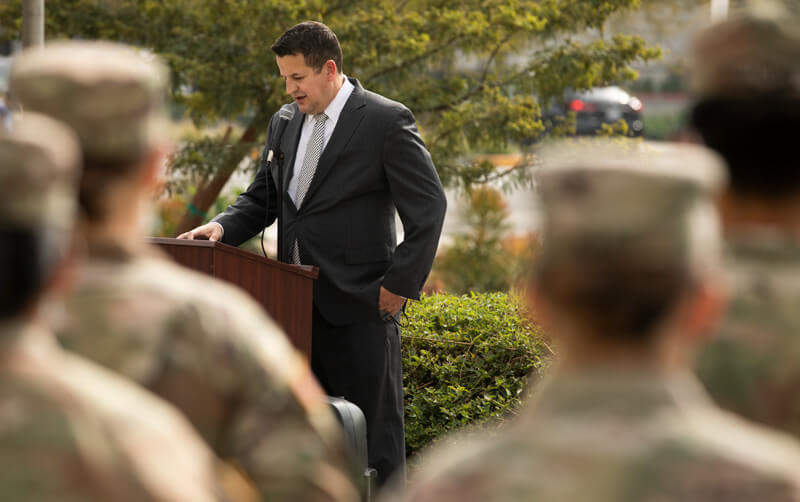 "I want to share what we are seeing today," Cook continued. "In this crowd, I see courage, resilience and determination. I see people who faced a great unknown and weathered the storm. I see a campus community that came together when faced with unimaginable challenges and answered them with innovative solutions.
"Of course, in the audience, I also see our veterans and military-connected students, staff and faculty who have also faced this time of uncertainty and risen to the occasion, as they have before in periods of extreme adversity and struggle. They do this by being there for each other and watching each other's backs. Isolation, confinement, and restrictions are not necessarily good, but these things can be especially difficult and unhealthy for our veterans. That said, we made it through it by staying connected, and pulling each other over the obstacles and barriers, so we could continue to fight another day."
Cook noted that the VRC is more than a center, it's a community.
"It's the Titan veteran family," he said. "Now that things are moving forward again, we are looking past reentry, and focusing on reassessing, reengaging, and rebuilding our program."
Veteran Resource Center Programs
Veterans Ambassador Program
The Veterans Ambassador Program has doubled its efforts in assisting student veterans with their applications and admissions into the university. This has resulted in the largest class of student veteran transfers in recent history.
Peer Advisors in Veterans Education (PAVE)
PAVE provides advising and mentorship to first-year students, helping not only with their integration into the campus community, but also from virtual learning back to in-person classes. PAVE has received national recognition for its programs.
Advising, Certification and Training Team
The Advising, Certification and Training Team has been relentless in making GI Bill processing as seamless and efficient as possible for the more than 600 student veterans who use the Veterans Resource Center and more than 1,000 of their family members.
Women 4 Women
Women 4 Women connects and empowers female-identified veteran and military-connected students. Through monthly brunches (that attract 50-60 attendees) and other activities, this group helps female veterans know they are not only welcome at the VRC but that they belong there.
Titan Veteran Family Program (formerly Titan Warrior Wellness)
Titan Veteran Family Program creates the community and camaraderie that is vital for service-connected students' transition into and retention through campus life.
VetForward Program
The VetForward program makes sure that student veterans are prepared for the careers that await them upon graduation. Last year, they trained more than 30 veterans on what it takes to be leaders in their fields.
Get more information on the Veterans Resource Center website.