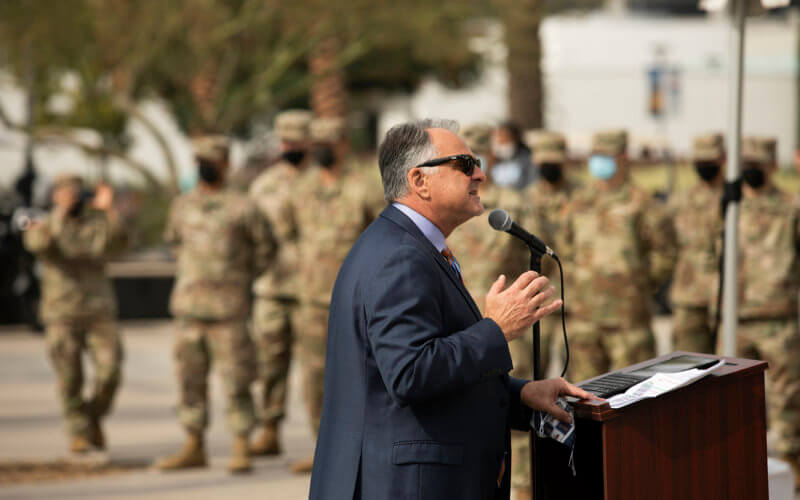 While addressing the crowd gathered for a flag raising in honor of Veterans Month at Cal State Fullerton, President Fram Virjee directly addressed the student veterans in the crowd saying, "It is one of life's great honors to serve all of you after you and your families have so valiantly served all of us. By putting yourself in harm's way, you protected us. By bringing the life lessons you learned in the military onto our campus and into our classrooms, you enlighten us. And by excelling as scholars and leaders, you inspire us.
"We at Cal State Fullerton can never truly repay you for your service and selflessness, but it is our honor to celebrate and support you," Virjee said.
Among the ways that CSUF honors veterans is by providing a state-of-the-art space, the CSUF Veterans Resource Center, and a staff of Titans dedicated to serving the campus's 1,186 military-connected students, which includes more than 600 veterans.
Virjee also noted that 67% of the university's student veterans are from historically underserved communities, and more than a third are the first in their families to pursue a college degree.
In addition to the Veterans Resource Center, the university offers a Veteran Ambassador Program, the Titan Warrior Wellness program and the VetForward Program. These support veterans as they transition into the university, navigate their time on campus and graduate into the workforce.
Virjee said the success of CSUF veterans shows support on campus is working. CSUF veterans graduate with a historically high GPA of 3.25. Also, their four-year graduation rate is nearly 20 percent higher than the nationwide average for student veterans.
He also added that at CSUF, women veterans are leading the charge, in earning both undergraduate and graduate degrees.
"To be sure, the traits of resilience, adaptability and courage that our veteran and military-connected students infuse in our classrooms and communities are needed and necessary every year, but especially during the past 20 months, their importance has risen in tandem with the heartache caused by both the pandemic and the systemic racism that is our nation's true ongoing plague.
"Veterans, please know that we are here to thank you not just for military service, but for everything you have done and continue to do as Titans," Virjee said.