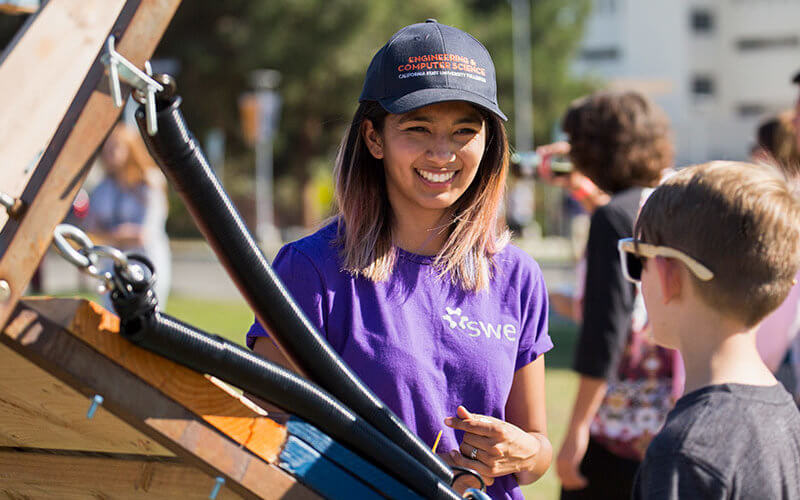 California State University, Fullerton's Women in Computer Science and Engineering (WiCSE) Program recently received a pivotal Bank of America grant of $325,000. The bank's grant helps the program establish a half-million-dollar endowment that ensures funding in perpetuity, expands the program from two to four years, and triples the number of students served.
There has been a tremendous demand for skilled, diverse talent for specialized high-wage roles in Orange County, especially in the engineering and computer sciences fields. On average, there are 2.5 job opportunities for every CSUF student who graduates from the College of Engineering and Computer Science (CECS). The skilled talent gap is even more pronounced for women and minority graduates. To help address these gaps, Cal State Fullerton developed WiCSE in 2012 as a two-year program. Today, 70% of the female students are from communities of color; and WiCSE alumnae have been hired by many prestigious companies, including Southern California Edison, Google, NASA JPL, Deloitte, DreamWorks, Oracle and others.
However, while women comprise 58.5% of CSUF's total students, they represent only 19% of students in ECS. In computing specifically, women represent 16% of students in computer science and computer engineering. Gifts such as the one from Bank of America are critical in reaching out and supporting more women, and women of color, entering these fields.
"The goal of WiCSE is to diversify the pathways of female graduates entering careers in technology fields," said Beth Harnick Shapiro, adjunct faculty member who runs WiCSE. "Our goal is to support female students so they are empowered to reach their full potential and achieve academic success while expanding a network of women alumni."
"Bank of America's philanthropic priorities are initiatives that advance racial and gender equality as well as economic opportunity," said Allan Staff, president of Bank of America Orange County. "This investment will help students from disadvantaged backgrounds attain college degrees that lead to high-wage careers in our county's growing sectors, including engineering and computer science. It's a true win-win opportunity to create lasting positive results"
"What makes this generous gift even more exciting is there will be a 50 percent match including a gift made earlier this summer from MacKenzie Scott and Dan Jewett. That means the WiCSE program will receive an additional $162,500, getting us closer to a half-million-dollar endowment," said Greg Saks, vice president for university advancement.
WiCSE aims to provide a supportive environment for female engineering/computer science students to learn about on-campus programs, services and assistance. Tutoring is available, interdisciplinary workshops are offered, and students are invited to visit companies that hire engineering and computer scientists to learn more about emerging fields and career opportunities. ECS and WiCSE alumnae also share advice with the next generation of engineers and computer science professionals.
"This gift from Bank of America helps ensure that we can continue to support and build WiCSE," said Susan Barua, dean of the College of Engineering and Computer Science. "This funding also allows us to expand to a four-year program. Previously it was only open to first- and second-year students. By increasing the breadth and scope of the program, we increase the number of women we can serve.
"Community support is critical in helping our students achieve their potential," said Barua. "Encouraging more women to consider engineering and computer science careers benefits us all."
"WiCSE has shaped me into the person I am today," said Taylor Livingston, a junior double-majoring in computer science and business administration. "Through WiCSE, I have been able to create an amazing network of women studying in the fields of engineering and computer. I have also become more confident in myself, am mastering my 'soft skills' and fighting imposter syndrome.
"A program like this is immensely important," she continued. "Being able to have a community that can relate to and that constantly encourages you to do your best is truly life changing. Having the resources and the academic support is very helpful as our fields of study are quite demanding."
CSUF alumna Rocio Salguero, a technical solutions engineer at Google, credits the university for providing her with a good foundation in understanding computer science as well as understanding the basics of algorithms, logic, math and more. During her college years, she tutored other WiCSE members while considering her career options upon graduation.
"What I think is great about WiCSE is that it helps you keep an open mind and learn new things every day," she said. "I also learned how to search and find answers. Knowing where to look or finding the right person to ask is critical."